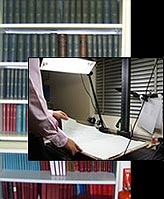 TownsWeb Archiving visited a cemetery located in the picturesque county of West Sussex.
The project to digitise their cemetery registers was a joint initiative between the Cemeteries Department, The County Library Service and The County Records Office - and was financially split 3 ways in order that each of them could receive their own set of images.
TownsWeb Archiving Ltd spent 2 days on site at the crematorium with our specialist equipment and staff, digitising their 19 x Grave Registers. These old, hand-written registers dated from the late 1800's and were fragile. Some of the registers were very unusual being 92cm wide and containing around 400 pages.
The book images were then delivered back to the Authority in full-size greyscale tiff and jpeg formats on three external hard-drives.
Do you have a similar requirement? TownsWeb Archiving offer a full suite of services to the Bereavement Services sector - this includes digitisation, data capture of deceased records and placing records on the web. We can also provide unique administration system software.
For more information please call us on 01536 480015 or complete our online quotation form