REQUIREMENTS
DIGITISATION: With only one copy of the books it was imperative that they were scanned in order that a backup could be made. The original books could then be placed somewhere safe - ensuring no more handling and deterioration of them.
DATA CAPTURE: Capturing the records within the books and linking this database to the scanned pages would enable staff to do 'fast' searches.
ONLINE: Taking the database and placing it online would enable the public to perform searches and thus free up valuable staff time. Obviously it also meant that E-government guidelines and the rules regarding the Freedom of Information Act could be closely adhered to too.
THE PROJECT
1. DIGITISATION OF 39 REGISTERS.
Kingston's staff use their Cemetery Books on a daily basis and so did not want their books to leave their offices. TownsWeb Archiving were happy to send staff and equipment to their Offices in order to scan all of the pages within all of their Registers. All of the images were supplied at 300dpi in tiff and jpeg formats on one plug-and-play external hard-drive. 'Virtual' Book Viewing software was also supplied to allow pages to be turned, printed and faxed. The software also allows parts of the pages to be selected, copied and pasted in to other applications such as Microsoft Word or Outlook - great when sending information in response to genealogy enquiries.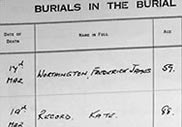 2. DATA CAPTURE OF 80,000 RECORDS.
Typing the records within the books and linking them to the scanned pages would enable the staff to perform fast searches. Previously the ability to accurately type old, hand-written records was thought to be too difficult, however, TownsWeb Archiving have many years experience of capturing difficult to read records and guarantee at least 95% accuracy. Also - the cost of typing such a high number of records was always thought to be too prohibitive. However, because TownsWeb Archiving 'link' the records to the scanned pages via the 'Virtual' Book Viewing software, only key search fields needed to be captured which make the costs significantly cheaper.
3. ALLOWING THE PUBLIC TO SEARCH THE RECORDS.
Once the records had been typed and then linked through to the scanned pages then it was a simple process to place the records online. TownsWeb Archiving designed and developed web pages and a user friendly search engine to allow the public to quickly access the records and download the scanned pages. TownsWeb Archiving worked with Kingston Council's I.T. staff and the records are now LIVE on the Internet...
LINK: Kingston Cemetery Digitisation
ADDITIONAL ITEMS
CEMETERY MAPS
The Council had only one copy of their 45 hand-drawn cemetery maps and so they asked TownsWeb Archiving to provide printed, laminated copies of them.
ADDITIONAL BACKUP-DRIVES
The Council wanted to ensure that they had duplicate copies of their data in order to ensure that they could recover from any possible data loss. TownsWeb Archiving were happy to retain a copy of the data and also supplied 3 additional external hard-drives containing all of their data and applicable software.
OPTIONS
Although Kingston Council decided to complete all three phases in one go (Digitisation, Data Capture & Online) - this certainly is not necessary. All three phases can be completed individually and across financial years if you wish.
KINGSTON'S COMMENTS...
"TownsWeb Archiving are a highly professional and friendly company. We told them what we wanted to achieve and they put forward an action plan to meet our needs."
"Their ability to scan the records on site meant there was no disruption to the service. All the work was completed on time, within budget and to the highest standard."
"We will certainly use them again in the future and recommend them to others"
Paul Muggleton
Cemeteries Dept.
Kingston-Upon-Thames Council