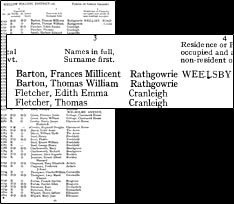 The Electoral Registers in question are amongst the most popular items held at this customer's premises. Members of the public regularly use the registers - researching their family tree or tracing the history of the region.
Due to the fact that the registers are in constant use, their general condition has deteriorated drastically over recent years. With only one full set of registers in existence, further deterioration could have potentially meant that these important records were lost forever.
In an effort to try to resolve this problem, The Council contacted TownsWeb Archiving.
The proposed solution was to digitise the registers - producing a standard set of high quality tiff images and lower resolution jpeg images. The tiff images would then be manipulated to PDFs in order to prepare them for A3 reproduction printing.
Removing the registers from the reference library was simply not an option as members of the public require access to them. TownsWeb Archiving sent specialist equipment and staff to the library and the digitisation was carried out on site during normal office hours over a period of approximately one week.
TownsWeb Archiving digitised 43 Grimsby Electoral Registers dating from 1901 to 1939. The images were produced at 300dpi using specialist flat-bed equipment and book rests/supports. Images were captured from 'overhead' which meant that no physical contact was made with the original books and thus reducing any risk of damage.
Processing of the images and preparing the files for print took place off site and the final set of files delivered back to the council on a single external hard-drive.