The launch of the NEW Robotic Book Scanner will take place at the LIBRARY AND INFORMATION SHOW at the NEC, BIRMINGHAM from 10th to 11th June.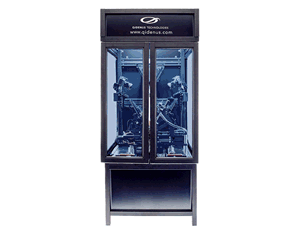 This new scanner has many advantages over similar models on the market - including being:
'truly automated' with 'no' operator interaction
'very robust' but 'low cost machine parts' - ensuring running & maintenance costs are kept to a minimum
'unique' glass plate and adjustable book cradle technology
We are asking anyone who is specifically interested in viewing this new and innovative machine to visit our stand (Stand No. 520) on 11th June where we can demonstrate the machine and discuss any potential requirements you may have. You are invited to bring a small book with you and if we have the capacitity we will load it on to the Robotic Scanner so that you can view the quality of the images produced.
You can REGISTER for FREE as a delegate for this event by following this link: LIBRARY SHOW REGISTRATION
It would be helpful if you were able to confirm your attendance and give us an approximate time of arrival by emailing us.
If you are unable to make the event but would like to be kept informed of progress then please reply to this email or give us a call on 01536 713834.
More information and a downloadable 'pdf brochure' about the Robotic Book Scanner can be found by following this link: http://www.townswebarchiving.com/rbspro.html.