In a move to make high tech robotic book scanners more compact & affordable for institutions & users worldwide, Qidenus Technologies introduce the next evolution of the Robotic Book Scanner Pro: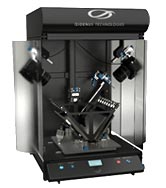 The RBS Pro TT - 2in1 table top model
With automatic throughput of up to 2,000 pages per hour and manual throughput of up to 1,200 pages per hour - it is extremely fast!
Features:
Automatic robot designed for mass digitization
Enabling important economic & operating efficiency
Patented method: the bionic page turning mechanism
2 operating modes - automatic & manual for maximum compatibility
Highest book protection & conservation due to innovative technology
Highly Gentle Page Turning Mechanism
The bionic finger turns the page by applying the least resistance the integrated self-learning algorithms enable the bionic finger to automatically adapt to different paper-qualities during scanning process.
State of the Art Software Processing
supporting all standard formats (e.g.: XML, OCR, GIF, TIFF, RAW)
PDF/A with/without OCR
OCR for gothic print
avoiding downtime by use of central database management
post-processing is done manually and/or automatically
simple integration into industrial workflows
TownsWeb Archiving Ltd is taking orders of the RBSpro TT from now with delivery starting 15th of November 2009.