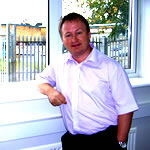 With people jetting away on holiday, the sun shining and temperatures reaching over 30 degrees, managers could be forgiven for putting new projects on hold. However, that certainly has not been the case.
In terms of our website we have added new case studies and also more testimonials. We have designed a new brochure which you can now view online & download from the web. A new Blog Area, Facebook, Twitter and Linked-In pages are being developed and will follow shortly.
Some of TownWeb Archiving's staff were in London yesterday, firstly visiting The Collections Management Exhibition and then attending the Data Standards Group AGM at the British Library. Both events were thoroughly enjoyable.
TownsWeb Archiving will be exhibiting at the FBCA conference from 5th to 7th July and also at the ICCM conference from 27th to 29th September.