Spennymoor Town Council purchased the TWA Chronicle Lite system to administer their funerals.
This software is accessed online and offers a very simple way of recording records that would normally be entered in to Index, Burial Registers and Grave Registers. Our Chronicle Pro system also offers a full diary and memorial inspections module too.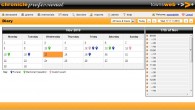 If you would like a demonstration of the TWA Chronicle System then please contact us.