The British Postal Museum & Archive (BPMA) required professionally produced digital images delivered in a short space of time, which TownsWeb Archiving were able to achieve by allocating its own team to work onsite over a ten-day period.
The BMPA are now looking at ways to make the collection publicly accessible and the possibilities of a print-on-demand service to earn revenue. Click below to read the full Case Study: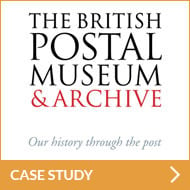 Further information about our web development and digitisation services can be found on our heritage digitisation and our software and website pages.