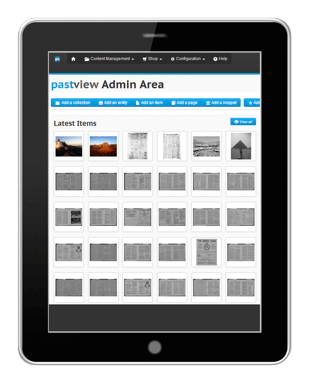 We are excited to announce the launch of a dynamic new website showcasing our innovative PastView digital collections management system: www.past-view.com.
Digital archive management with PastView
Of course, the website contains everything you need to know about our PastView system and how it can help make managing your archives easier. Such as how it's web-based format means it can be accessed from anywhere with internet connectivity. Or how it's intuitive controls make cataloguing lightning fast.
But going forward the site will also feature real-life stories of how PastView has helped our clients (from military archives to local councils), in addition to news and informational resources relating to digital collections management.
What is PastView?
PastView is the all-new and updated version of our popular ArcView digital archive management software. Designed exclusively for archivists, PastView offers a complete solution for managing your digital collections and publishing them on the web; and can transform your archives into revenue generating assets.
What's more, PastView contains rich, cutting edge features that can add depth to your collections and streamline your archive management processes. Like Facebook-style Entity tagging, customisable metadata sets for different types of record, and advanced Google-style searching to find the records you need in an instant.
Take a look…
Take a look at the new PastView website to find out more about how PastView could save you time, money, and generate new revenue.