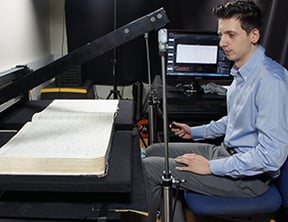 Why digitise your Burial Records? After all, they still serve their purpose just fine don't they?

Of course physical burial registers are relatively reliable and have been used for a long time, but they can also be painfully slow to check, require virtually endless maintenance, and are extremely vulnerable to wear and damage…

Perhaps you're only too aware of the drawbacks of old-school physical registers, but just haven't had the time to pursue a digitisation project?

Well, below we'd like to explain three key reasons why this year is the essential time to have your burial records digitised:
1. WW1 Centenary & the rise of Genealogy
Popularised by television programmes like Who Do You Think You Are?, genealogy is consistently growing as a hobby and recent statistics from Genealogy in Time magazine show that the number of people researching genealogy online in the UK grew by 21% in 2012, with further growth last year.
The 100 year anniversary of the start of the First World War is predicted to drive this trend even further in 2014, as people in the UK and abroad are inspired to trace their ancestors that fought in the Great War.
With burial records forming a key part of genealogy research, this is likely to put increased pressure on bereavement services staff to perform look ups and potentially place increased wear on their physical registers.
However digitising your burial registers and having the metadata within them (forename, surname, year of death etc.) transcribed allows records to be looked up in seconds; either by browsing through the digitised pages using our Book Viewing Software or by searching against metadata fields. This dramatically reduces the time it takes to perform look ups, as well as mitigating wear on the physical registers.
If you have a website, the digitised records can even be published online; enabling genealogists to search for their ancestors themselves on your website.
2. Ongoing cuts to Bereavement Services funding
With recent cuts to local authority budgets, and future cuts of 10% planned for 2015, it's increasingly more important for services to achieve more with less. Less time. Less financial resources. And, sadly, in some cases less staff. But digitisation can help with this…
As mentioned above, digitising your burial records and making them searchable can dramatically reduce the amount of time it takes to perform look ups and retrieve specific records: streamlining your work processes and freeing more of your own (or your staff's) time resources to focus on other tasks.
Digitising your burial registers can also help you to actually generate financial revenue too, to help offset the potential loss of financial resources. Revenue can be generated through offering high resolution print and/or digital copies of your digitised records in exchange for a fee, again capitalising on the increased popularity of genealogy.
If you choose to publish your burial records online, you can even watermark images and offer paid digital downloads of the records in PDF or JPEG format. TownsWeb's PastView software makes setting up this type of service easy.
3. Growing risk of natural disasters
Potential damage to, or loss of, physical burial records as a result of unpredictable environmental disasters is an ever-present threat.
This risk was brought into sharp focus for the many record offices affected by the recent flooding in the South and South-West over Christmas 2013.
What's more, statistics from the UK Environment Agency show that it issued a record number of flood warnings in 2012-13 (almost 7000).
These facts emphasise how essential it is to have a disaster recovery strategy, to protect the precious information contained in your registers in 2014, and beyond.
Digitising your registers allows a digital copy of them to be stored off-site, either on a portable hard drive or a hosted server, keeping the data safe should the worst happen. Furthermore, the images captured when digitising your burial records with TownsWeb are very high resolution (300 dpi) and can even be used to reproduce physical copies of the registers to replace lost or damaged records.
But where to start?
If you haven't undertaken a burial register digitisation project before the thought can be daunting. But you can find plenty of information on this site that explains digitisation, transcription and our specialist software package for bereavement services Chronicle. You can also read a case study of a cemetery digitisation project here.
Or you, if you prefer, you can contact us by email or phone on 01536 713834 to find out more.