I would like to extend a huge thank you to The Film, Sound & Photography Section (FSPS) of the Archives and Records Association for inviting me to their training event held at the British Library yesterday evening.
The event focussed on cataloguing and preserving photographic archives and was as enjoyable as it was informative, featuring two fascinating presentations…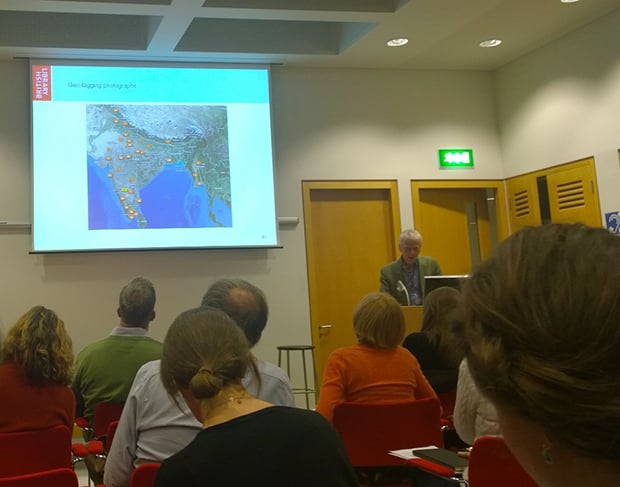 Photographic Processes & Formats – John Falconer
The first was by John Falconer (pictured), Lead Curator of Visual Arts in the Department of Cartographic & Topographic Materials at The British Library, who introduced a range of photographic processes and formats that we all might come across whilst working within and providing advice to archives. John listed and showcased some examples of the huge and diverse array of historic photographic archives that the British Library holds.
One of the oldest, most diverse, significant and largest is the Talbot Collection. Dating back to the 1840s, John showed examples of Talbot's work including a photogenic drawing of plant specimens. Of course Talbot was the man behind the Calotype process and John was able to show the transfixed audience a multitude of examples of Calotype Negatives.
I personally found the hand coloured salted paper prints from the Library's India collection the most fascinating. They provided some surprisingly vivid images of early Indian architecture included some of the first photographs of the mighty Taj Mahal.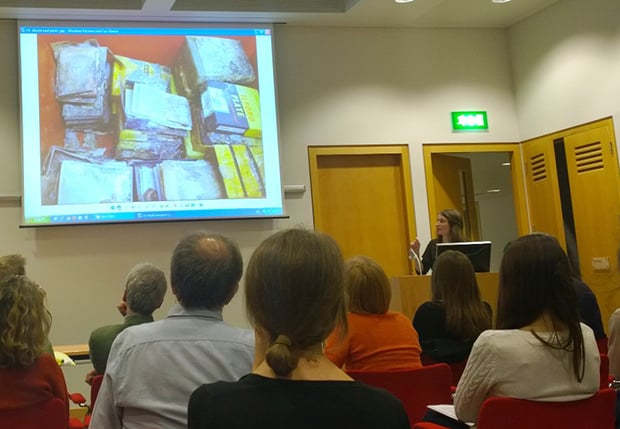 Photographic Preservation Advice – Lorraine Finch
The second presentation was provided by Lorraine Finch (pictured), Accredited Conservator and owner of LF Conservation and Preservation. Using her experience of surveying photographic collections for their preservation needs, she was able to show a variety of frightening images of material in all kinds of states of repair and deterioration! It was incredibly useful to get some very hands-on, practical advice from Lorraine about what to look out for when it comes to the deterioration of photographs and what preventative measures we can all take.
Lorraine also provided some timely reminders about one or two things, such as not to store degraded Cellulose Negatives at 38 Degrees Celsius in case they combust! And to check that no items are stored under Glassine due to the fact that over time the pressure may make the material stick to the print or film and can cause the dreaded rippling effect.
If expensive polyester (i.e. Melinex) containers are not available to store items, then Lorraine simply recommends that photographic prints be stored within paper enclosures that have passed the Photographic Activity Test (PAT) and meet the recommendations made in PD5454:2012. And as a final reminder, she reminded us all to only wear Nitrile gloves when handling photographs.
Thanks for the reminders Lorraine, I really enjoyed your presentation, thank you.
Digital Preservation
As always, if you would like any advice on digital preservation for your photographic collections, please contact us and we will be happy to help.