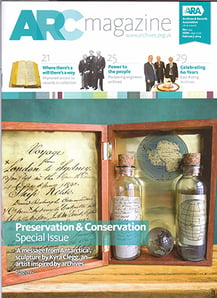 We are delighted to have had our recent digitisation and online archiving project with East Dunbartonshire Leisure & Culture Trust featured in the February special edition of the Archives & Records Association's ARC magazine!

The project involved digitising a stunning collection of over 5000 rare and fragile photographs depicting the Scottish region of East Dunbartonshire through time, then making the digital images available to the public online as a fully searchable digital archive on a bespoke website.

Also as part of the project, we provided EDLCT with the ability to sell photographic prints of images in their digital photo library to the public online, through our PastView digital collections management system.

To read the full article just flip to page 30 in the February issue of ARC magazine (pictured).

Or to find out more about our work with East Dunbartonshire Leisure & Culture Trust take a look at the project case study.