Bassetlaw District Council Cemeteries (BDCC) adopted our Chronicle Pro cemetery administration system in 2011, in order to make admin processes more efficient across its six cemeteries and create a full working system that would allow them to process the booking in of a funeral, right through to the production of deeds and invoices.
As BDCC recognised further ways to streamline admin processes and the services that the cemeteries offered developed, Andrew Smith, Cemeteries and Parks Officer at BDCC, contacted us asking to customise the system even further. Of course, we were happy to oblige and our developers were able to create a number of additional features to fulfil BDCCs needs, including…
An Augmented Diary Facility
In addition to the standard diary functions of Chronicle Pro, which allow booking in of interments, memorial inspections and more, our Developers added bespoke functionality to provide:
Colour coded bookings to reflect interments at each of the different cemeteries, memorial inspections, and other custom events
Automatic notifications when Monumental Masons insurance certificates are due to expire
Additional quick-view information about each event when hovering over it with the mouse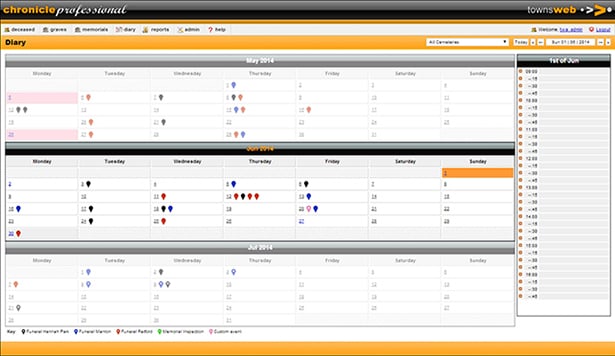 Custom Auto-generated Reporting
As a standard feature Chronicle Pro is able to produce Orders of Interment, Grave Digging Orders and reports of Calendar Burials by month.
BDCC requested a number of bespoke, auto-completed reports to make workflows even more efficient and free up more staff time to focus on other tasks. These included:
Extended Particulars of Graves Purchased by Month report - going back up to six months
Monumental Masons report – showing status of all masons on the system, an attached scan of their current insurance certificate, and its date of expiry
Extended Instruction to Raise Invoices report – showing funeral director and memorial invoice instructions issued by month, going back up to six months
CIPFA Statistics report – showing annual figures for Stillborn, NVF, Cremated Remains Burials, Burial/Interments, and New Graves Excavated for each individual cemetery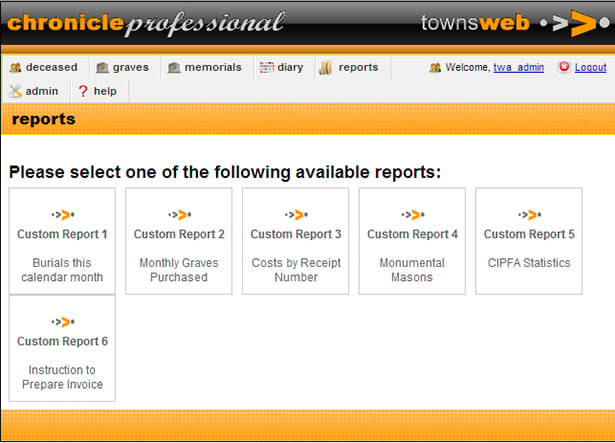 All reports auto-complete by pulling data from the Chronicle system's Contacts database, such as the address of the cemetery involved, the details of the funeral director/memorial mason, and the name and date of the report period.
All reports are also automatically created fully formatted and branded with the Bassetlaw District Council logo, as well as being generated in PDF format ready to save or print.
Audit Checklist on Deceased Records
To enable better tracking of interment workflows between staff, from initial generation of Order of Interment through to Receipt of Payment, our Developers added an audit checklist to the Deceased Record pages.
This list features ten stages of the interment process with checkboxes next to each to allow staff to reflect which stages are complete.
Additional Interment Options
Chronicle Pro records all of the information you would expect when creating a new Burial Record, including personal details of the deceased, cemetery/section, grave number, associated funeral director, and type of interment.
But at the request of BDCC we also added additional bespoke options including:
Additional depth of grave fields - offering options to specify depth of the grave and whether it is a new or re-opened plot
Extra Type of Interment dropdown options – such as Scattering Ashes and Woodland Casket
Additional Burial Instructions note options – including a free text field and eight bespoke tick box options for frequent instructions, such as No Family Attending and Place Ashes Casket Under Headstone
Client Perspective...
Speaking on the Chronicle system, Andrew Smith, said:
"We are now in our third year with the Chronicle system, which has been tailored exactly to our requirements."
He continued: "We have just expanded the system to produce our standard invoices, as well as Order of Interments, Grave Owners details, and more. Everything that is required by the Council or by Law can now be produced from Chronicle. In my opinion the system is excellent, easy and reliable, and was well worth investing in."
Read more about how we helped Bassetlaw District Council
To find out how we implemented Chronicle for Bassetlaw District Council and how it has allowed the council to make its burial records fully accessible online, click to read our short case study on the project.
Just click to find out more about our Chronicle Pro cemetery administration system or feel free to call our team on 01536 713834.