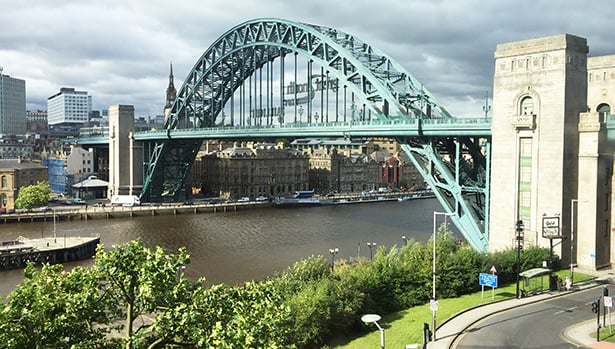 We are back from exhibiting yesterday at another successful Archives & Records Association annual conference.
This year's event was held in the prestigious Gateshead Hilton Hotel in Newcastle, which, in addition to excellent food and a great conference space, offered spectacular views of the Tyne Bridge (pictured).
ARA Keynote Talks
As always, there was a packed schedule of fascinating talks and breakout sessions featuring a "who's-who" of the archiving and conservation communities.
In particular the delegates that we spoke to at the Conference were both enlightened and inspired by keynote speaker Rick Prelinger, Founder of Prelinger Archives/Internet Archive, who delivered his presentation "The Noisy Archives".
Within this talk Rick suggested that contemporary archives (and archivists) face a number of anxieties, such as public misunderstanding of what archives are and the uncertainty of how to deal with the "glut" of analog materials that archivists face to preserve. Rick proposed that the archival community should treat these issues as opportunities and get involved in the process to deal with them in a "noisy" way.
The complete set of slides for Rick Prelinger's talk are available via Slideshare: "The Noisy Archives"
You can also find a round up of the other key speakers at the 2014 conference on the official ARA page here.

Faces New and Less-new
Digitisation Consultant Simon Chandler-Barratt and I had a very busy, but enjoyable conference. We were delighted to meet a whole host of archivists, conservators, and record managers whom we hadn't spoken to before, and were interested to hear all about their exciting and ambitious upcoming digitisation projects.
It was also a pleasure to see many of our current and previous clients at the event and catch up with how their projects are progressing.
If we didn't see you…
If you wanted to talk to us about digitisation, transcription/OCR, or archive software, but didn't manage to visit our stand at the conference yesterday, please feel free to contact our team and we will be more than happy to offer our expertise.