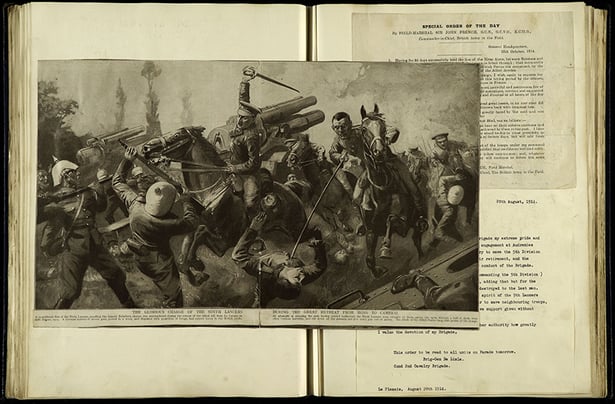 The Museum of the 9th/12th Royal Lancers regiment, in partnership with TownsWeb Archiving, has digitally preserved a selection of heritage materials that tell the story of the iconic cavalry regiment's history; including soldier records, regimental journals, medal records and photograph albums.
A Regimental Legacy at Risk
"With records dating from as early as 1796, and encompassing both world wars, the Museum's collections really embody the history of the 9th/12th Royal Lancers, and its antecedent regiments" said Jeremy Hutchins, Museum Trustee and former 9th/12th Lancer.
Jeremy approached TownsWeb Archiving to digitise the collection because many of the fragile regimental photograph albums, and the precious photos within them, were deteriorating and were at risk of being permanently lost. Also, due to their location and their delicate state, the photo albums were too fragile to handle and were not accessible for research.
Digitisation Preserves the Precious Photos
TownsWeb Archiving technicians carefully digitised the 79 precious photograph albums, capturing all of the pages using our specialist camera equipment and converting them into high resolution digital images. Each image was created in uncompressed 300dpi RGB master TIFF format and compressed surrogate JPEG for display in thumbnails and on the web.
Reuniting the Digital Collections
To organise the digital files and bring all of the Museum's digitised collections together in an easily accessible, searchable format; TownsWeb developers imported them all into its PastView digital collections management system. The PastView system was customised to suit the Museum's needs and also made it easy to share its collections via a linked website…
Making the Digital Archive Accessible Online
"I wanted to make the Museum's archives much more accessible, for genealogists, military historians and other researchers, by publishing them online. TownsWeb have created a bespoke website design for us, which reflects the prestige and pride of the Regiment, as well as showcasing the collections and providing easy searching across them." said Jeremy, speaking about putting the archive online.
The entire digitised archives of the 9th/12th Royal Lancers Museum will soon be available to access, browse and search online via the Museum's forthcoming website at www.9th12thlancersmuseum.org.
Preserve your Military Archives
If you have old, fragile and precious regimental archives or military-related collections, TownsWeb Archiving can help you preserve them. We convert soldier records, regimental journals, medal records, and other two-dimensional documents into digital formats.
To see more of our digitisation projects with military archives take a look at our military case studies.