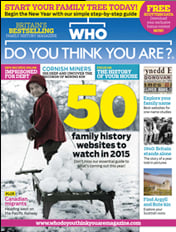 We are delighted to announce that five of our heritage digitisation and archive website projects have been featured in the January issue of the nationally distributed BBC Who Do You Think You Are (WDYTYA) magazine.
50 Family History Websites to Watch in 2015
Five different archive websites completely designed and built by our own web design team, and featuring content scanned by our digitisation technicians, were included in the magazines "Top 50 Family History Websites to Watch in 2015" feature.
The websites featured included Radley College archives, which hosts digitised magazines, manuscripts, photographs and registers relating to the College dating from as early as 1866; and The Royal Military Academy Sandhurst archives.
Also included was the recently launched WW1 heritage project, Herefordshire History. This digital archive includes almost 20,000 digitised newspaper records spanning the WW1 period, in addition to cemetery records, photographs and posters. All of the digital archive websites featured are powered by our PastView digital collections management system.
More digitisation and digital archiving projects
To read more about our recent digitisation, transcription, and digital archive website projects view our case studies page.