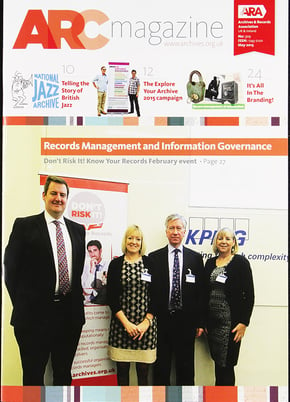 We are delighted to share that The Story of British Jazz digitisation project, in which TownsWeb Archiving partnered with the National Jazz Archive (NJA) to digitise and publish online the Archives unique jazz and blues collections, has been featured in May's issue of ARC magazine.
Opening up the National Jazz Archive through digitisation
The double page feature written by NJA Trustee Nick Clarke explains the breadth and scope of the ambitious three-year cataloguing and digitisation project, which resulted in the NJA collections being made accessible to the public online through the Story of British Jazz digital archive website.
As part of the project TownsWeb Archivings digitisation service converted numerous journals, photographs, bound volumes, and other materials from the archive into digital images, including descriptive and technical metadata to enable the images to be comprehensively searched within the online archive.
To enable advanced searching across the digitised archive, we also provided our PastView digital archive management system. This system holds the digital archive and metadata, as well as controlling how it is organised and displayed online via its content management functionality.
Read more about the Story of British Jazz project
You can read in more depth about our digitisation project with the National Jazz Archive in our Digitising the Story of British Jazz blog post or alternatively, if you are an Archives & Records Association member, you can view the article online by following the links on the ARC magazine from ARA of their website.