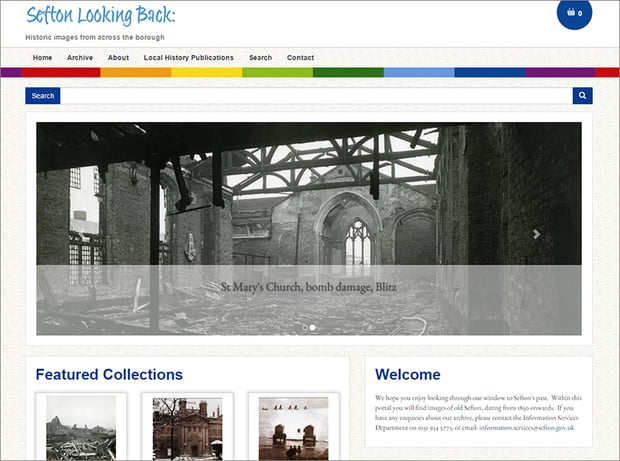 Sefton Council Library Service has just launched a new digital archive website featuring over 1000 remarkable images from its 45,000 strong historical photograph collection.
The digitised photographs in the archive span from the late 19th century, through WW1 and WW2, all the way up to the late 1980s: providing an unparalleled view of the Sefton borough across the decades.
We are delighted to say that our digitisation and website development services, together with the PastView digital archive management system, were instrumental in bringing this fascinating digital archive to the public online.
Why digitise Sefton's photographic history?
Sefton Library Service's historic photograph collection is an incredibly rich archive of the area's past, a valuable resource not just to academic researchers, but to amateur local historians, genealogists, and people researching their own family history too. But the precious physical photograph collections are timeworn and very fragile, which meant public access to them had to be restricted in order to preserve them.
Dave Ewing, Senior Development Manager for Information Services at Sefton Library Service, explains:
"We chose to digitise the collection as part of our long term local history strategy to both preserve the archive and make it more accessible to a wide audience, so that interested people worldwide can explore and enjoy the rich history it contains.
After a careful selection process encompassing several digitisation companies, we selected TownsWeb Archiving, and as partners have worked with them on the Sefton Looking Back project."

Digitising photographs from WW1, WW2 and more
For the digitisation phase of the project 1041 photographs were digitised by our Imaging Technicians using delicate flatbed scanners – with each photograph being captured as both a high resolution TIFF file at 600dpi and a lower resolution JPEG surrogate at 80% quality.
Our Technicians incorporated the archival item number of each digitised photograph into the filename of each image produced to enable quick and easy identification.
Importing the digitised archives into PastView
For the next phase our developers imported all 1041 of the digitised files into Sefton's installation of our PastView digital archive management system.As part of this our developers also uploaded additional descriptive metadata (created and provided by Sefton Information Services Staff) about each photograph to PastView and linked the metadata to the appropriate digital image within the digital archive.
Then the team organised all of the images into the collections and sub-collections that they would be displayed in on the PastView system and the public digital archive website. Such as "Townships", "WW1", "WW2", "Monuments", "Buildings", "Roads" etc.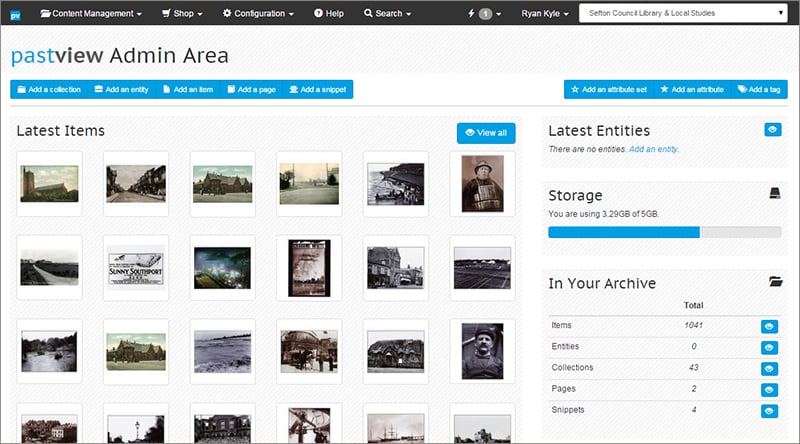 Designing a digital archive website with impact
Finally our web design team co-ordinated with Dave Ewing to create a digital archive website design that was not just easy to navigate, but that also showcased the incredible images, whilst fitting with Sefton Council Library's brand image. A comprehensive search function was also incorporated into the digital archive website to allow quick and easy keyword searching to find images.
Generating revenue from Sefton's online archive
Part of Sefton Council Library's heritage preservation strategy is to generate revenue and as part of this they wanted to explore options to monetise their digital archive – we were able to provide several ways to achieve this. Senior Digitisation Consultant at TownsWeb Archiving, Paul Sugden explains:
"Our PastView system enables Sefton to allow website visitors to purchase high resolution digital downloads of single images from the photographic collection online, and to order high quality photographic prints to be delivered to their door.
In both cases Sefton Council Library Service receives the vast majority of revenue from the sales, giving them an important additional source of funding."
Launching the Sefton Looking Back digital archive online
The Sefton Looking Back digital archive website was launched in June 2015 and has already received positive local news coverage, whilst attracting many visitors hungry to explore Sefton's history.
Reflecting on the project, Dave Ewing said "We couldn't be happier with the completed website and online archive. We already have volunteers cataloguing and digitising more images, as well as collating additional metadata, to expand this great resource even further!"
Explore Sefton Looking Back
You can take a look at the Sefton Looking Back digital archive now and discover the myriad exciting images there. Or to find out more about digitising your archive and publishing it online you can contact us.