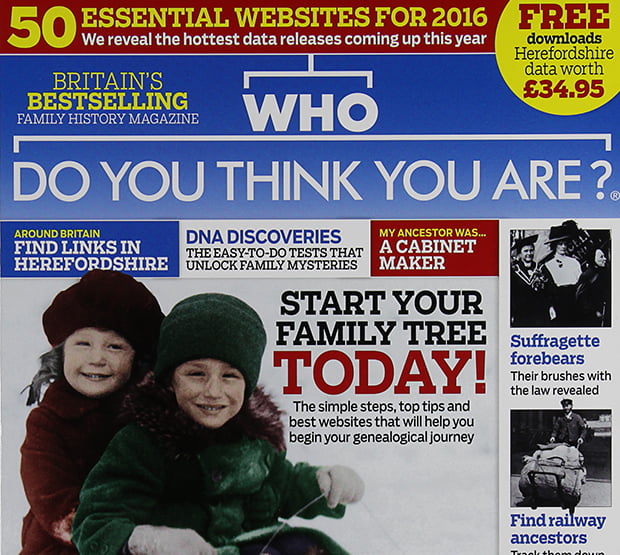 Following our previous feature last year, we are delighted to announce that several of our heritage digitisation and archive website projects (and this very blog) have been featured in the January edition of Who Do You Think You Are? (WDYTYA) magazine.
50 Essential Family History Websites for 2016
Three of our client's digital archive websites, uniquely designed by our web development team and incorporating content digitised by our technicians, feature in the annual look forward to the '50 Hottest Family History Websites to Watch in 2016' in the January edition of WDYTYA magazine.
The websites highlighted include Ecclesfield District Archives, which features digitised records from mid 18th to late 20th Century such as newspapers, directories and maps; and the Royal Leicestershire Regiment's site which hosts 65,000 digitised soldiers' records and regimental magazines.
Also featured is the Merton Carved in Stone project focussing on the London Borough of Merton's WW1 heritage and life stories. Historic documents, photos and memorabilia will all feature on the site which launches in May 2016 - following on from the successful Merton Memories project.
All of the digital archive websites featured in the article are powered by PastView - our digital collections management system.
Around Britain - Herefordshire History online
Another one of our successful digitisation projects - Herefordshire History – was also featured in this month's edition of the magazine.
Included in an article about Herefordshire's regional archives, the Herefordshire History online database is run by the local library service and is part of the Herefordshire in the Great War Project. Collections of digitised local newspapers and burial records are amongst the 40,000+ archival records on the Herefordshire History website.
More about our Digitisation projects
If you would like to find out more about our digitisation and digital archive projects, take a look at our blog and case studies page.