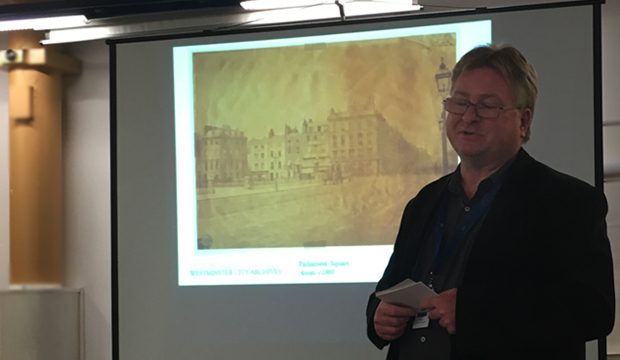 On Tuesday, I had the pleasure of attending the Digitising your Photographic Collections event at Westminster Archive Centre, organised by Elspeth Millar and David Baldwin of the ARA's section for Film, Sound, & Photography (FSPS).
The aim of the training event was to share practical, real-world advice with archivists interested in planning and managing the digitisation of their photographic collections.
Digitising Victorian photographs with Adrian Autton - Westminster Archives
In the first presentation of the evening Adrian Autton, Archives Manager at Westminster Archive Centre - pictured above, showcased some fascinating Victorian photographs digitised from the archives 70,000 strong print and photograph collection.
Adrian then shared a selection of images of historic Westminster from photographer David Trace's 30 year long photographic survey of Westminster, which Adrian's team had digitised using flatbed scanning equipment and which are now available for the public to purchase as photographic prints online.
David's key pieces of advice to other archivists in the room considering digitising?
1. To offset some of the cost (and help to fund further digitisation) by selling print copies of images from their archive collections.
2. Utilise volunteers to help with smaller scale projects to digitise discreet collections.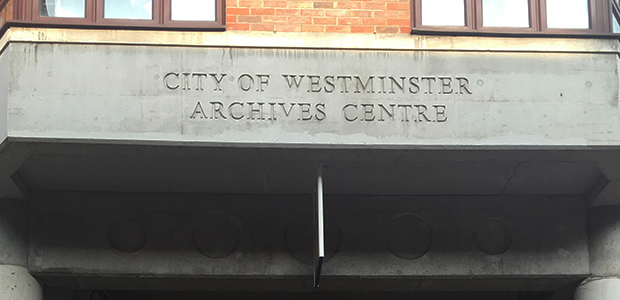 Keepin' it Reel with Lisa Moore - University of Creative Arts
Following David was Lisa Moore, Digitisation and Copyright Programme Manager at University for the Creative Arts. Lisa talked through a number of key lessons she has learned from working on multiple large scale digitisation programmes, including the JISC funded Zandra Rhodes Collection digitisation project.
Lisa encouraged archivists to embrace collaboration as part of their digitisation programmes and enthused that there are huge benefits to be realised for both parties involved when this is the case, citing the Zandra Rhodes project as a prime example of this.
Lisa's other key pieces of advice were:
1. Streamline workflows for larger scale projects - by using the most efficient capture workflows possible and being selective about post-production processes
2. Don't be afraid of copyright - There is plenty of advice (mostly free) out there and Sections 42/40b provide useful exceptions in a lot of cases
You can watch a full length version of Lisa Moore's Keepin It Reel - Practical & creative approaches to Digitisation talk (given at the Wellcome Trust's "The D Word" event last year) below:
An enlightening evening of digitisation
I was fortunate to be able to chat to a number of our clients at the event, as well as to the experts and organisers attending, and would thoroughly recommend that archivists and librarians with photographic and film collections look out for future FSPS events.
For more practical advice on digitising photographic archives, you can also take a look at our How to Digitise Photographs, How to Digitise 35mm Slides, and How to Digitise Glass Plate Negatives guides.