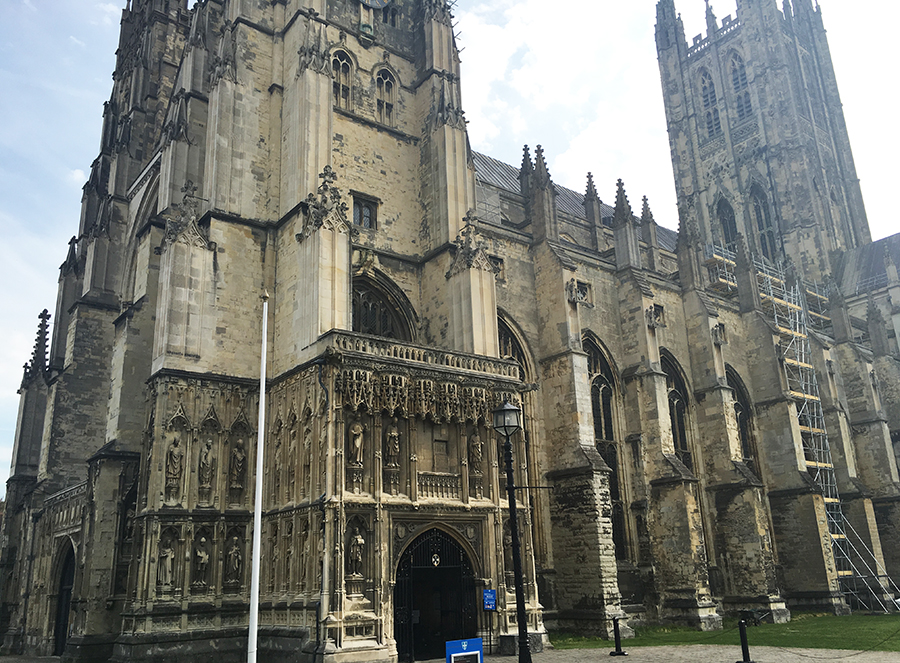 Digitisation and Religious Archives was the theme of this year's Religious Archives Group (RAG) annual conference, which I was lucky enough to attend at a sun-drenched Canterbury Cathedral earlier this week.
Led by head of Archives and Library at Canterbury Cathedral, Cressida Williams, the day-long event featured five knowledgeable and charismatic speakers.
This year's event was the most well attended RAG to date, surely in part a reflection of the growing interest in and importance of digitisation to archives professionals.
Below is a brief review of the highlights from each speaker on the day.
Catt Baum – Conservation for Digitisation at The National Archives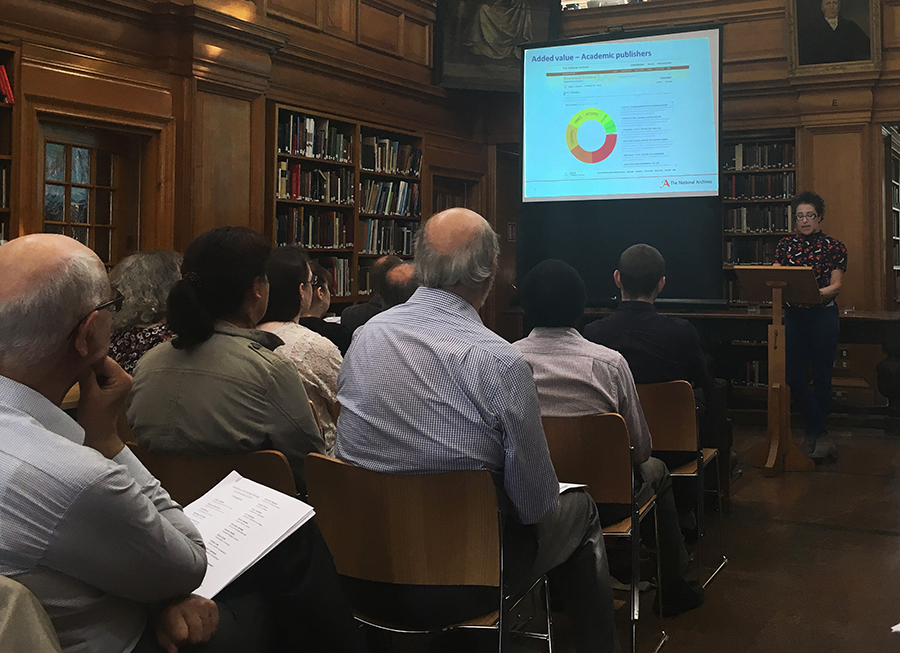 First speaker of the day was Catt Baum, Conservation Manager with the digitisation services team at TNA. Catt shared the tremendous success TNA has had in growing online access to its digitised archives, rising from 25 million downloads in 2004 to 190 million in 2015.
She explained that TNA's digitisation strategy is driven by the goals of access, preservation, and income generation; but is also increasingly opportunistic and demand driven.
Catt explained the vital role that the conservation team plays in the digitisation process – assessing every item prior to it being digitised, and providing repair or stabilisation treatments where necessary.
The benefits of conservation prior to image capture were also something Catt was keen to share, namely:
• The protection and stabilisation of the archival items to be captured
• The increased scanning efficiency enabled as a result of the items being more robust following conservation
One key point that Catt was keen to emphasise was that the primary goal of conservation for digitisation is to make an item stable and robust enough to go on camera; explaining that her team adopt a minimal treatments, light touch approach.
"Conservation for digitisation is about minimising risk, we can't stop damage entirely in such a manual process" – Catt Baum, TNA.
In closing, Catt noted that it was very rare for an item to be outright rejected for digitisation at TNA, but the team do face some items which are more time and cost intensive to conserve.
Richard Higgins – Durham Priory Library Recreated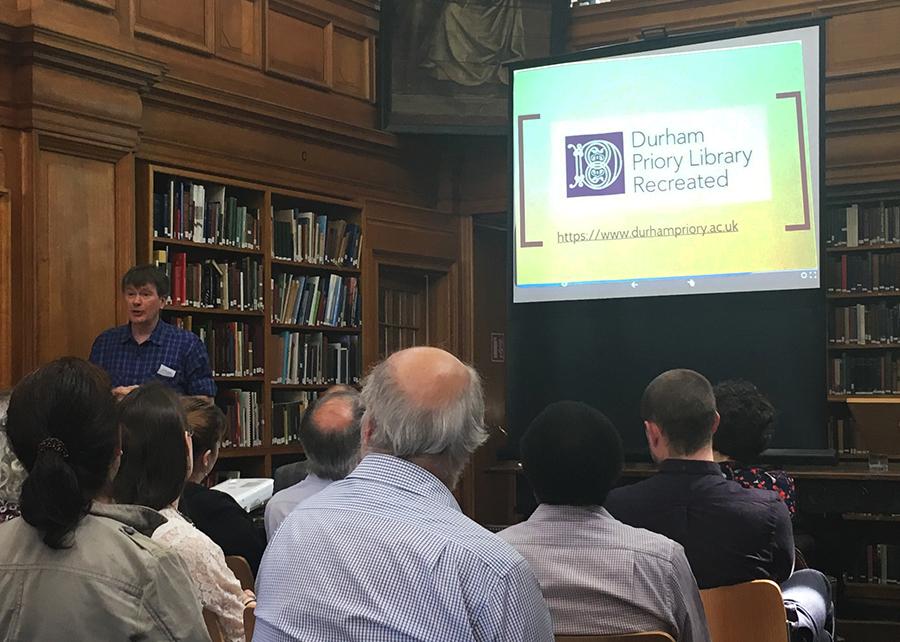 Dr Richard Higgins of Durham University Library was the second speaker of the day. His talk focused on the Durham Priory Library project to digitise and publish online 100+ bound books and medieval manuscripts.
He shared that the manuscripts had been captured using digital SLR cameras and planetary scanning cradles, to produce high resolution Tiff image files – which were subsequently converted to the JPEG2000 format for use online.
A key takeaway from Richard was "don't just digitise the pretty bits!" and advice to digitise whole discreet collections for context.
Richard also explained how the project was digitally reconstituting manuscripts and texts, the physical counterparts of which are geographically scattered across numerous libraries.
Jamie Robinson – The John Rylands Library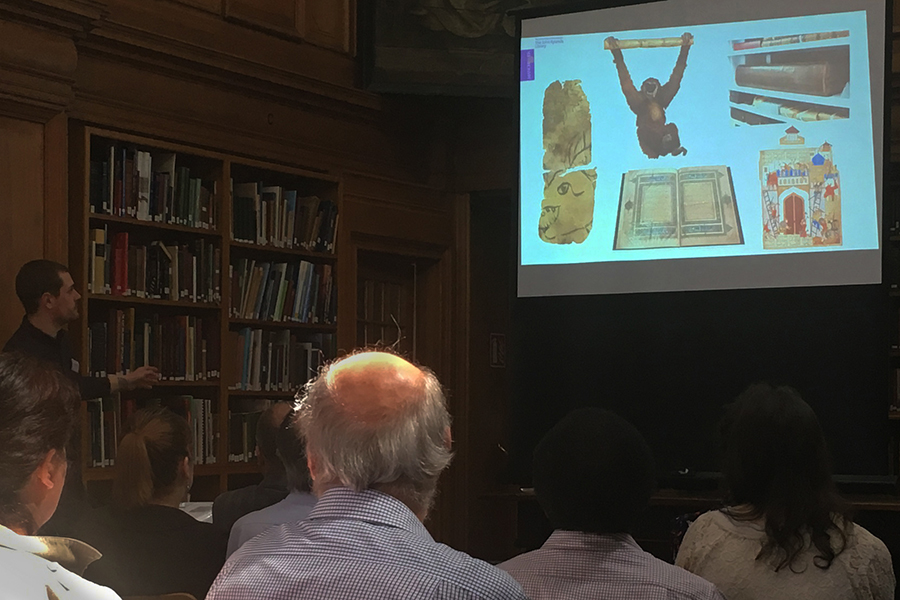 Jamie Robinson gave a review of the recently completed 3 year John Henry Cardinal Newman digitisation project – which involved digitising 238 boxes of mixed archive material and produced approximately 233,886 images.
Particularly fascinating was Jamie's description of how multi-spectral imaging was used as part of the project to scan across some records across 17 spectrums of light and reveal previously hidden text on papyrus documents.
With the initial image capture phase of the project complete, Jamie shared that the online repository and captured metadata are now being used as a guide for cataloguing the physical collection.
Gary Brannan – Digitising the York Archbishop's Registers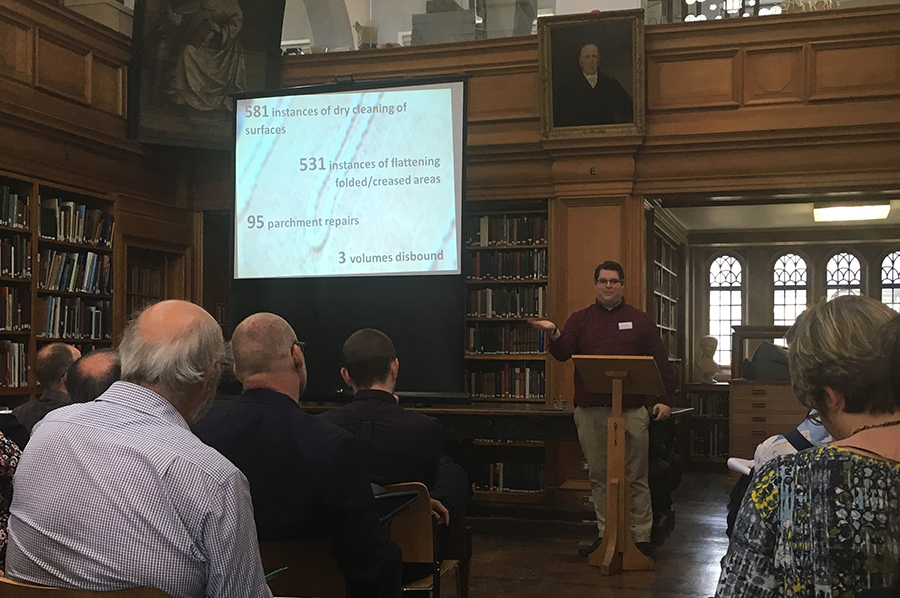 Kicking off the afternoon portion of the conference Gary Brannan, Access Archivist at the Borthwick Institute, told the story of his ongoing Mellon Foundation funded project to digitise the York Archbishops Registers and make them available online.
The collection contains large format rolled parchments and bound volumes, which are records of church business transacted during a particular archbishop's time in post.
Gary extolled the virtues of the pilot project Borthwick has recently completed – which allowed the team to develop optimum conservation, digitisation, indexing, and transcription workflows to take forward into the main phase two project.
Cesar Merchas-Hamaan – The Polonsky Foundation digitisation project
Final speaker of the day - Cesar Merchas-Hamaan – gave an overview of the joint Bodleian Library and Vatican Library project to digitise Greek, Incunabula, and Hebrew manuscripts, and publish the collection online.
"A digital archive project stands or falls on its metadata" was a key closing takeaway from Cesar regarding creating digital archives and making them discoverable.
RAG 2016 Key theme
Across all the speakers at the RAG 2016, there was a strong focus on digitising for access and the ever increasing user demand for collections to be available online.
Indeed, at least as much time was spent by speakers sharing the specifics of the metadata they captured and the user interface tools that were used within their projects to make them accessible online; as was spent talking about the scanning equipment they employed and image formats produced.
And I think that this mix is very telling of the way that digitisation is evolving in an increasingly internet focused world.