The digitisation of cultural heritage material from libraries, archives and museums is the same, no matter what side of the pond you're on. That's why, although this blog post details a digitisation initiative in New York City, the approach and execution of the project could be replicated in any English county - the environments would be different but the aim and outcome, completely the same.
The Culture in Transit project was a partnership between the Metropolitan New York Library Council, the Brooklyn Public Library and Queens Library that brought mobile scanning equipment to smaller libraries, archives, museums, and the communities they serve.
The project offered library patrons and cultural heritage institutions an opportunity to create digital copies of their materials using state-of-the-art equipment. Digitised materials were shared with the public through local digital archives and also through the Digital Public Library of America. Culture in Transit (CIT) was one of 22 projects to win the Knight Foundation's Knight News Challenge on Libraries in 2014.
Creating a new model for digitisation in New York City
The aims of the CIT project were twofold: we wanted to diversify the historical record of NYC, whilst creating a model for digitisation that can be used by anyone, anywhere. To help us achieve the goal of creating a replicable model for mobile digitisation, we have created a Toolkit for others to use.
The Toolkit mirrors our main areas of work; there is a section devoted to community engagement and digitisation events, a section dedicated to working with small cultural heritage institutions to digitise archival collections and one on equipment - the link that united our project together to enable us to undertake different forms of digitisation work but with the same mobile digitisation kits.
We created two mobile digitisation kits for the project that were capable of being wheeled around the busy streets of New York City; a scanning kit and a copy stand kit. The scanning kit was comprised of an Epson V600 flatbed scanner and the copy stand - a Canon EOS Rebel T5 DSLR camera, a tripod, photographic backdrop and studio quality lights.
We bought a laptop that could be used with both kits and loaded it with the scanner and camera software, as well as Adobe Creative Cloud. This enabled us to perform the whole digitisation process on the road - from digitising an item, through to creating the derivative and resizing in PhotoShop. A backpack capable of holding our laptop and all our other ephemeral pieces of kit was purchased, so our hands were free to wheel our cases.
Digitising personal archives in the community
The mobile digitisation kits were a huge success, we used these in two ways.
Firstly, we took it to branch libraries throughout the Brooklyn and Queens public library systems and used it to host community scanning days, where members of the public were invited to attend, bringing their family photographs or other ephemera of their neighbourhood history. Digitisation Specialists would scan the material for the patrons, handing them back their original material and a flash drive with digital copies of the items for them to take away.
Brochures were handed out on Personal Digital Archiving, educating people on how to manage digital copies of their records. The respective libraries would take the digitised item and add it to their online catalogue along with the metadata about the item collected at the time of scanning.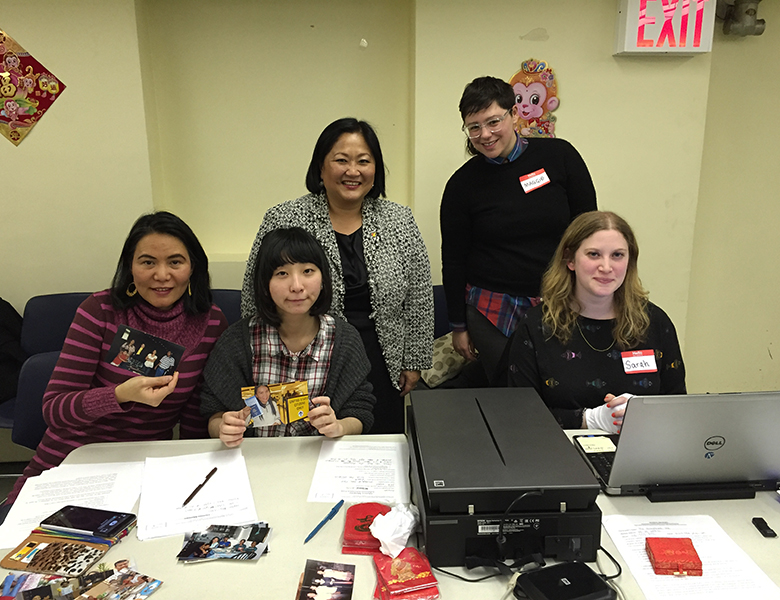 Digitisation events were often coupled with a community history event, with activities and displays about the history of the neighbourhood the event was being held in. At many events, there were opportunities to record oral histories from the people that attended too. The overarching aim was to reach out to neighbourhoods and communities that were, so far, under-represented in the respective boroughs archival records.
Brooklyn and Queens have been through and continue to go through rapid transformations and it was vital to us that we connect with communities to record these important, everyday stories of the people who live in these neighbourhoods before that information is irretrievably lost.
Offering on-site digitisation for cultural heritage institutions
Secondly, the project also saw us work with cultural heritage institutions in New York City and Westchester County. This part of the project was undertaken by METRO. One of 9 regional library councils serving New York State, METRO has a membership of over 250 museums, libraries and archives - from large well known institutions to small community colleges and private institutions.
A lot of our members are under-resourced and running a service with minimal staff and budgets. Our aim with Culture in Transit was to target these members and offer them on-site digitisation services of archival collections and to host the collection online, through METRO's collection hosting service Digital Culture of Metropolitan New York (DCMNY).
As digitisation can be labour and cost intensive, many of these smaller institutions are shut out from the online world of digital exhibits and online collections. And with many researchers believing the old adage, "if it isn't online, it doesn't exist" many institutions and their collections are hidden from view, without people even knowing they exist.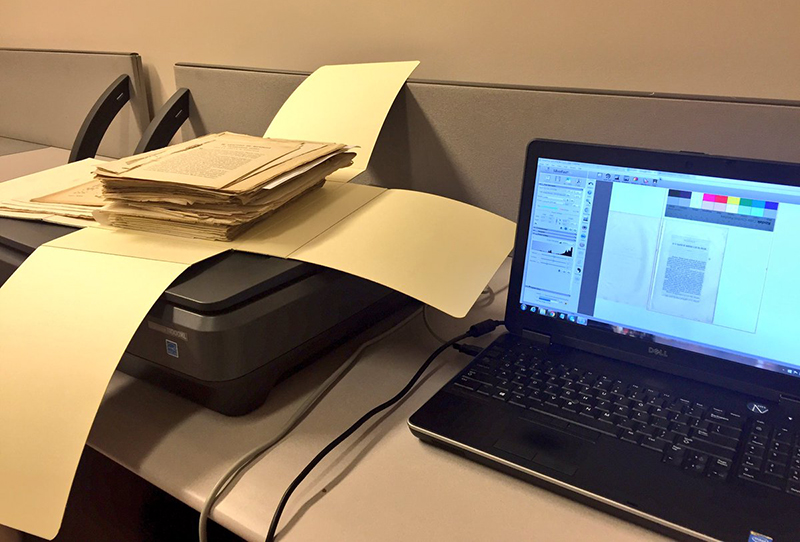 Opening up the project to our membership, we finalised a group of 10 institutions to work with, all who had undertaken none or very minimal digitisation of their collections, had no staff or budget to perform this type of work and who had no access to hosting collections online for wider access.
We digitised a wide range of archival collections across the 10 institutions; from a carte-de-visite collection of famous 19th Century medical professionals at The New York Academy of Medicine, to 1960s New York City gay bar guides from the LGBT Community Centre National History Archive before rounding off the project with the digitisation of 19th Century pamphlets from the Catholic Church during the Italian Unification from Fordham University.
We provided an on-site digitisation service comprised of metadata and digital file creation (TIFFs as preservation master copies and JPEGs as derivatives) and the hosting of the collection on DCMNY. We also shared the collections with the Digital Public Library of America, ensuring access to collections on an international platform.
And, finally, we gave copies of all the image files and metadata to the institution, ensuring they had long term access to the files and could reuse them as they wished. Already we have seen some excellent examples of the collections we have digitised being reused, including this fascinating digital exhibit curated by the Bronx Community College entitled "Visions of Greatness at BCC."
A success and a blueprint for future initiatives
Over a 12 month activity period, we have seen huge successes. We have digitised 3,400 unique items and shared online - in our respective institutions' online digital collections portals and with the Digital Public Library of America (DPLA). We have undertaken 52 community events across Queens and Brooklyn, hosted 2 training workshops and worked with 10 cultural heritage institutions across New York City and Westchester County.
We have been able to diversify and democratise the archives at Brooklyn Public Library and Queens Library, adding previously hidden voices to the history of those neighbourhoods and we have added to the historical record of the metropolitan New York area and made all materials available publicly online to provide an opportunity for underrepresented communities and institutions to share their stories.
With the publication of our Toolkit, we hope to see our model replicated. The Toolkit details our workflows and approach to digitisation, including all of the equipment we bought to create our mobile digitisation model. We have licensed all of the content in the Toolkit under a CC 1.0 Universal license, meaning the content is in the public domain, with no copyright restrictions. Anyone is free to reuse any of the material in the Toolkit.
If you would like to get in touch with a question or comment, we'd love to hear from you! Please email cultureintransit@metro.org
Caroline Catchpole, Digitisation Specialist, Metropolitan New York Library Council (METRO).