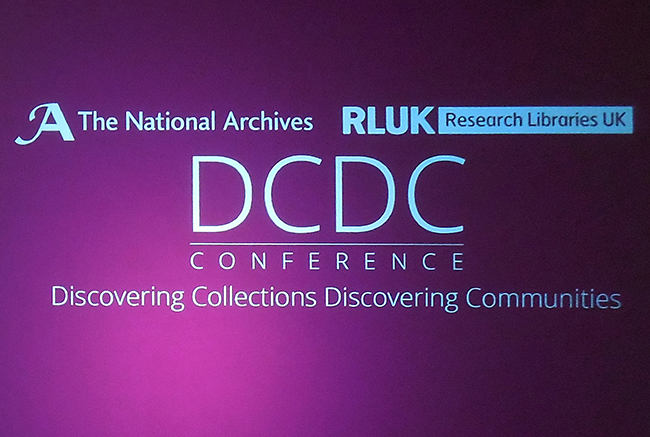 Discovering Collections, Discovering Communities is an annual Archives, Libraries and Museums conference that is now in its fourth year.
This was my second time at the event and, having only attended for one day last year, I managed to go to a lot more sessions this time around. Both times I have attended I was invited by The National Archives as a Transforming Archives Trainee (focusing on digitisation), and with my time in this post complete, I will be sure to be attending DCDC next year too.
There was plenty of time to network as well as time to catch up with friends. I had hoped for interesting discussions about digitisation as well as some insight into unusual ways of working with archives. DCDC16 delivered on these however I would have liked more digitisation-heavy projects- but I guess I am biased.
This year's event, DCDC16, took place from 10th-12th October at its usual venue The Lowry and focused on the theme of Collections, Connections, Collaboration: from Potential to Impact. It was opened with a keynote by Jeff James, Chief Executive and Keeper at The National Archives.
DCDC16 opening keynote
In Jeff's initial speech, he touched upon some collaborative digitisation projects. This included the Staffordshire Appeals Digitisation Project driven by volunteers who collectively contributed over 4000 hours.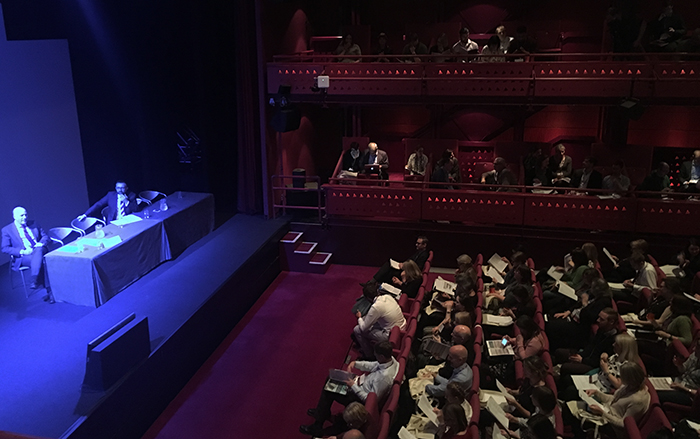 Also mentioned was Imprint, a joint project by the University of Lincoln and Aberystwyth University. Imprint used forensic imaging and historical investigation to research fingerprints preserved on wax seals.
Digital Archives - uncovering hidden histories
The first panel I attended was Uncovering Hidden Histories, which had a unifying theme of creating digital archives relating to groups of people traditionally less represented within the sector. Digitisation therefore had an important role to play in these projects.
The University of Leeds and Leeds GATE discussed their digitisation of the Dorothy Una collection and using this collection to open up discussion with Gypsy and Traveller communities. A digital archive was created with digitised material from the community- the families were attached to their physical, personal heritage but were willing to share copies.
It was noted that the Letters of 1916 project had undertaken their archiving in a similar way and a talk from London Metropolitan Archives on the second day, regarding LGBTQ+ ephemera also discussed the collection of digital surrogates to create a digital archive.
National Holocaust Centre - The Forever Project
The first afternoon keynote by Phil Lyons and Sarah Coward from the National Holocaust Centre and Museum was inspiring and played with new technologies. The centre currently hosts Q&A events with Holocaust survivors but aging survivors means the loss of first hand testimony of Holocaust events is imminent.
To overcome this, the centre set about creating the Forever Project, working with external partners, the centre began digitally recreating a Q&A type experience with authentic reactions from the survivors.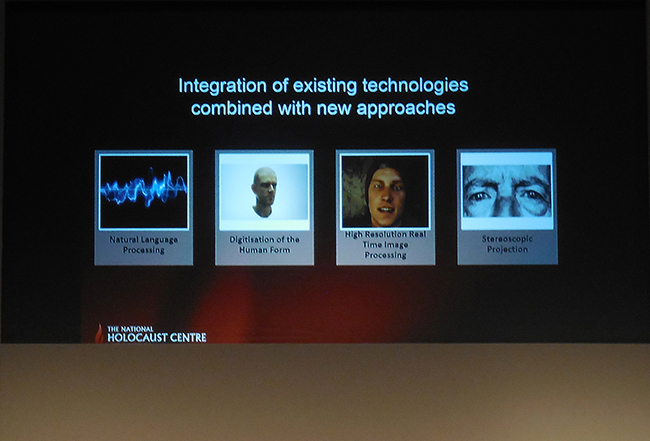 The end product is a digitally projected survivor in the museum space. A microphone is used to ask questions of the digital person and the closest response from the 1000+ answers recorded is played back. This is essentially digitisation of the human form and of human emotion, preserving and digitising unique memories. The Forever Project is due to open to the public this autumn.
Digital Repatriation
Zhang Zheng from the University of Leicester discussed the repatriation of documents and artefacts. The Dunhuang Project aims to digitally repatriate manuscripts which describe local lives; culture and religious practices in China.
Digitisation took place wherever the manuscripts existed and an online freely accessible catalogue was created. Zhang Zheng believed it had opened up conversation to allow physical repatriation of some items in the future.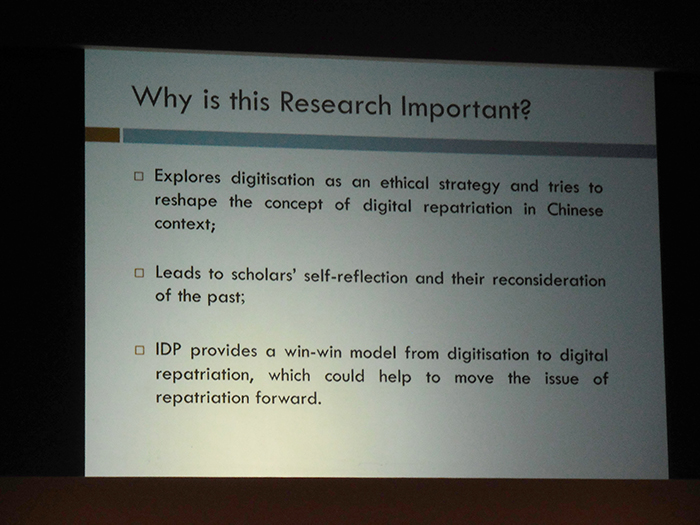 Digitising the Cairo Genizah collection
Dr Ben Outhwaite from the University of Cambridge (pictured below), Genizah Research Unit spoke about the digitisation of the Cairo Genizah collection. To digitise this vast collection has cost over £1 million and the images are now online, but there is no metadata.
With over 310,000 images to go through this missing metadata is a distinct disadvantage. The University of Cambridge's thoughts on this is 'any data is better than no data' so the images remain online with metadata slowly being added.
In order to provide an entry point into research, published articles which cited the collection were gathered. Using OCR techniques, all articles were copied and key words were identified for each fragment. These words were added as keywords to the fragment in the digital library, improving accessibility.
This way of using research to enhance collections is inspired. Users of the site can also vote on these keywords to indicate accuracy, giving the public the ability to change how the fragment has been described.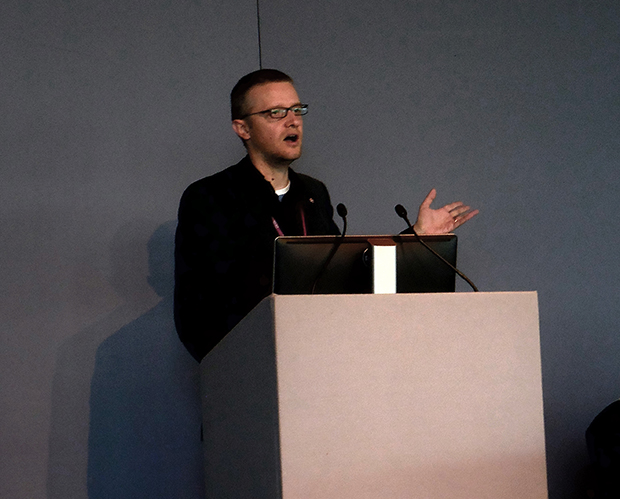 Increasing use of Tudor resources through digitisation
The digitisation of account books of the King's private chamber during the reign of Henry VII and VIII was discussed by Sean Cunningham from The National Archives. These chamber books were an underutilised resource which hold a vast amount of information relating to the Tudor Courts. These books have now been fully digitised.
The sheer scale of these documents (4394 pages) has limited the research that can be physically undertaken to date. Online access and the ability to search transcriptions will enable data to be manipulated and extracted in a more effective manner. In this way, digitisation is an amazing tool to improve access and utilisation of these important documents.
Looking forward - DCDC17
Improving technology and worldwide collaboration means that opportunities for archives within the digital world will continue to expand. Collaboration with volunteers; communities and other institutions has proven itself to be a worthwhile step for all the projects mentioned.
At next year's conference I hope for many more exciting digitisation projects and new ways of using the digital to re-present the physical.