As specialists in digitising old, rare and fragile items, we have the pleasure of working with some truly unique collections. One recent archive that definitely fell into this category was East Dunbartonshire Leisure & Culture Trust's (EDLCT) Local Studies Photo Collection.
Featuring over 5000 individual photographs, the Collection offers a rich and fascinating insight into almost 400 years of East Dunbartonshire history. The photographs date from the early seventeenth century all the way through to the mid-1990's, and depict a host of key people, places and events from the county.
Digitising the photo library
EDLCT approached TownsWeb to digitise the photograph collection and publish it online, through an image archive website, in order to make it more accessible to the public and social history researchers.
As part of the project, all of the physical photographs were scanned to digital format by our accredited digitisation operatives, who also transcribed each photograph's captions and metadata to preserve the collections depth.
The digital photo collection was then catalogued and added to a dedicated archive website powered by our PastView digital collections management platform. On the archive website visitors can browse the photo library, which is completely free to access, as well as search the library for specific images using keywords.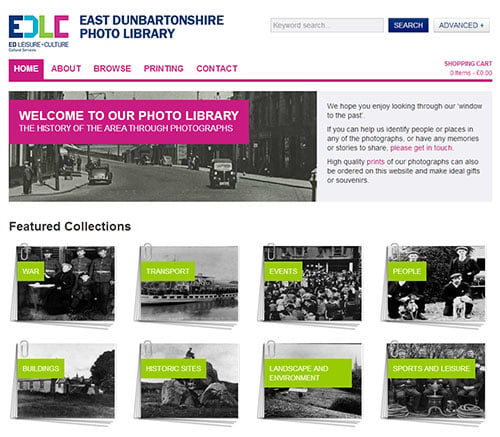 Significance of the project
"This Photographic Collection truly is an invaluable window to East Dunbartonshire's past" said Janice Miller, Information & Archives Officer at EDLCT, speaking on the project.
Adding: "The digitised photo library represents a really important resource for genealogists and academic researchers tracing East Dunbartonshire's heritage, as well as for the present day people of East Dunbartonshire looking to explore their county's history."
Click to read the full story of this groundbreaking digitisation project for EDLCT or to find out more about PastView digital collections management system. You can also contact us if you have a more specific digitisation enquiry.