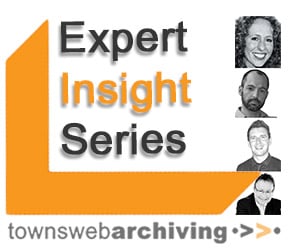 Here at TownsWeb Archiving our team of experienced specialist consultants offer help and advice to all manner of organisations embarking on digitisation and digital archiving projects.
The consultancy team's experience spans a variety of fields, including copyright, digital asset management, and digitisation strategy: meaning that they are well placed to provide guidance no matter what your organisation's circumstances.
Over the next four weeks, beginning on Wednesday 20th November, our consultants will be sharing some of their knowledge and expert analysis from their respective fields as part of our Expert Insight Series of guest blog posts.
What's in store?
The first post in the series will see Naomi Korn offer fascinating food for thought regarding choosing the correct level of copyright to protect your digital assets online, and the broader impact of this decision. To see what other posts are in store for the Series read on below...
As you read the above articles week by week, you can also share your comments on the themes raised with us via Facebook or Twitter using the hashtag #twaexpertinsight, or via email to enquiries@townswebarchiving.com.
Be sure to check back here on Wednesday to read our first guest post from Naomi Korn, but in the meantime, just click to find out more about how TownsWeb's consultancy team may be able to help you.