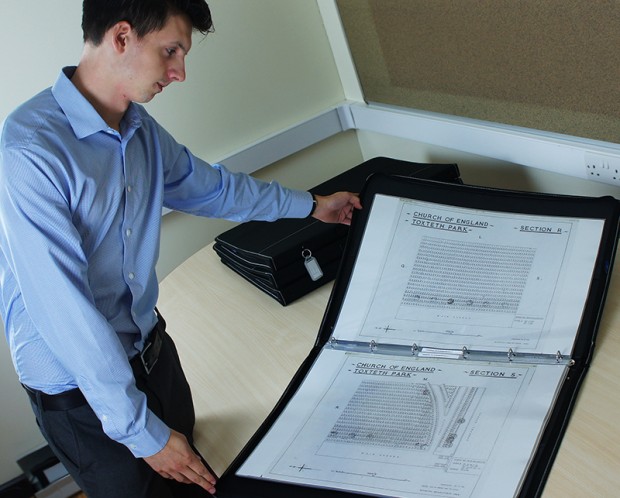 Like many councils, Liverpool City Council Cemeteries and Crematoria (LCC) have a large collection of historic cemetery maps showing burial plots for the graveyards in and around the Liverpool City area.
The LCC grave map collection has been digitised as a back-up, but up until recently due to the nature of these records and the Council's work - the original fragile maps were still very much in use; needing to be accessed and edited on a frequent basis. This frequent use was taking its toll on the delicate maps and causing their condition to increasingly deteriorate.
Having worked with LCC previously, TownsWeb Archiving (TWA) suggested that the digitised map images be printed onto DuraMap - a hardwearing, moisture resistant material - to preserve the precious original maps and provide a long term solution to the problem…
Fragile Cemetery Maps deteriorating due to frequent use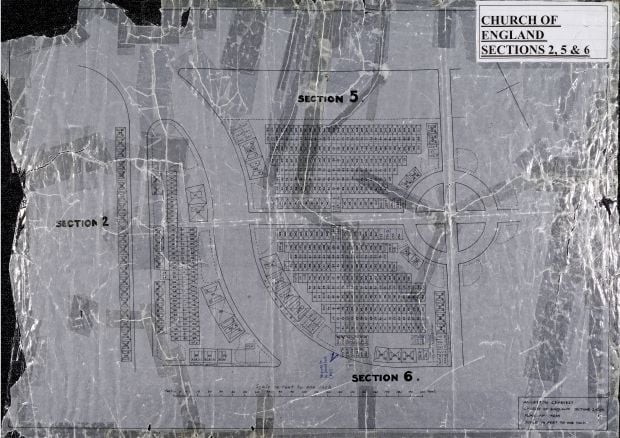 Previously if council staff needed to amend grave information on site visits - they still took the original maps - which were often delicate in nature. Especially with some of the older maps, this was not a practical solution and these maps were becoming unusable.
Martin Doherty, Cemetery Manager, explains more: "Even though we had the collection digitised as a back-up - when needing to plan and check graves, we still preferred to use the hard copies.
However some of the numbering and writing on the older drawings was becoming illegible. Also if you include that we had to consider the weather before taking the maps out to cemeteries - working with the grave maps was becoming increasingly difficult.
Ideally, we wanted the original maps to be permanently archived to preserve them for future generations. But as it was easier to edit the hard copies - we were typically using the original alongside the digitised version. This meant that the maps were still in regular use."
With the constant editing associated with this type of map, the digitised versions could have quickly become obsolete and further digitisation might have been required. With funding cuts affecting all local councils - additional projects surrounding the collection might not have been possible.
Also some of the maps are fragile in nature, whilst others are up to A1 in size, and constant handling of the archive by staff was not ideal. To prevent further wear and tear, LCC decided this issue needed to be resolved.
A Robust, Practical solution
Cemetery staff at LCC approached us to see if we could help and offer a solution. After a consultation, the edited and updated maps were digitised by our technicians onsite - as the maps are in constant use.
It was suggested by TWA that the new digitised files could then be printed onto DuraMap - a highly strong material that can be written on, so that the physical records could be constantly updated. TWA also supplied a graphics package making editing the digitised records easier.
This provided LCC with several options and meant that future digitisation projects could be dependent on wants rather than needs.
In terms of digitisation, to ensure the highest level of detail - each map was captured as both a high resolution TIFF file at 200dpi and a lower resolution JPEG surrogate at 80% quality. By producing a high resolution TIFF - no details were lost at the printing stage and resulted in a high quality DuraMap version.
Hardwearing exact replicas of the records can now be taken on site, instead of the fragile, original maps.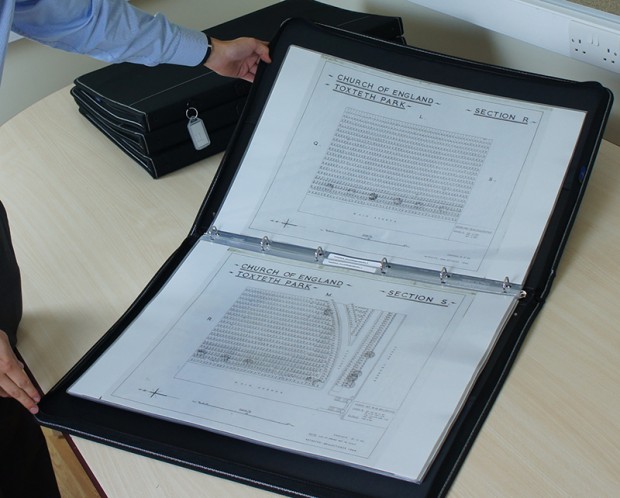 DuraMap & Digitisation - the ideal combination
With LCC's grave maps now printed onto DuraMap, the benefits have been clear to staff as Martin Doherty discusses:
"By having both digitised and DuraMap versions of the cemetery maps - we now have the perfect combination.
Thanks to the digitised versions - we have extra reassurance and a back-up in case of loss. Whilst with the DuraMap copies, our staff can still access the records and information, editing and amending when necessary without issue. Information regarding burial plots is constantly changing and the maps always need updating. Being able to write on DuraMap is vital for us - it makes our job and onsite editing so much easier."
Before the new versions had been printed, LCC staff still had to take the original maps onsite if any alterations needed to be done. Now the DuraMap versions are used by staff instead and show no sign of wear and tear even at the corners and crease lines.
"The copies offer us longevity, because of the material used it is unlikely we'll have to replace them in the near future. In contrast to the originals, we wouldn't hesitate in taking the DuraMap versions out in inclement weather. We do not foresee any problems." says Martin Doherty on the quality of the material.
TWA, also, supplied LCC with a graphics package, which means the digitised versions can now be edited much easier to match the DuraMap versions. This has meant that, unlike previously, the Council does not have to consider re-digitising to keep the digital library up to date - allowing valuable funds to be allocated to new projects.
Any further deterioration to the original fragile and historically important documents has been minimised as the old cemetery maps have now been permanently archived. This has helped preserve the original historically important documents for future generations.
More information on Grave Map preservation
Are you looking to preserve your fragile or deteriorating grave maps? Then feel free to look at our map digitisation options or contact us, and we will be happy to offer advice.