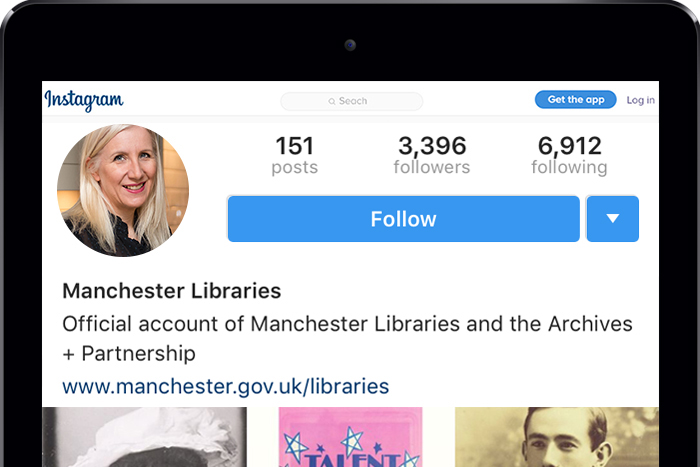 If you have yet to discover how Instagram can help to promote your archive, and specifically your digitised collections, then this blog post is for you.
Using Instagram to share archive material is not only easy to use and cheap (free in fact - the only cost is a small amount of time), but that it enables you to reach and delight new audiences who may never have considered that archives could be interesting and relevant to them.
Engaging with new audiences through Instagram
For organisations seeking or receiving Heritage Lottery Funding, Instagram is a platform that can help you reach, connect with and engage with the audiences that are often key to HLF funding: young people, ethnic minorities and women. As reported this year by Think Digital First, "90% of UK Instagram users are under 35, with a high amount of these female that are likely living in urban areas."
I recently spent a year as a Transforming Archives Trainee, employed by The National Archives and based at Archives+ in Manchester. During my traineeship I used various social media platforms to share digitised archive images and promote outreach and engagement activities and events. My experience was that this process was far more successful through Instagram than it was through Facebook and Twitter.
The major advantage Instagram has over those other two main platforms is that its algorithms do not restrict posts as heavily, it does not have character limits and it is far easier to grow a following (especially of the key audiences).
Over a six month period the Archives+ Instagram account (shared with Manchester Libraries) grew from 40 followers to over 3,000. During the same period, I was only able to grow the Facebook following by approximately 200 - taking it to around 800.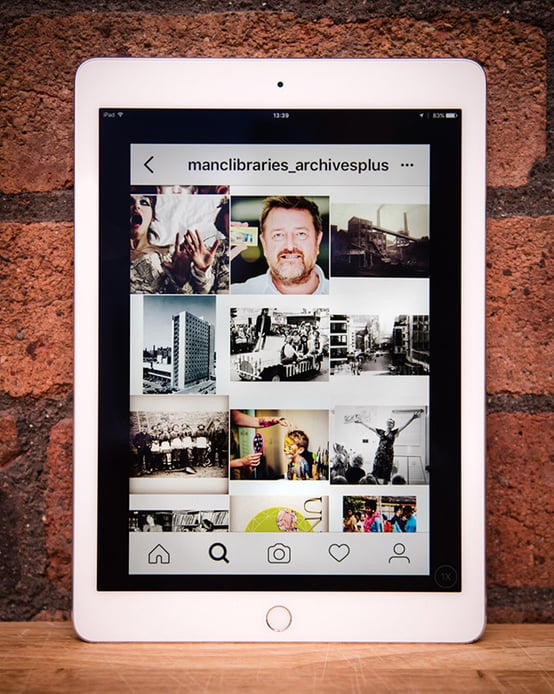 Above picture: An account overview from which a click on an image will reveal more information.
Getting started with Instagram
Any size of archive can make use of the Instagram platform to share digitised versions of their collections, to create and share new images of their collections and to promote their outreach activity. All that is needed is a smart phone or tablet and the free Instagram app (unlike other platforms it is not possible to post to Instagram from a PC). Instagram provide concise guidance on setting up an account in their help guide.
Once you have created an account your first task should be to post some content. There are a few ways you can do this: by emailing low resolution images to your mobile device, saving them to your camera roll and then selecting them from within the Instagram app; by using your smart phone to photograph your archival material (if it hasn't already been digitised) then selecting them from the camera roll; or, if you already use Flickr to store and share your digitised archives then it is possible to link your Instagram and Flickr accounts and send images directly from Flickr to Instagram (my preferred method).
Use images with impact
Instagram is all about the power of the image. Those who use this platform expect to see strong imagery and this is facilitated within Instagram through the use of filters, so don't be afraid to experiment and pick one that works well with each image you share. Add to this some text with a brief description about the image and some context to aid interpretation. Then to complete your post add a selection of keywords to the text field presented as hashtags. This acts as a finding aid to anyone searching on those terms which can attract individuals to your posts who may then become new followers.
Getting noticed on Instagram, posting in practice
The Manchester Archives has some significant LGBTQ collections that are used in a range of outreach and engagement events and featured amongst the digital, interactive exhibition within Manchester Central Library. By using images from these collections, hashtagging and posting them during Manchester Pride (a major LGBTQ celebration) I was able to grow this particular audience on the Instagram account.
The advantage here is not only that individuals can discover and enjoy histories connected to themselves, and their city, but that by following the account they will then learn about current & future exhibitions, events and activities that might be of interest to them.
These two photos (above) show one post: the photo on the left shows the image taken from the Manchester Archives and on the right the accompanying text and hashtags which is seen by scrolling down from the image. The noted hashtags were based on a quick check of what others posting with #manchesterpride were using. During Manchester Pride weekend many people discovered this post whilst searching using hashtags.
It received the most 'likes' of any post from this account, now totaling 103, and led to many new followers who would then have discovered other posts on the account, such as information about an exhibition on the history of drag artists in the city that was launching the same weekend.
Follow others and they will follow you
Using appropriate hashtags will start to grow your following but you can actively seek out your audience to get your account noticed. Find the Instagram accounts of local organisations, institutions and individuals that your target audience are likely to be engaged with, and then follow their followers. Individuals will often respond by looking at your account, and if they like what you are posting, then they will follow you back and react to your posts with likes, comments and tagging of others.
What should you post and how often?
I found the most popular posts were those which have content that people feel most connected to and that additional contextual information can really make a difference to enjoyment (expressed by 'likes' and comments). I was quite particular about the photographs I posted from Manchester's archives and chose those that I felt would be most successful in engaging people, especially from our target audiences, and generally these were the most popular posts.
Other posts included different types of archival documents, publicising upcoming events and photographs of events and activities taking place in Manchester Central Library. Although posts about current activities received less likes than archive images, I felt these were very important to include as they would be reaching some of our target audiences missed by other publicity methods.
Over the six month period 150 posts were shared to the account about Archives+ and Manchester Libraries' activities and collections. My observation was that one post per day gave the best return on reactions, any more than that and the reactions were diluted slightly. However, I don't think it's necessary to keep up one a day and that even just posting a few times a week, or a month, will help to raise the profile of your archive and delight individuals with items and stories from collections.
If you haven't tried Instagram yet then I do urge you to give it a try. It's a truly wonderful platform for sharing archives and a delight to receive the feedback from doing so.
Find out more about using Instagram to build archive engagement
Max Bamber took a traineeship with The National Archives (Oct 2015 - Oct 2016) specialising in digitisation, outreach and engagement at Archives+ in Manchester. She has a background in photography and teaching photography and digital imaging to undergraduates.
To hear more from Max or ask questions related to the above article you can connect with her via Twitter @MaxBamber or Instagram @opheliette.