Oxford & Kettering, UK – Aug 28 2018 – Digital preservation market-leader, Preservica, and TownsWeb Archiving, digitisation and archiving specialist, have announced a new partnership that provides culture & heritage institutions with a one-stop-shop for the digitisation, online discovery and long-term active preservation of valuable digital artifacts.
The partnership creates a combined offering that ensures files created during the digitisation of books, maps, manuscripts, photographs, newspapers, 35mm slides, magazines and microfilm can be easily uploaded to the long-term safe-keeping of a proven cloud-hosted active digital preservation solution – immediately protecting the investment made in the digitisation project.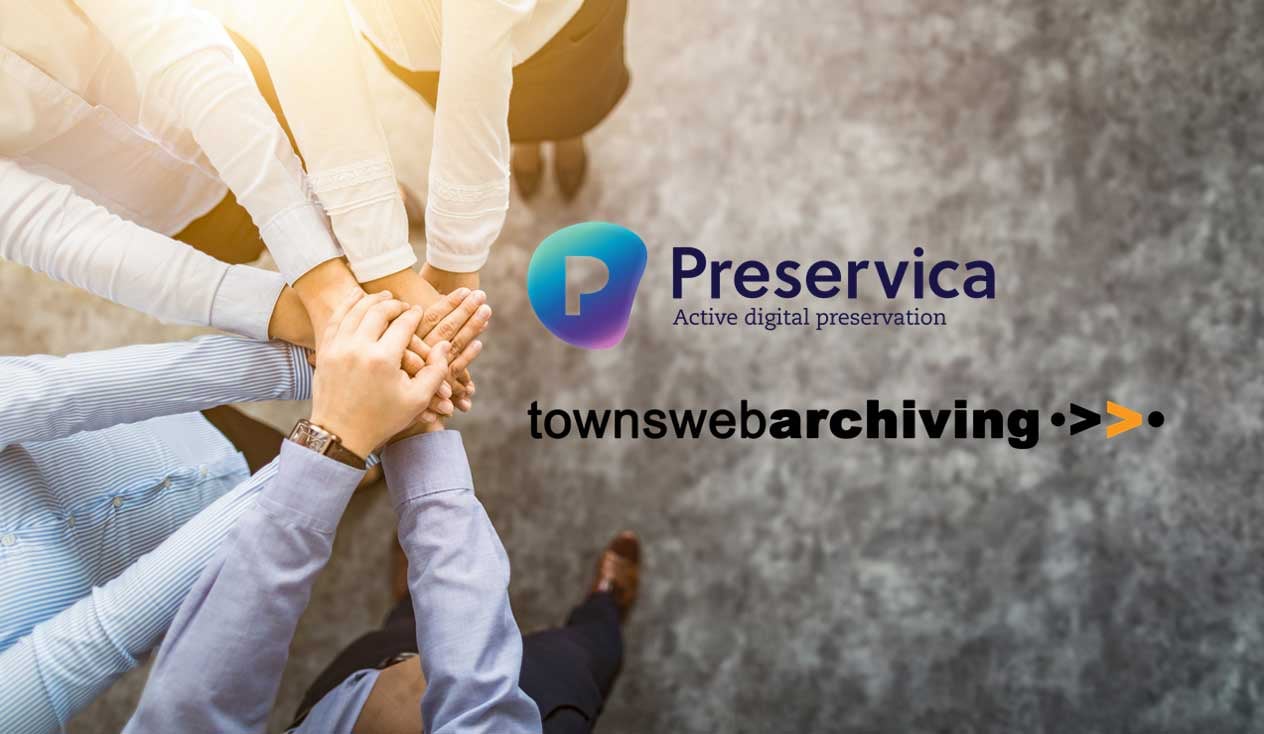 The Preservica platform provides durable and secure preservation storage as well as ensuring file formats are automatically migrated to newer formats that can be read and used by future generations. In addition, using Preservica's standard APIs, preserved content and metadata can be displayed and discovered through TownsWeb Archiving's PastView online access portal.
Paul Sugden, Managing Director of TownsWeb Archiving comments "We are excited to announce Preservica as our preferred partner for the long-term preservation of digitised materials. We were already working with a number joint customers and so it made sense to provide our shared user base with a complete solution for the digitisation and long-term preservation of digital materials"
Moira Edwards, VP Channels and Alliances at Preservica adds "We are delighted TownsWeb Archiving have become a preferred partner for digitisation services. Organisations often undertake digitisation projects without considering how their output files will be protected and preserved over the long-term. Having a combined solution simplifies the whole process and ensures the investment in digitisation is quickly protected. TownsWeb Archiving's online management and publishing system, PastView, will provide another great option for showcasing the digital assets held within Preservica."
About Preservica
Preservica is changing the way organisations around the world protect and future-proof critical long-term digital information. Available in the cloud (SaaS) or on-premise, our award-winning active digital preservation software has been designed from the ground-up to tackle the unique challenges of ensuring digital information remains accessible and trustworthy over decades.
It's a proven solution that's trusted by business, archives, libraries, museums and government organizations around the world - including the UK National Archives, Texas State Library and Archives, MoMA, Dartmouth College and HSBC - to name a few.
Visit: www.preservica.com Twitter: @Preservica
Contact:
In the US and Canada: For further information, please contact:
Maria Doyle, maria@doylestratcomm.com, or call: +1-781-964-3536
In the UK: For further information, please contact:
Edward Clark, eclark@thecommsco.com, or mobile: 07983 507659
About TownsWeb Archiving
TownsWeb Archiving Ltd specialise in providing digitisation services and software within the Heritage Sector. Working within public and private sector archives helping to convert old, precious, fragile and culturally significant items in to digital formats.
Our operators are fully trained/accredited in the handling of delicate and valuable items. A white gloves approach, utilisation of non-heat producing lighting and the use of specialists book rests, cradles and weights limit the risk of any damage to the original items.
Our software development team can help archive owners provide innovative access to their image libraries via bespoke archive management software, virtual book turning software and also ecommerce online access allowing prints and images to be downloaded and ordered.
Visit: www.townswebarchiving.com Twitter: @townsweb
Contact:
For further information, please:
Email: enquiries@townswebarchiving.com, or Call: 01536 713834