The College Library and Archive at the Royal College of Surgeons of Edinburgh is host to a vast historical record of medical documentation, dating as far back as the fifteenth century. This provides not only an insight into a rich and far reaching heritage, but has time and again served to help us follow the developments and advancements in surgery through the sixteenth century to the current day. The library acts as a point of enquiry for Members, Fellows and the public, and as a safe place for some of the rarest books and journals.
Their growing archive is testament to the everchanging face of medicine and it was of no surprise that the College was forward thinking and mindful of the need to consider digitisation, enabling them to support current and future research and education and open up the information they hold to a wider audience.
TownsWeb Archiving were asked to consult on this project as well as deliver and create the following key areas:
What follows is the Royal College of Surgeons of Edinburgh's journey from digital to published archives.
So what do you do when you hold so much data?
The Royal College of Surgeons of Edinburgh already have a number of databases that are unique, valuable and in regular use. Library staff respond to enquiries from Fellows and Members and conduct searches on their behalf, providing admission dates and biographical information at the touch of a button.
With thousands of records, there was lots of opportunity to gather data into the following two distinct areas:
Surgeons Database and Special Collections
It was decided that if a database could be created for surgeons alone, this would allow a search function that would benefit genealogists and historians, as well as clinical researchers too. There were understandable concerns around data protection and TownsWeb Archiving worked with the Royal College of Surgeons of Edinburgh to agree on the appropriate fields necessary to facilitate a quick and easy search of over 20,000 surgeons. Any additional information could then be controlled by the college and hidden from public view.
2. Special Collections Database
Proverb tells us, "A picture is worth a thousand words," and the Royal College of Surgeons of Edinburgh had over 4,000 items, some already digitised and some digitised as part of the overall project, ready to include in their new Special Collections. With 10 main collections, and many more sub collections of loose photographs, glass plates, bound volumes, letters, diaries and artwork, the Special Collection would create a space to showcase the college's most treasured manuscripts and photographs to include, but not limited to, the following:
Sir Henry Wade
| | |
| --- | --- |
| | Wade, a keen photographer, photographed his home and foreign service during WW1 as Consulting Surgeon with the Scottish Horse Mounted Brigade Field Ambulance, making a collection of nearly 2000 photographs and lantern slides, thereby creating a permanent record of the medical face of WW1. Documents pertaining to surgeons and nurses, as well as the training they underwent, created contextual content that has gone on to bring this period back to life through these spectacular images. Wade was a military surgeon with the Scottish Horse Mounted Brigade Field Ambulance Service, and one of the Museum's most influential conservators. |
Scottish Women's Hospitals for Foreign Service (SWH)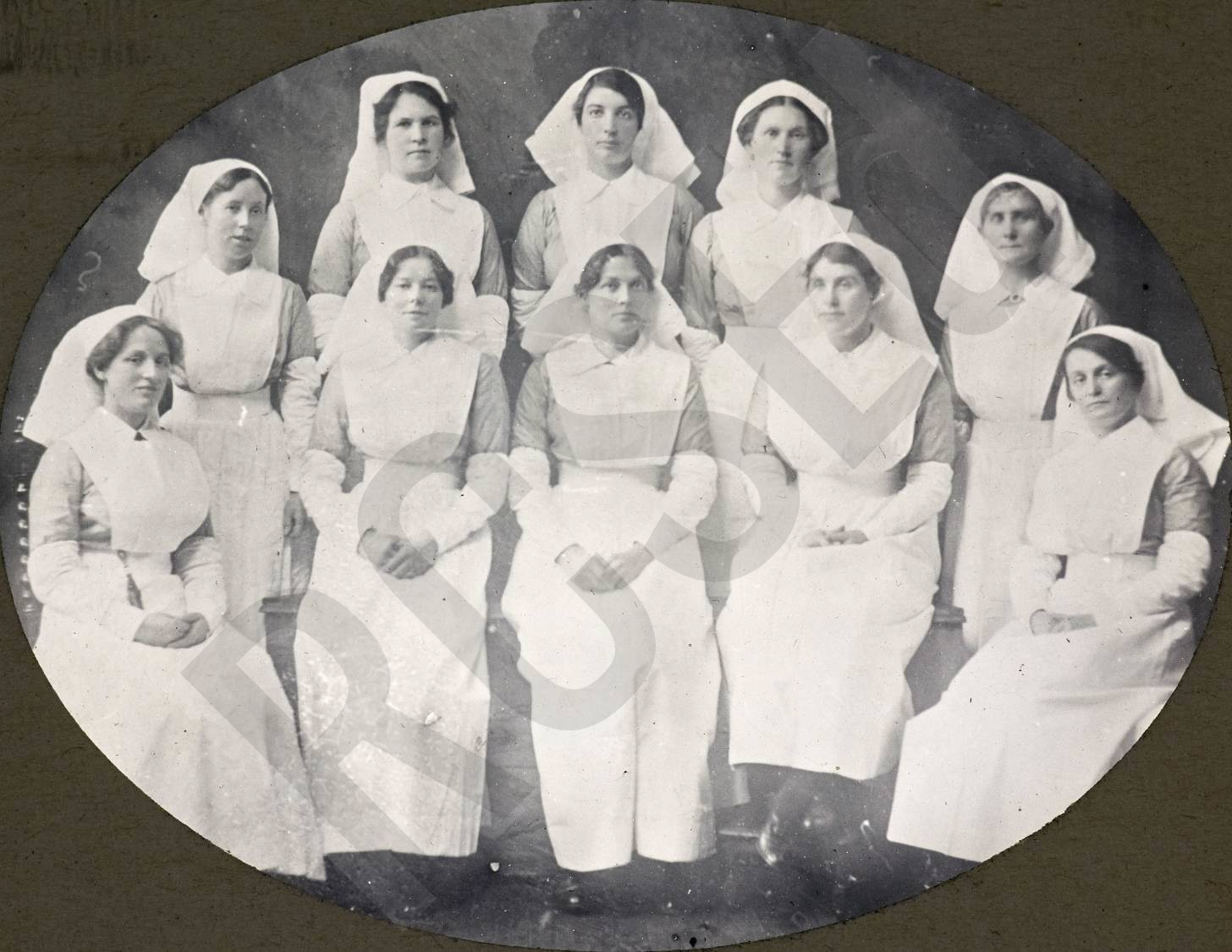 This digitised collection of photographs and lanterns slides brought together a number of different photographic archive collections relating to the Scottish Women's Hospitals. The SWH provided field and fever hospitals staffed by female surgeons, doctors, nurses, orderlies, cooks and ambulance drivers and was closely connected with the National Union of Women's Suffrage Societies and The Red Cross. This particular collection was a truly captivating look at the contribution women made to medicine and surgery during the war in all female staffed medical units, often near the front lines.
Incorporation of Surgeons and Barbers of Edinburgh

A stunning collection that documents the early years of the Incorporation of Surgeons and Barbers of Edinburgh, and their relationships with each other and other medical practitioners in Edinburgh. Surgeons over time progressed to a more regulated 'profession' and, thus, the relationship between surgeons, barbers, apothecaries, physicians and Edinburgh Town Council saw a great deal of change, documented in thousands of manuscripts dating back to the sixteenth century. This is a vastly evolving and colourful history and there are a number of fascinating documents within this collection, such as the above letter granted by Mary Queen of Scots to surgeons and barbers, exempting the bearing of arms in times of war in return for treating the wounded of the Queen's armies.
These, and other documentation that made up the separate and distinct databases, needed a system that would allow them to be published and managed effectively by the College. This is where PastView came in.
A user-friendly software and management system - PastView
What we were able to offer the Royal College of Surgeons of Edinburgh was our very own secure hosted system to manage, update and edit their digital collection. PastView not only granted easy access to databases, but offere d College staff a sliding scale of admin rights so that they could retain ultimate control, manage privacy settings and add items, metadata and new collections over time.
Digitising, transcribing and biographically documenting collections can take time, but now this can be done in the background, edited, saved and hidden from public view, until the college are ready to promote and publish their exciting new content.
With PastView, the college also benefited from an option to watermark images in order to protect them. Although the software allows for a very obvious and bold watermark through an image, the college did not want to restrict the enjoyment of the images and so opted for something more discreet. The choice was theirs and continues to remain within their ultimate control and management.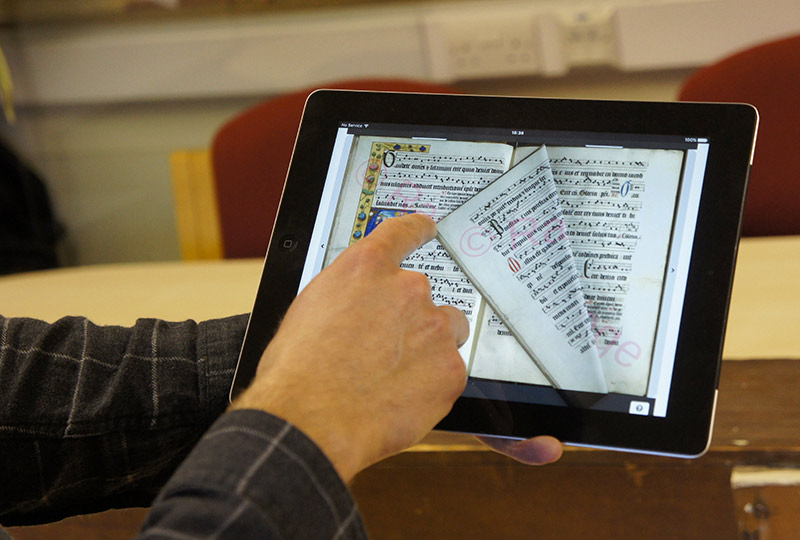 PastView also provided our Book Explorer and Page Explorer function, enabling digitised manuscripts and images to be rotated and pages turned, retaining the look and feel of something much more physical.
With the digitised archives organised and managed to enable publication and access, it was then a case of finding the right way of hosting it.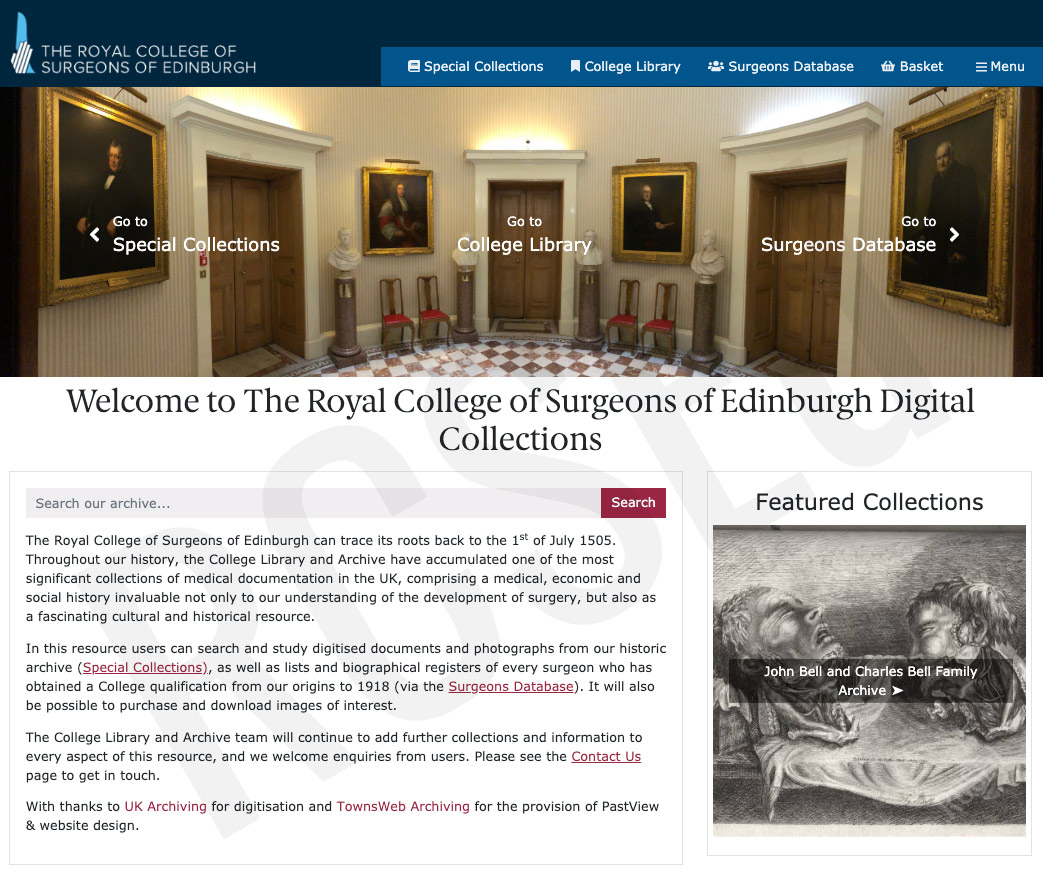 Website creation - hosting and showcasing
A stunning image greets you, one that invites you right into the vestibule of the Royal College of Surgeons of Edinburgh and captures the grand architecture of it all, as well as a feeling of space and openness. And the webpage aims to do just that too. It welcomes visitors and grants them the freedom to access the information they are looking for.
The college needed a system that staff could use and control on the admin side and that Members and Fellows, as well as members of the public, could use and explore on the other. Our expert IT consultants here at TownsWeb Archiving immediately set about designing a website that was in keeping with the Royal College of Surgeon's existing one, in terms of structure and corporate branding. This made for a seamless transition between the current and the new: something professional and consistent, offering a high-quality user experience.
Tags - connecting surgeons to special collections and the items within them
Last, but by no means least, was the task of bringing all of the above data and information together through a comprehensive 'tagging' system. The system works like this:
Special Collections
The Special Collections database allows people to browse and research historical collections, and items within them, such as pictures and documents. If a surgeon, for example our acclaimed Henry Wade, appears in any of the pictures, or is referred to in the documents, the intelligent tagging system will identify him and provide a link back to him on the Surgeon Database.
Surgeon Database
The Surgeon Database allows researchers to look for particular surgeons by name, for example Henry Wade, and will reveal biographical information about them, as well their contributions to medicine.
Again, the tagging system will instantaneously trawl the Special Collections database (and proceeding Virtual Reality tour) and provide links to any items with which that surgeon is connected.
Tagging means the process of searching has become more revealing and comprehensive than ever before.
Accessing areas – The Virtual Reality Tour
Our new Virtual Reality Tour was the latest exciting product that TownsWeb Archiving were able to offer the Royal College of Surgeons of Edinburgh - a revolutionary service perfectly suited to the Cultural Heritage sector.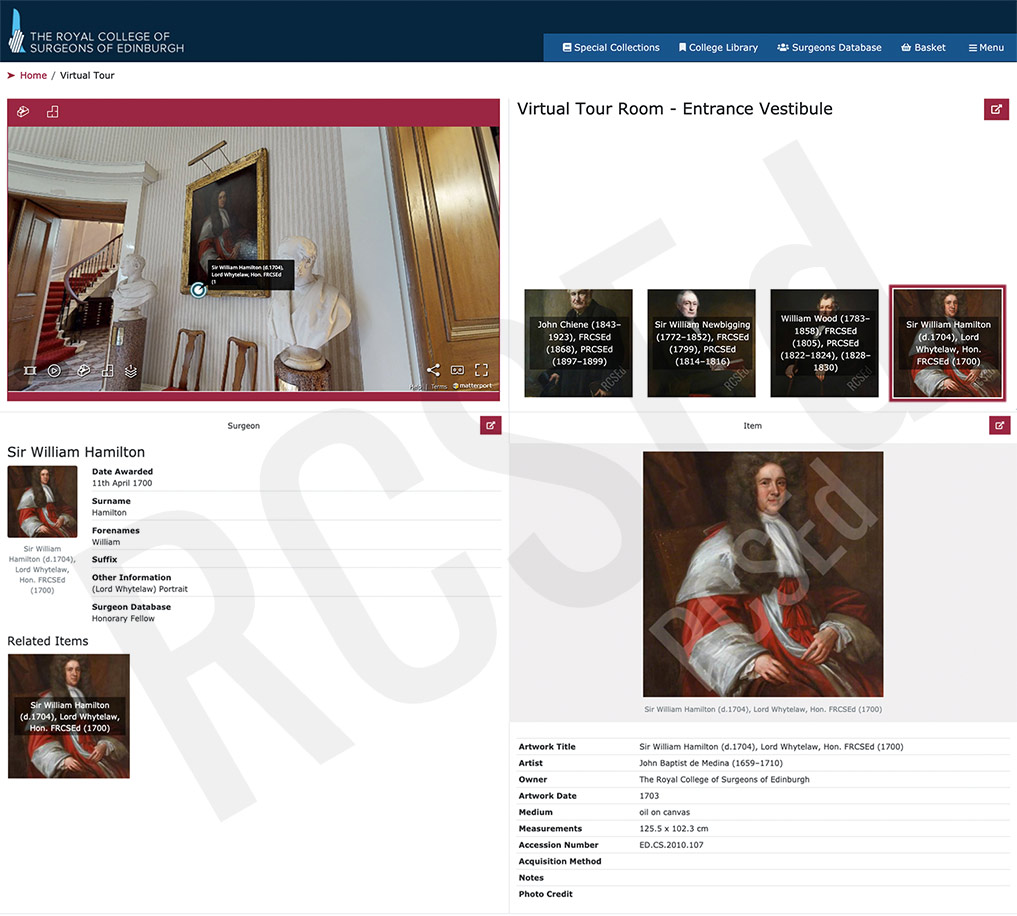 If you've read our other case studies, or have indeed taken advantage of our digitisation services in the past, you will be aware that we regularly digitise 2D material, such as paper and film, and sometimes 3D objects as well. Well, our virtual reality tour service now enables us to do the same for your internal spaces too!
"So a virtual tour is exciting", you say, "but is it new?" No, of course, you will have heard of and perhaps experienced virtual reality tours before, but TownsWeb archiving are proud to say that they are the first company in the world to offer a complete end-to-end service: analogue to digital, digital to virtual and virtual to fully connected. Using our clever 'tagging' system this meant a network that connects the Special Collections to the Surgeon database to the Virtual Reality tour - and back again!
By appointment, our technicians can visit your museum, gallery, exhibition rooms or office spaces and use the latest in laser and 3D technology to capture the environment in ultra-high definition. From ceiling to floor, and everything in between, we can capture it, digitise it, virtual tour it and link it through our clever tagging system. In this particular case our Managing Director, Paul Sugden, visited the beautiful and iconic premises in Nicolson Street where a number of rooms were captured for this very purpose. Now people can see items exactly as they appear in the library from the comfort of their own homes, while soaking up the atmosphere and history of the environment too.
Stop to look at the many gold framed portraits and click to find out the surgeon's name and the key dates in their esteemed history, as well as any of the relevant items displayed - such as the portraits to the right of the image above. This is research that takes your visitors further and deeper than it ever has before.
Revenue generation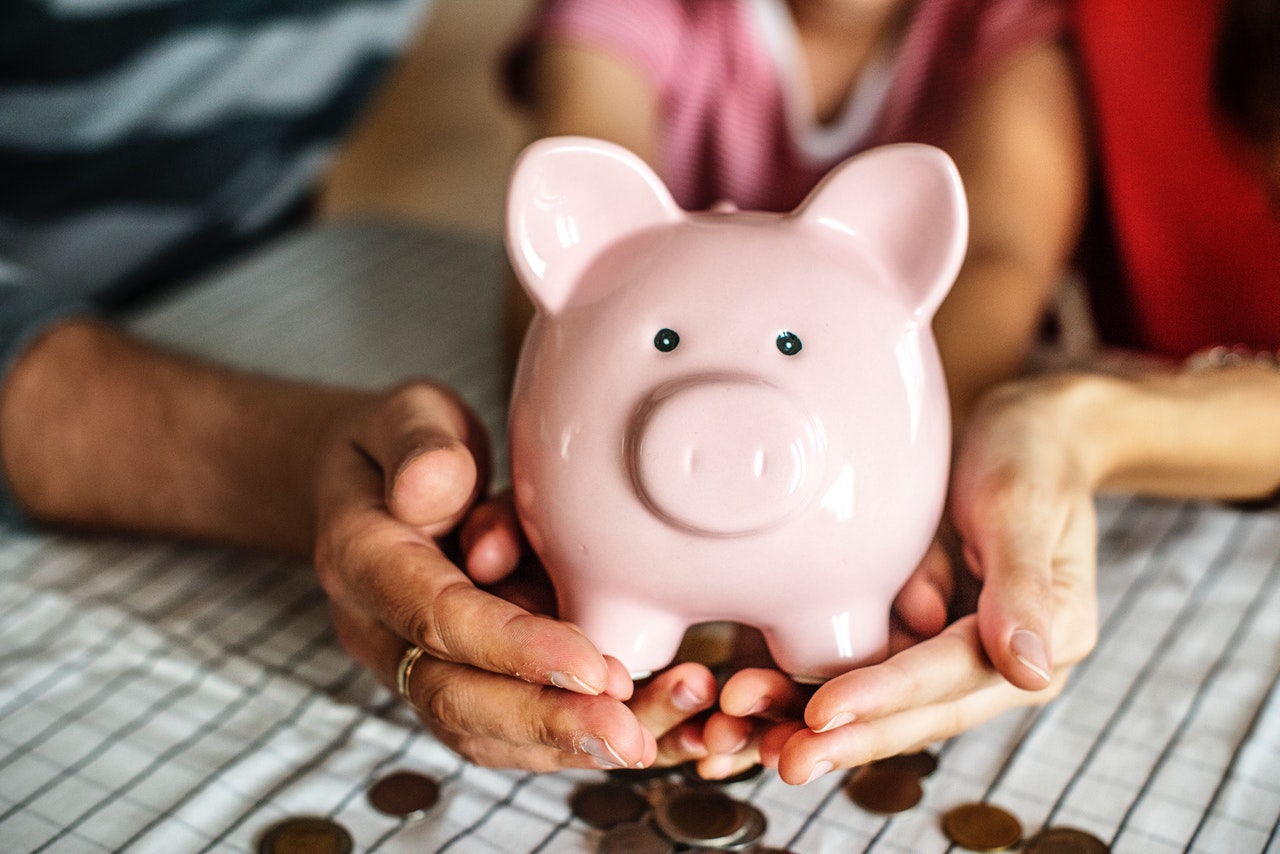 Digitising archives, creating and transcribing metadata, creating a beautiful and bespoke website to host material and the software to publish it, as well as creating tags to link across archive libraries, can be a costly business in the setting up and implementation. But there is good news. Having done all of this, The Royal College of Surgeons of Edinburgh had paved the way for immediate and future revenue generation. Offering a public search service that is free of charge, but with the option for paid downloads means that, now, and for just a few pounds, visitors can own copies of discreetly watermarked prints and records for their continued use and enjoyment.
With PastView the college has the freedom to continue adding items to their digital archives and offering a service that is both high quality and financially prudent.
So, what's next?
The Royal College of Surgeons of Edinburgh will no doubt continue to digitise and add to their fascinating collections over time, creating tags and thereby increasing the breadth of their existing searchable content. You can follow their developments and start your research here.
A big 'thank you' from us!
Here at TownsWeb Archiving we count ourselves very lucky for we love what we do and we discover something incredible with every new project. We are very grateful to the Royal College of Surgeons of Edinburgh for the opportunity to work with them and their rare and quite unique material.
With their mission to deliver a library service that is user focused, innovative, and embracing of the e‐environment, a strong working partnership with TownsWeb Archiving was forged, and we were proud to be able to offer our specialist support, technology and advice. What greater satisfaction than to help preserve the history of our leading and evolving medical and surgical history, through peace times and war times, so that it may be accessed more widely and protected more securely for the benefit of the profession and future generations to come.
Contact
If you have found some of the archive issues faced by The Royal College of Surgeons of Edinburgh familiar and would like to know more about publishing digitised content or, indeed, the digitising of that content, then please do make contact with us here at TownsWeb Archiving. The online calculator is often a useful first port of call, as is the contact form or a quick call to our offices, where we will be happy to help.
We look forward to hearing from you.