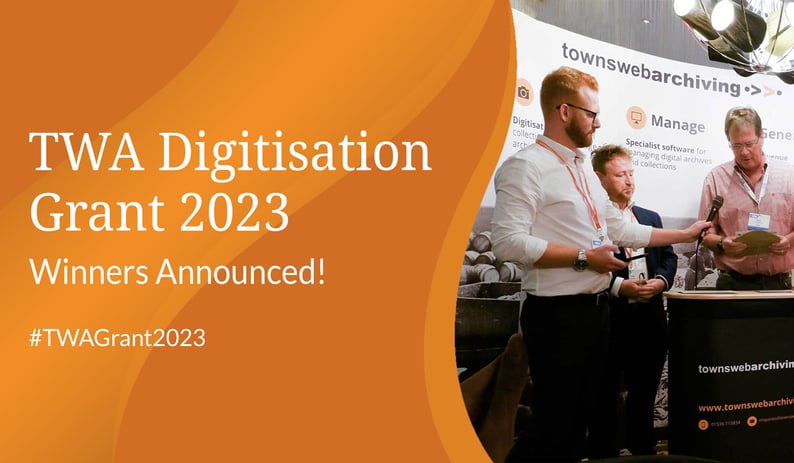 After an incredible turnout to the winners announcement on the 30th August 2023, brought to you straight from the ARA Conference in Belfast, we are very pleased to spread the news of this year's three lucky grant winners!
Every year we receive a phenomenal response to the grant and this year saw an unprecedented level of downloads and submissions. The standard, as always, was incredibly high and the competition fierce. Our judges have come to expect that they will be faced with a huge challenge, as well as having the privilege of discovering so many incredible and diverse collections that, together, contribute towards the UK's unrivalled and proud cultural heritage. The grant's judges are always very grateful to have the opportunity to read each and every application and it is clear that a lot of hard work goes into writing them. But, of course, there can only be three lucky winners. So who are they? Watch our recorded winners announcement to find out:
Below we have prepared an introduction to each of our successful organisations and a brief overview of their project:

Hull Hull Centre
Hull History Centre is a partnership between Hull City Council and The University of Hull. They're looking to digitise 3 sets of records with the majority of this material being directly related to the Caribbean prior to the passing of the Slavery Abolition Act in 1883, and each giving us a glimpse into the lives of enslaved people One set of records appears to be the sole surviving set of papers relating to the Peru plantation in Jamaica.
Claire Adler, Heritage Fund Appointed Mentor & Independent Heritage Consultant, was personally very impressed by the HCC's application and commended them, stating;
"There is an enormous public need for these stories to be told and understood and it is really interesting that these are documents related to pre 1833 Slavery Abolition Act in the Caribbean and that they can be used to create a humanised understanding of people who were enslaved. The impact this project can have on Britain's understanding of the stories of people who were enslaved as part of the Empire is significant."
Hull History Centre have planned to publish these records online once digitised as part of their commitment to social justice and centring previously unheard voices and histories from their collection.
Here's what Laura Wilson from Hull History Centre had to say:
We are truly delighted to have been selected for the TWA Digitisation Grant. This is an incredibly important project for the Hull History Centre as it will be the first time the Hull History Centre partners (Hull University Archives and Hull City Archives) have collaborated on a digitisation project and we hope it will enable us to promote the importance of collaboration and lay the foundations for future projects.
The three collections identified for digitisation comprise the majority of the Hull History Centre's material directly relating to the Caribbean prior to the passing of the Slavery Abolition Act 1833. They are of international significance and this digitisation grant will enable us to make them more easily accessible to researchers across the world. We're really looking forward to working with TownsWeb Archiving on this exciting venture.
A huge congratulations to Hull History Centre from all of us!

British Trust for Ornithology
The next organisation taking away one of our grants of £3,000, is the British Trust for Ornithology for the digitisation of their maps pertaining to the migration of UK bird species. The Common Birds Census, run by BTO from 1962 to 2000, monitored the numbers of common breeding birds. The results provide the only measure of change in UK bird populations and are foundational to many of the conservation efforts taking place today, however unfortunately these maps are now at risk of deterioration as well as the valuable information which they store. The proposed project was brought to TownsWeb for the sake of digitising a sample of the maps to determine appropriate approaches for safeguarding these unique records and making the data within them available.
BTO are looking to digitise a collection of species maps along with additional notes and habitat information, each which are unfortunately at risk from deterioration, putting the unique information in jeopardy.
Casper Smithson, Chief Operating Officer at TownsWeb Archiving, was astounded by BTO's application, stating:
"I personally felt very impressed by The British Trust for Ornithology, application and commend them for the research that they have carried out and included within their application. They demonstrated a very considered and consultative native in their approach. Being the starting point of a much larger collection, the insight this project will give on the depletion of birds in the UK is incalculable."
As well as making the data available in appropriate formats for researchers (e.g. as GIS layers), the British Trust for Ornithology would also use the opportunity of their centenary to produce a web-based resource (and/or mobile app) that would enable members of the public to explore the changing fortunes of bird communities, either local to them or at a larger scale.
Here's what Lesley Hindley, archivist at the BTO had to say;
The British Trust for Ornithology is absolutely thrilled to have been awarded one of TWA's Digitisation Grants. This grant will enable us to digitise a sample from a unique collection of approximately 250,000 maps created as part of the Common Birds Census (CBC) during the years 1962 to 2000, recording data on territories of breeding birds in a number of sites across the UK. Our long-term goal is to digitise all of these maps to open up vital information about how and why our bird populations have changed over time, and we are delighted to be working with TownsWeb Archiving on this sample which will enable us to establish the processes we will use going forward.
Congratulations are in order for The British Trust for Ornithology! We are thrilled to celebrate their success and commend them on their amazing achievement.

The Griffith Institute
Last but not least, the final organisation set to take away one of our grants of £3,000, is The Griffith Institute for the digitisation of Amelia Edwards documents. The aim of the project is to digitise and publish online a collection of documents by Amelia Edwards (founder of the Egypt Exploration Fund now known as the Egypt Exploration Society), who extensively travelled through Egypt and Sudan between 1873–74, producing a vast amount of records, including many watercolours and sketches, some of which were used in the landmark 1877 publication "A thousand miles up the Nile", painting a picture of Egypt no longer seen.
John Chambers, Chief Executive at the Archives & Records Association, in particularly was impressed by The Griffith Institutes application, stating;
"This project will reveal the hidden role of women in developing the study of Egyptology and bring to light the accomplishments of an extraordinary person."
Once digitised, the Edwards collection will be made available on the Griffith Institute's open-access website, which was launched in August 1995 and now comprises almost a hundred thousand webpages of information. We extend our heartfelt congratulations to The Griffith Institute for their outstanding achievement!
Here's what Daniela Rosenow, from The Griffith Institute had to say;

The Griffith Institute is delighted and honoured to be awarded a TWA digitising grant to enable us to communicate one of our most precious archival holdings, the Amelia Edwards MSS. Being able to share this important cache of documents will not only shed light on one of British Egyptology's founding members but also highlight Amelia's many other accomplishments as a travel and fiction author, composer and artist.
We can't wait to get started on these projects and to tell you ALL about them!
Claiming from the Match Funding Pot?
We wish we could award every single application to the grant because all are truly deserving and worthy of safeguarding and wider opportunities for access, but that is just not possible. Instead, we have brought back the popular Match Funding Pot from last year, available to everyone who has applied.
For every eligible application received, TWA deposited £500 into the Match Funding Pot. Any applicant who has been unsuccessful in securing one of the three main grants is entitled to make a matched claim against the pot for up to £1,000! But, we warned, the pot is very popular and once the funds are gone, they're gone! Our advice, if you are ready to progress and you have some funds available, don't delay in making your claim.
Is this a good time to discuss your specific requirements with a member of our team? Just select a suitable date and time below.