The Royal Military Academy Sandhurst is a proud repository for the 'Sandhurst Collection', protecting military heritage through (but not limited to) countless records, photographs, registers, weaponry and art. The Sandhurst collection not only preserves military traditions and pride, but is also vital for the education and training of cadets.
The finalised PastView website went live in 2020 moving the whole archive towards one of extensive and rich research value. Sandhurst has a lot of overseas researchers and this contributed to their move towards a website that would act as a research portal for so many, near and far. This is a resource that is already proving to be phenomenally popular.
For TownsWeb Archiving there was also a really nice personal history to this project, having worked with Sandhurst in the past and as part of what was to become a two-stage process. We had the pleasure of digitising elements of the Sandhurst collection, completing the digitisation of their nominal rolls only last year, and capturing data through a process of transcription. This next project would seek to improve accessibility.
The Sandhurst project was made up of 3 main elements:

Moving from the legacy platform, Arcview, to PastView involved a huge amount of organising and data processing. Sandhurst's complete upgrade meant a monumental amount of data had to be migrated from their existing archive management system into TownsWeb's PastView platform. Watch our PastView Explainer video to see how the platform works for the management, publishing and sharing of digital collections.
Prior to migration, users could only access single records, for example specific cadets, whereas now they can take advantage of full register or volume access through a subscription. Sandhurst have successfully made a more research focused move towards the continued use and access of their valuable military archive.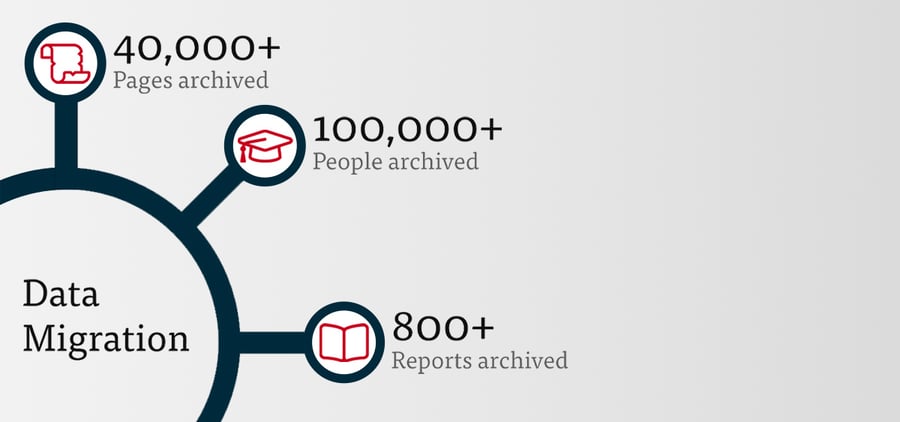 This lengthy migration exercise saw in excess of 100,000 single pages captured, and a whopping 133,285 names moved into the system. There were multiple references to the same cadet due to the nature of the college's system of recording. For example, with a four term structure, each cadet could have an entry for all four terms: summer, autumn, winter and spring.
Sandhurst can now also set different levels of control and permissions for the continued management and expansion of their content.




Visually, Sandhurst's new website is a bold black on white design, complementing the primary colours of their crest, and is now fully mobile responsive too. Sandhurst were specifically looking for a single homepage with the option for additional pages, such as 'Online Collection', 'News' and 'Contact'. The main emphasis in the design brief was on the ability of the search facility, hence the provision of a large search function and the structuring of data into categories for both individual downloads and full collection subscriptions. Ultimately, the design offers a clean, modern, timeless feel, whilst simultaneously presenting the history, brand and diversity of the collection.



A fundamental part of the design process was in relation to the tailoring of an intelligent and sophisticated search facility, to fit Sandhurst's vision for their unique and distinct collections. This was of significant importance as the data held within the Sandhurst collection was both typed (requiring OCR scanning) and handwritten (requiring transcription). Both also contained key information, such as content and dates.
Once subscribed, users will find that they can search effortlessly against each collection, due to the unique metadata, such as attributes and entities assigned to each item and a designated search option to facilitate quick and accurate retrieval. This was important in order to segment archive data, enabling users to search magazines separately from cadet records.
Photos were separated out into distinct collections and then the connection process began; linking individual names between different archival formats to show the full story of individuals. This saw the creation and inclusion of toggles, date sliders and other clever user options, to enable clearer search segregation. Their search and retrieval system is now more targeted than it has ever been, saving precious research time.
By categorising collections of data to a year, content can be viewed and searched in a completely new way, for the first time, enhancing a user's findings from a wide range of sources, such as magazines, registers and photographs, for example.

Prior to migration into the PastView platform, users could only access single records, for example specific cadets, but now they can take advantage of full register or volume access through subscription. Subscriptions allow for a wide range of options when it comes to setting timeframes and prices, but Sandhurst decided on a standard seven day duration, to make it uniform and consistent.



Sandhurst can now boast the availability of digital downloads and everything within their collection can be subscribed to, meaning users can simply create an account, locate a register and subscribe to view the whole book, in the same way they could if visiting a library, except they are loaning these books virtually. It is even possible to purchase the full Woolwich journal, receiving a digitised copy that opens in our revolutionary Book Explorer software, to give the look and feel of something much more physical. Users also receive a PDF so they can search the record too, benefiting from the advantages of OCR.
Since going live, Sandhurst have received many orders, demonstrating that generating revenue to maintain the collection is a viable option - one that will continue to grow going forward.


The updated web service provided by Townsweb afforded the opportunity to reconcile our initial web provision with a new vision going forward. With PastView we are now able to edit our content and manage our online data in a way we were never able to do before. Incorporating a legacy system into a new format was understandably not straight-forward. However, the team at TownsWeb were especially patient and approachable; being keen to ensure that the system met our needs - which it certainly does.
Apart from the long-standing aspiration to provide a web-based service, it also benefits us from a home-working point of view as we are able to administer PastView via any internet browser. This was an unexpected benefit which will undoubtedly aid us in the future.


Dr Sebastian Puncher, Deputy Curator
The Sandhurst Collection


Leading the way for military Archives
Sandhurst's website upgrade to the PastView platform means that their users can now benefit from a state-of-the-art research resource, reducing physical look-ups of the registers. Now users can efficiently identify all relevant content from across the collections, subscribe to receive digital downloads, and search documents, thanks to PDF. Specialist features allow users to read and view online in a way that offers the next best thing to physical handling. Sandhurst's vision is already proving to be a smart modern solution to a vastly historical and diverse archive; a significant benefit to all those wishing to research the military history of Sandhurst.
Responsible for training every officer in the British Army, Sandhurst holds a phenomenal amount of names within their military archive and this is of great interest to family and genealogists alike. Thanks to Sandhurst's vision and PastView's capabilities, these records are now accessible both nationally and internationally, and this new research website is proving to be a popular worldwide resource, proudly connecting people to their relative's history and service.