CASE STUDY
A fresh PastView upgrade and digital storytelling at its finest!
TownsWeb Archiving recently had the pleasure of working once again with Lymm Heritage Centre on the upgrade of their PastView website. This opportunity enabled us to catch up with Lymm Heritage to discuss the strides they have made in respect of their online archive. So much has been embraced and achieved that we felt it would be a disservice not to share their great work and wonderfully diverse collections with the wider heritage sector.
Established as a group in 2015, with the primary purpose of establishing a physical heritage base within the local area, Lymm Heritage Centre quickly concluded that to make Lymm's heritage globally accessible they would need to create an archive. Many small to medium-sized, local heritage organisations will likely recognise this journey themselves.
Lymm is a semi-tourist area with the Heritage Centre situated close to the banks of the Bridgewater Canal. Aside from local residents, Lymm attracts many visitors, benefiting from connections to both Manchester and Liverpool. The archive is of interest to people passing through, as well as those living in the Lymm or Warrington areas, and those with family connections.
Securing Heritage Lottery Funding
Not an easy feat, Lymm Heritage put in a Heritage Lottery bid and successfully secured funding to achieve three main objectives:
Equip a heritage centre

Develop an online archive

Create educational resources
Having secured the funding necessary, Lymm Heritage Centre wanted to invest in the long-term future of their archive for the benefit of the community. They were looking to share Lymm's rich heritage both locally and more widely, whilst working to develop and grow their repository. This has seen them, more recently, invest in a fresh new PastView upgrade, described as, 'The Rolls Royce' of publishing platforms,' by Alan Willams, Chair of Lymm Heritage Centre. This will see their visitors immediately benefiting from feature releases whilst ensuring a smooth research experience of the highest possible standard.
Lymm's digital archive is a veritable chocolate box. Visitors can find anything from colourisation work, specific photographer collections, adverts and articles, aerial views and maps, to education, public services, sports and leisure, streets, trades and industry, traditions and events, and transport. And even more besides! There is definitely something for everyone. One of Lymm's quirkier claims to fame is in being documented as the place of the very first in-car phone call, which was made just outside the front of the Lymm Hotel back in 1959.
Alan Williams shares one of Lymm's proudest moments as he recounts that very special time, 57 years ago, when Pelé came to stay, demonstrating the power of digital storytelling.

When Pelé Came to Stay…
When the new manager of the Lymm hotel went through the drawers of his desk on his arrival in 2015 he discovered a veritable treasure trove: a collection of photographs of Pelé and his Brazil teammates. They dated back to the team's stay for the 1966 World Cup. An album of photographs taken by hotel owner, Roger Allen, had been snapped up at auction by local collector Neil Perkins. The photographs, showing the team relaxing and socialising at the hotel had never been seen publicly. Neil had been keen to share them with the hotel but the copies had laid gathering dust in the drawer for ten years, their value unrecognised by the previous hotel manager.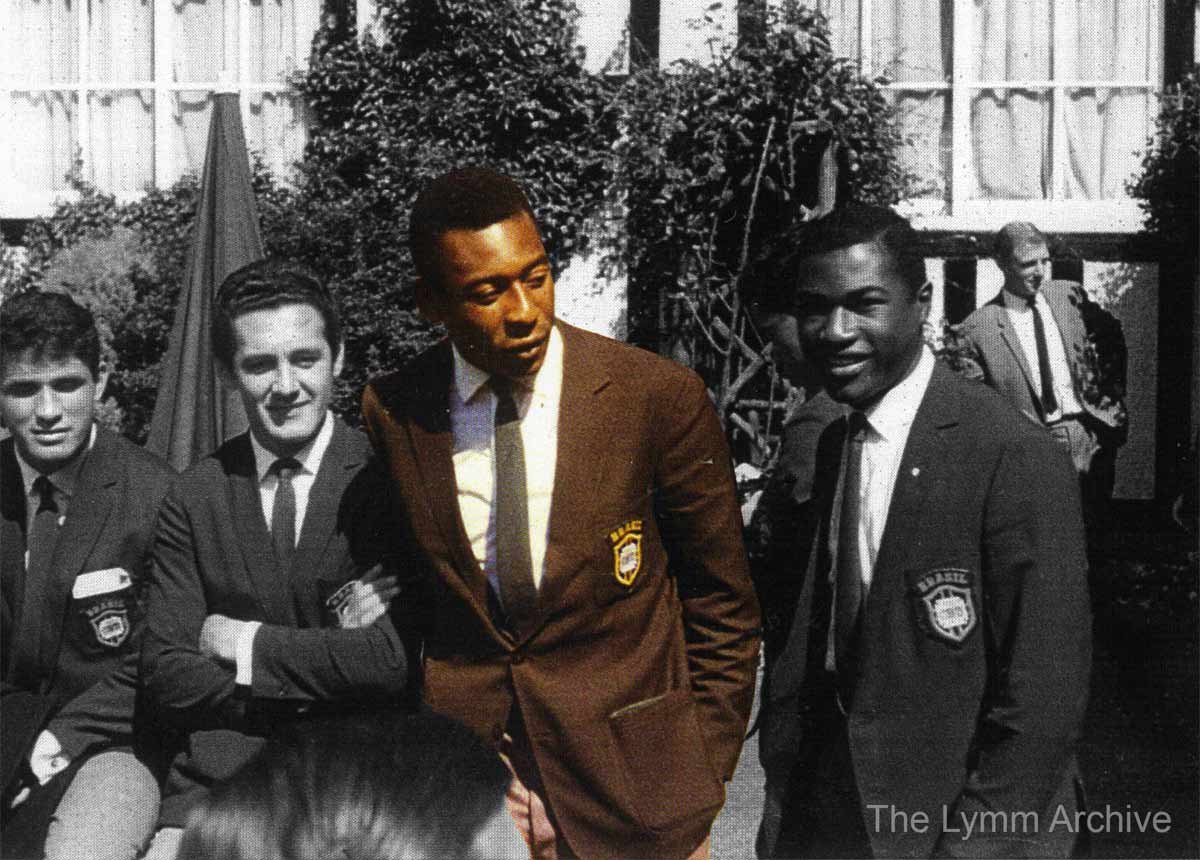 The new manager instantly recognised their importance and he contacted the newly formed Lymm Heritage Centre. They in turn tracked down Neil Perkins who was delighted that they were being appreciated at last. In 2016 an exhibition to celebrate the 50th anniversary of the Brazil visit was mounted at the hotel with the photographs at its core. The exhibition attracted huge interest, featuring on the BBC home page and in the national press. The photographs unlocked so many stories from residents now in their 60s and 70s, of autographs, kickabouts and friendships formed with the whole team but with Pelé in particular.
There was another, sadder opportunity to commemorate the stay following the death of Pelé' in December 2022. The storyboards came out again, along with a new video compilation, this time at Lymm Heritage Centre where over 1,100 visitors enjoyed a final tribute to Pelé during January and February 2023.
That could have been the end of It, but thanks to the Lymm Archive the images and stories now have a permanent digital home where they can continue to be shared and enjoyed around the world, today and for generations to come: a lasting memorial to a sporting legend and his unique relationship with a Cheshire village.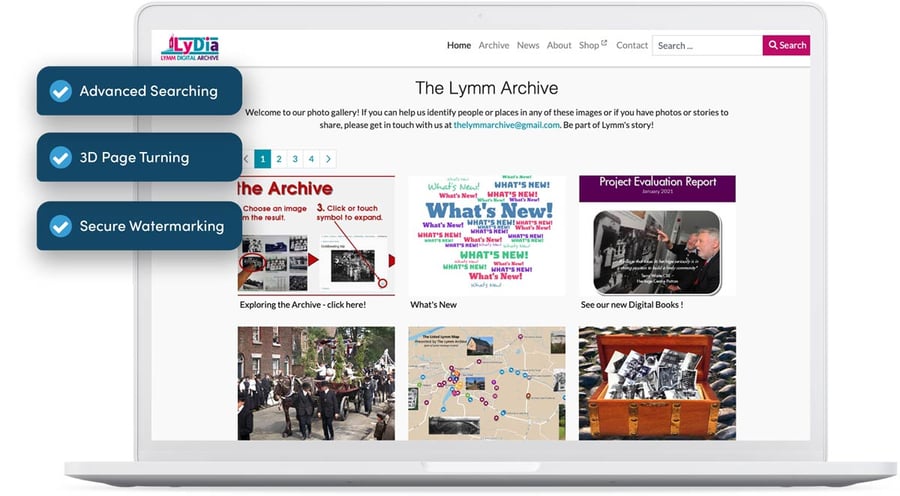 The benefits of PastView
Lymm Heritage really liked the accessibility that PastView had to offer and, with such a diverse audience, it was important to them that visitors could still access their material even if English was not their first language. The ability to expand images and interact easily removed any unnecessary barriers making for a more inclusive software, and they generally found the user interface to be friendly, self-explanatory, and intuitive. Lymm's online digital archive is also accessible via a kiosk situated within the centre, so a lack of IT equipment, IT skills, or internet access is still no barrier for those who want to research their local heritage.
Optical Character Recognition (OCR) has proven to be invaluable for Lymm Heritage, with Attributes and Entities serving to effortlessly connect photographs to documents so the stories contained within can be more easily revealed and retold. PastView features such as these link items within the archive that might otherwise not have been connected.
As a result of collaborative training and development with PastView, the software configuration now means the Centre has complete control as to how these images are displayed on its site. But perhaps more importantly, it is about securing Lymm's history for future generations, particularly as so many people have photographs of interest. This will not only further knowledge - but fill in those all-important gaps.
Glynis Allen
Digitisation Co-ordinator and Trustee Lymm Heritage Centre
The archive is also proving very important for education and the move to online access has contributed toward this. Lymm Heritage Centre are able to support local schools in topics such as the importance of rivers and canals in establishing settlements, complementing learning with images of mills, corn mills, canal boat navigation, and Packet boats, all of which are just ready and waiting to inspire young minds to think about how their own history and community have evolved over time. The Heritage Lottery Fund, and the subsequent investment in PastView, has enabled Lymm Heritage Centre to offer a split approach to supporting education. This can now be achieved in the form of face-to-face outreach work, through class talks and visits, as well as remotely with teachers and students carrying out their own class-based, independent research using the online archive.
In addition, PastView has enabled a real push in terms of community engagement with Lymm Heritage Centre making connections with the likes of The Manchester Ship Canal and Historic England. They have also used their archive to reach out to residential care homes where historic images have proved invaluable in sparking stimulating conversations.
What's Next?
There are aspirations to continue growing the online archive by adding content over time, which is incredibly straightforward with PastView. Lymm Heritage Centre are proactively talking to local groups and organisations and their social media communities, encouraging and welcoming photographs and items contained within private collections. Lymm Heritage Centre might be small, but they have proved to be technically savvy and keen to connect with their audiences in a variety of ways. They have visions for a published flipbook that can be sold through their online shop, and they are also looking to make 3D objects accessible too, which can be achieved through 360 scanning, and enabled through PastView's Object Viewer. Their intention is to grow their collections and audiences in order to benefit wider communities, and they are hopeful that smaller, local archive holders, will recognise the Lymm Archive as the ideal repository for their own documents and photographs.
Alan Williams tells us that the main focus is about contributing to the 'heritage cycle', encouraging people to engage with their local heritage and value it. As a result, eventually, these individuals are more likely to contribute towards it themselves. For him, "it's all about the sharing".
Lymm Heritage Centre already have a Friends membership in place, which has enabled them to generate important revenue for the centre, and the more people that interact with the archive, the greater their membership base will grow. To promote the village of Lymm and to keep its history alive, Lymm Heritage Centre have invested financially, technologically, and physically. In doing so, they have succeeded in safeguarding Lymm's legacy and heritage for generations to come.