Large format material is found within most archive collections. This could be in the form of maps, plans, blueprints, newspapers, posters, technical drawings, or some other significantly over-sized item.
Whatever physical form it takes, large format material is particularly vulnerable to wear and tear. Regular handling can cause items to fade and because of their awkward size they can be torn or creased easily when trying to remove them from storage and manipulate them. Poor climate control can result in damp and mould, and lack of space can result in poor storage. Thankfully, digitisation resolves all of these issues, and more, not only protecting your large format items but making them more accessible.
Do you want your large format items to be entirely accessible, to reveal all the ultra fine detail they contain? If so, PageExplorer is for you. The intelligent interface offers a high resolution zoom function that perfectly reveals every intricacy, meaning absolutely no stone is left unturned. Using the cursor and scroll wheel of a mouse, or pinch-and-zoom actions on smartphones and tablets, the viewer's experience is instantly elevated, leaving them keen to return to your large format items time and again.
A feature that offers a smooth, elegant 'real feel' digital interaction that mimics, yet enhances, the physical reading experience. Thanks to BookExplorer's 3D technology, your large format, digitised items can be turned easily and smoothly by clicking and dragging the cursor on a PC, or sliding a finger across the screen of a tablet, mobile or touchscreen device. Perfect for otherwise fragile items, this feature takes audiences beyond the glass cabinet displays and vault doors that have historically been common barriers to the most delicate and rare archives.
Optical Character Recognition (OCR) makes the information contained within your large format items more accessible by enabling the instant retrieval of content from within your archive, wherever it matches a set of given words and/or phrases. OCR can be carried out during or after digitisation using OCR software, which scans your JPEG and TIFF images, converting any typed or printed text within them to machine readable digital text. The OCR'd text is then added as metadata when your digitised large format items are imported to PastView, connecting images to associated data to enable keyword searches to be performed.
The related entities feature enables you to establish a relationship between your items, connecting and reconnecting them, web-like, within and across your collections. These many individual strands can create alternative routes into your archive, acting as unique pathways that, when followed, aid and enhance discovery and access. Related entities aim to tie your single large format items together through shared characteristics, so they don't become isolated within your collections. Related entities helps to increase collection flexibility and broaden your users' search results.
Enabling your visitors to download offline copies of your large format items to their Kindle, PC, Mac, tablet or phone is not only a great opportunity for them to retain your content on their personal device (to read and enjoy as they wish) but also offers you the opportunity to generate revenue from your collections and make them more financially self-sufficient. Your digitised large format documents can be viewed in PDF, MOBI and ePUB formats at a price and option to suit you, putting you in control of how you would like to make your collections available.
Société Jersiaise - Publishing rich and varied archive collections online
Find out how Société Jersiaise are organising and showcasing their collections online with PastView, using 'Collections', 'Sub Collections', 'Featured Collections' and 'Latest Projects', as well as PastView's comprehensive filtered search facility, to effectively structure and manage their data. Now thousands of their items, such as their large format and quite unique historical newspaper collection, are just a few key strikes away.

Learn more about the project:
https://blog.townswebarchiving.com/pastview/2022/10/societe-jersiaises-digitial-collections-now-online

Visit the Société Jersiaise's website: https://collections.societe.je/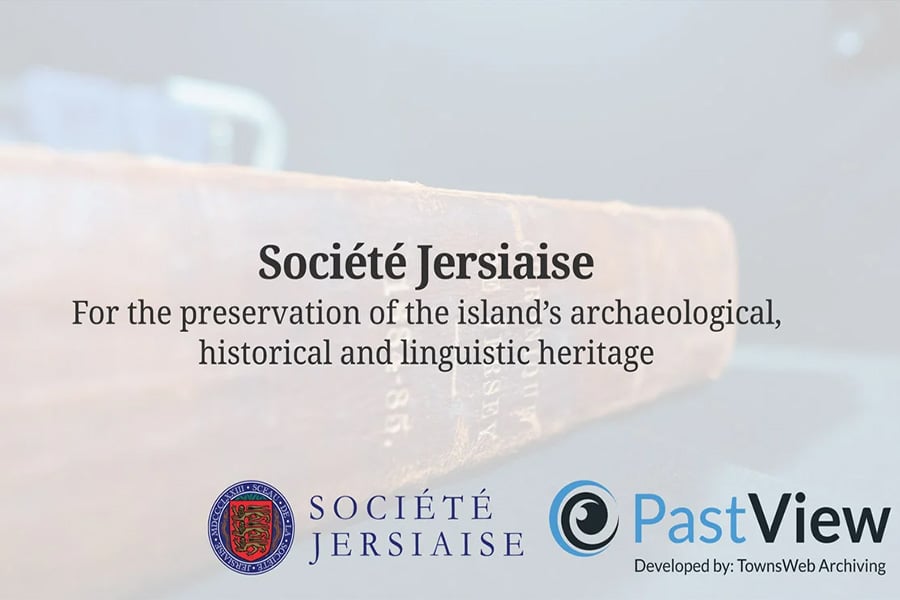 If you would like to see how PastView can work for your own digitised large format collections then sign up to the PastView Playground and try it out for size. Just upload a few items from your archive, select the options and features, and see how PastView could look for you.