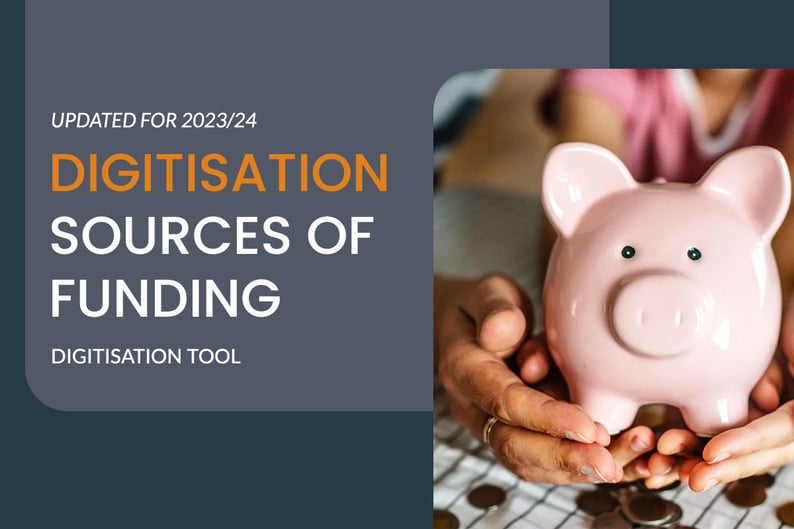 Sources of Digitisation Funding – a quick directory
Last Updated: 21st August 2023

Anyone who has embarked upon a digitisation project will know that this comes at a cost. From the initial collection and transportation of delicate archives to the digitising, transcription and publishing of that material, time and handling add up. Consequently, funding can present a real issue.
This is exactly why TownsWeb Archiving set up its annual grant scheme back in 2017, and it looks set to continue for the foreseeable future. This year (2023) we saw three successful winners, but demand was high and many applicants were unsuccessful, which is hard for everyone. However, there are other funding options available, so if you were one of those organisations, don't be disheartened, we've made a quick reference directory to help you find that vital funding you are looking for.
It is our hope that through new and existing funding opportunities, the barriers and obstacles to digitisation will slowly and surely be overcome, paving a much smoother journey from physical to digital, and the freedom, security and accessibility that this provides.
TownsWeb Archiving
The TownsWeb Archiving Digitisation Grant accepts applications for UK-based heritage digitisation projects. Applicants bidding for the funding awards of up to £9,000 (3 x £3,000) have ranged from business and local authority archives, national museums and university special collections, as well as public and private libraries and galleries.
Funding Details

Types of Project

Digitisation of public and private archives

Opens

Annually - June

Closes

6 weeks later

Grants Available

For 2023:




3 x Primary grant of £3,000

Up to £1,000 in match funding for all eligible applicants

Helpful Links

www.townswebarchiving.com/digitisation-funding-grant
Arts Council England
Arts Council England announced a rescue package of £1.57 billion in grants and loans following the COVID-19 pandemic and it is understood that this will be available to heritage institutions across the UK through a number of different recovery funds and grants.
Funding Details

Types of Project

Culture recovery fund

National lottery project grants - under £30,000 and £30,000+ grants

Open funds


Opens

Always open

Closes

Various

Grants Available

Recovery funds, grants and open funds

Helpful Links
www.artscouncil.org.uk/ProjectGrants
British Library
The British Library offers a range of grants solely for the protection of 'endangered Archives' which they aim to make as widely accessible as possible. Material covered includes: written, pictorial or audio formats, including manuscripts; rare printed books; documents; newspapers; periodicals; photographs; and sound recordings dated before the middle of the twentieth century.
Funding Details

Types of Project

For archives that are classed as 'endangered' and in need of preservation through digitisation due to their cultural significance.

Opens
September

Closes

Various

Grants Available

Pilot - up to £15,000

Major - up to £60,000


Area - up to £150,000

Helpful Links

eap.bl.uk/grant

s
Charles Hayward Foundation
The Charles Hayward Foundation Main Grant programme 'Heritage and Conservation' seeks to support projects that are unique and of national importance, inviting applications from UK charities in respect of heritage, preservation and conservation projects. The grant covers funding for pictures, manuscripts, books and objects for public display, use and interest. It also covers the development of libraries, museums and galleries, and adaptations of heritage sites for education.
Funding Details

Types of Project
Heritage and conservation

Opens
Always open but please be aware account registration deadlines apply, so be sure to register on time for each of the following windows:
Always open to outlining proposals

Closes

Quarterly reviews of applications

Grants Available
Up to £50,000

Helpful Links
Esmee Fairbairn Collections Fund
The Esmee Fairbairn Collections Fund is run in partnership with the Museums Association and awards up to £1.2million per year to projects that "have a strong link between relevant collections and audiences; are able to use the project to contribute to the long-term plans of the organisation(s); and are ambitious, interesting and sometimes exploratory". There are two types of grant and both have a two-stage application process.
Funding Details

Types of Project
Projects that offer, "outstanding ideas that demonstrate the significance, distinctiveness and power of collections to people".
Opens

2 Rounds each year: Summer & Autumn

Closes

July & September

Grants Available

Grants between £40,000 - £100,00 for up to 3 years.

Helpful Links
www.museumsassociation.org/collections/esmee-fairbairn-collections-fund
Garfield Weston Foundation
Garfield Weston provides funding to, "a broad range of organisations and activities that share a commitment to making a positive impact to the lives of the communities in which they work," and this covers the arts and museums and heritage.
Funding Details

Types of Project

Garfield Weston Foundation - arts, heritage and preservation

Opens

Currently open

Closes

Not specified

Grants Available

Local Community Projects

Regular grants of £100,000+

Major grants of £100,000+

Helpful Links

Garfield Weston Foundation:

garfieldweston.org



They also have an 'eligibility quiz':

garfieldweston.org/apply-to-us/eligibility-quiz/
Heritage Fund
The heritage fund has published the first three-year delivery plan for its new 10-year strategy, Heritage 2033. It includes details about their budgets and priorities and forthcoming changes to National Lottery Grants for Heritage.
For now though, please continue to apply for funding using our current guidance and outcomes. An open programme for heritage projects across the UK using revenue generated from The National Lottery to fund digitisation projects and heritage enterprises by not-for-profit organisations and private owners of heritage and partnerships. There are a number of different grants available.
Funding Details

Types of Project

Local, regional and national UK heritage projects

Opens

Always open (check for changes to terms during COVID-19)

Closes

Deadlines for grants over £250,000:

Grants Available
Helpful Links
www.heritagefund.org.uk/funding
Marc Fitch Fund
The Marc Fitch Fund offers special project grants which are small and intended to be of last resort for projects that might otherwise fail and have exhausted alternative funding strategies. Funding is available for applications from local and national archaeological and historical societies to digitise and publish journal backlists online (with a number of conditions attached) which must be made available to all.
Funding Details

Types of Project

Heritage digitisation projects for pre-1945 collections

Opens

Always open via email submission of a brief outline

Closes

Applications determined in:



Grants Available

Small grant (Amount unspecified)

Helpful Links
marcfitchfund.org.uk
Museums Galleries Scotland (MSG) Fund
Museums Galleries Scotland provides support to the sector via a number of funds including the Small Grant and the Museum Development Fund.
Funding Details

Types of Project

Museums projects aimed at getting back on track and taking strategic steps towards becoming more resilient.

Opens

Various dates

Closes

November & January

Grants Available
Resilience fund £15,000 - £60,000

Helpful Links
museumsgalleriesscotland.org.uk/funding
The Foyle Foundation
Supporting UK charities and state schools only, this foundation operates two grant schemes open to heritage digitisation projects. The Main Grants Scheme supports charities whose work covers Arts and Learning, with priority given to sustainable projects offering a service to the general public. The Small Grants Scheme supports smaller charities in all fields providing their annual turnover does not exceed £150,000.
Funding Details

Types of Project

Digitisation projects for charitable institutions with an emphasis on sustainability, public benefit and accessibility (main grant scheme – learning)

Opens

Always open

Closes

No deadline

Grants Available

Main grant: £10,000 - £50,000

If applying for a building project - £75,000

Helpful Links
foylefoundation.org.uk/how-to-apply
The Rothschild Foundation (Hanadiv) Europe
The Rothschild Foundation's overall aim is to ensure the conservation and preservation of Jewish heritage material. Their aims are specifically focused on: conservation and preservation; inventories and cataloguing; digital resource creation and digital humanities; professional training; and language grants. They also support digitisation to make the collections more widely accessible, "provided the application clearly explains the purpose for digitisation".
Funding Details

Types of Project

Jewish heritage projects run by charitable organisations

Opens

Spring

Closes

September

Grants Available

Conservation and preservation grants between £30,000 - £60,000 per year for up to three years

Helpful Links
rothschildfoundation.eu/grants
The Pilgrim Trust
The Pilgrim Trust is working to preserve and conserve the UK's heritage through moderate funding made available through two grants open to UK charities for the preservation of such things as artefacts, books, and manuscripts. The Trust considers applications on a rolling basis and has historically provided funding for digitisation as part of a wider project. Priority is given to projects considered to be of national importance.
The Wolfson Foundation
The Wolfson Foundation has a long history of supporting the arts and humanities and recognises the importance of the cultural sector, providing grants to charities and organisations with charitable status. The Foundation offers specific funding streams for both the Performing Arts and Museums & Galleries under their 'Funding for Places' stream for which there are two rounds each year.
Arts & Humanities Research Council
The Arts & Humanities Research Council (AHRC) offers a number of funding streams that will support the creation of digital resources, with a variety of projects funded. Use their 'Funding Finder' tool to search for available grants.
Funding Details

Types of Project

Funding for research supporting the creation of digital resources - would suggest emailing in the first instance to see what projects are currently covered

Opens

Always open

Closes

Various

Grants Available

Various

Helpful Links
www.ukri.org/apply-for-funding/
Funding Scotland
Funding Scotland provides a free online search engine to research available funds and grants: https://funding.scot/search?keywords=&activities=heritage-and-building-preservation&type_of_funding=grant
If you discover any other funds or grants that you think we should know about, please do get in touch and help us to keep this resource as up-to-date and relevant as possible for the benefit of the wider heritage community. If you are applying, always check the dates and finer details because these are always subject to change. If you find anything to be incorrect or out of date, again, please let us know by emailing hello@townswebarchiving.com.
If you found this article useful, you might also like our Best Practice tips for Planning a Digitisation Project.
Best of luck with your next project!