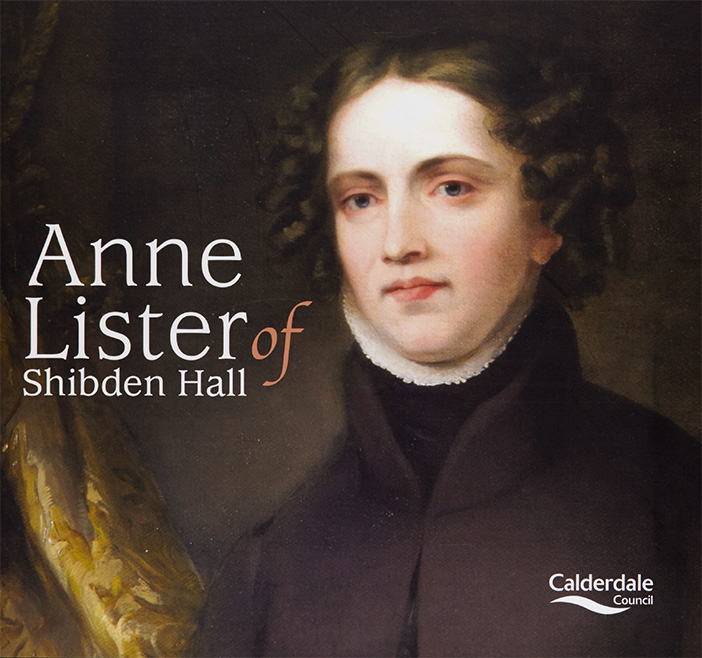 Click here to purchase your copy of 'Anne Lister of Shibden Hall' - An introductory guide to Anne Lister (1791-1840) of Shibden Hall, Halifax, West Yorkshire.
"I love, and only love, the fairer sex," her writing boldly declares, and given the buzz surrounding the BBC's adaptation of her autobiographical documentation, and the huge amount of interest in West Yorkshire Archive Service where the original records are displayed, the world loves her right back!
A very influential character, Anne Lister offers a unique insight into homosexuality in 19th Century Britain and wore many hats: she was a daughter, sister, friend, businesswoman, writer, politically vocal, concerned with female rights and landowner, and she moved in some of the highest circles in society - largely due to her charisma and the people she befriended and influenced over the years of her relatively short life. She was a lesbian – though there was no such 19th Century word for it – and sadly convention and law forced her to secrecy. Despite this, her observations are refreshing and accepting of who she is and she makes no apologies for that, instead allowing herself to fall in love…again and again. A true inspiration of her time, she recorded her journey and encrypted it for security and privacy in her own hand – pure temptation for any cryptographer – and thus has become an icon for the modern day too.
The deciphered text brought the past to life in a colour and style never quite seen before, so it's not surprising that this content was rich enough for the BBC's Gentleman Jack series. Thankfully, this was made possible by the commitment of Calderdale Museums and West Yorkshire Archive Service to actively promote and share Anne Lister's legacy. This venture has proved widely popular and so, quite wonderfully, Anne Lister's love and life begins all over again.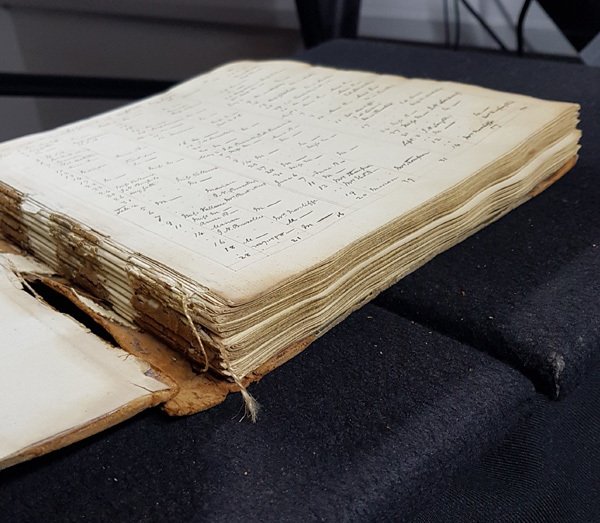 So, where do we come in?
TownsWeb Archiving was approached by Calderdale Museums and West Yorkshire Archive Service to digitise the diaries and travel notes that Anne Lister had made, all handwritten by Lister, and in her famous code.
As the lucky person responsible for reporting on this project, I found myself fascinated by the whole thing: the woman herself, the story, the travel, the code, the history, the discovery, the digitisation process, and the journey from museum and diary to screen. This made me keen to speak with those who were directly involved with the project: our very own digitisation consultant, Casper Smithson, and digitisation technician, Elliott Gallon. I took the opportunity to sit down and have a chat where I put all of my questions to them. Here's what they had to say:
How long did this project take?
It took three full days to capture all of the content and over two weeks of post-processing. We only had a limited amount of time to get everything scanned. (Elliott Gallon, Digitisation Technician)


How many items were digitised and what material were you looking at?
The diary collection consisted of 24 volumes of which we scanned a whopping 8428 pages. The travel notes were bound in 18 volumes and they totalled 1,904 pages. We also captured 6 maps that contributed to Anne's travel collection. (Casper Smithson, Digitisation Consultant)


How many people were involved?
Overall lots of people were involved with this case. In terms of TownsWeb Archiving, Casper initially consulted on and managed the project while myself and Mark were the lucky technicians who got to handle and scan the material and manage the project onsite. Teresa Bird, within our Production team, then quality assured every item making sure they consistently met the high standards we aim for. (Elliott)
Do you know if there were any special measures that had to be taken?
We were looking at fairly old material and with that comes the potential for challenge. The volumes consisted of tightly bound pages, which can create shadowing issues, so the process and equipment had to be adjusted in order to overcome this. The pages were also very thin, so great care had to be taken to avoid tearing. Fortunately, our technicians are very well experienced in handling delicate, fragile and valuable items and so they employed their specialist training and skills to ensure the current condition was maintained and not impacted upon. (Casper)
We had to demonstrate at the start of the project the equipment we would be using and how the self-levelling cradle works. The conservator was happy with the level of pressure this would put on the volumes and then the items were locked away in a controlled room at the end of each day. (Elliott)
How did you feel about this particular project?
At first I didn't know much about Anne Lister but after the first day of being in West Yorkshire I began to realise how interesting it all was, seeing the coding and trying to figure out why she used it. Then when I discovered more about her and her life it was really interesting to wonder what it was like for her during such different times. The only details we knew at the start were that Sally Wainwright was writing a script and that Suranne Jones was going to play Anne Lister. (Elliott)
It was very exciting knowing it was going to be used for the BBC Gentleman Jack series, but we had to wait like everyone else. There was lots of discussion at TownsWeb Archiving on the run up to the first episode and much to talk about after! (Casper)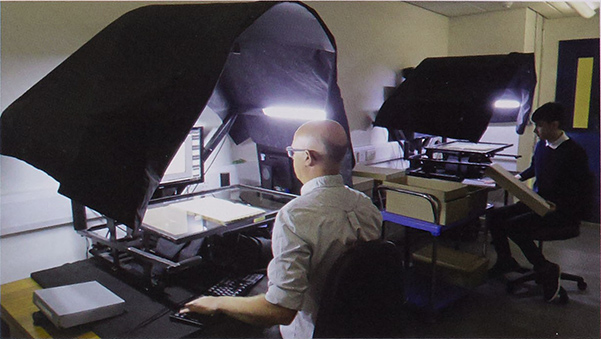 Did we carry out the project on site or offsite?
This was an onsite project. Elliot and Mark travelled to West Yorkshire to complete the work and they stayed until all of the material was successfully scanned. Material often comes to us for the digitisation process, but there are occasions where it's more appropriate for us to complete the work where the material is kept and stored. West Yorkshire Archives have their own conservation team on site, so having them close to hand at all times was a real benefit. (Casper)
What would you consider to be the best part of the whole project?
The best part for myself was the material because it was different. The travel notes, for example, contained more of the coding and sometimes reference as to where Anne went. Knowing it was being used by the BBC was exciting and gave a real sense of accomplishment because we were able to see the results on screen. (Elliott)
It was a privilege to work with the Anne Lister material. Outside of this, the opportunity to work in collaboration with so many people and industry experts was a fantastic experience to be a part of. The material belonged to Shibden Hall and Calderdale Museums project managed the whole thing. It was all scanned and digitised by TownsWeb at the premises of West Yorkshire Archives, who have their own expert conservation team on site, and they now display the journals for the public to visit and see. With such a team effort, Anne Lister's documents were in the best possible place and hands at all times. (Casper)
Do you have any favourite items and can you describe them?
There were some fascinating maps that were digitised as part of the process. They stood out because they were very different to from journals and travel notes. We were looking at documents so huge they needed scanning in parts and then digitally stitching together. It was great to see, for example, a full colour map of the Pyrenees that accompanied Anne's travel notes. (Casper)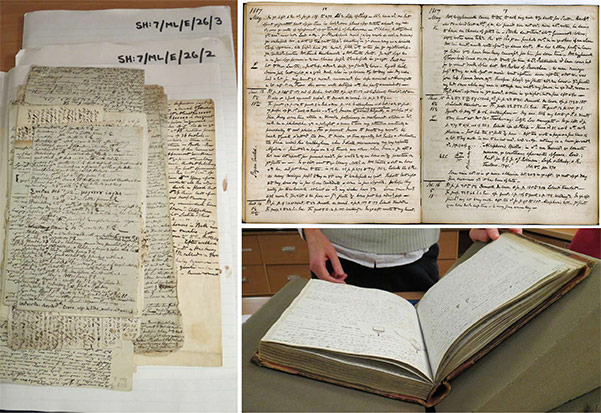 What did you think about the code?
The coding was so strange, it's usually a jumble of letters or numbers, but Anne Lister used symbols like circles with a line through them, like a warning sign, and then just a mesh of letters and symbols. With other projects you know what you are working with, but with this you could literally not work out what she was writing about. (Elliott)
I would actually love to hear what others think about the code. As you can see from the image here, Anne Lister's notes consisted of sloped handwriting, dashes, numbers and letters, at times crisscrossing the page in patterns. It was marvellous to witness it first hand and I'd highly recommend a visit to West Yorkshire Archive Service to see it. It's fascinating to think that someone actually cracked Lister's code and this enabled her story to be shared! (Casper)


Have you watched the series so far?
I certainly have and I absolutely love it! I do have a favourite bit…but I can't possibly tell you what it is because nobody will thank me for the spoiler! (Casper)
Can you give us a micro review/statement of no more than 40 words?
Ann Lister is a very powerful character being able to ignore words being said about her during her life. I am just really happy to see her work published and see how she might have been back then. (Elliott)
Anne Lister's written notes were captured and digitised with the code deciphered so that her wonderful experiences and observations could be translated to script and her life shared through the Gentleman Jack series for all of her adoring fans. (Casper)
39 words, Casper, but Elliott wins the challenge at 38! Well done both of you and thank you ever so much for sharing your Anne Lister digitisation experiences with me - and the rest of her fans - and for giving us a detailed insight into the whole digitisation process.