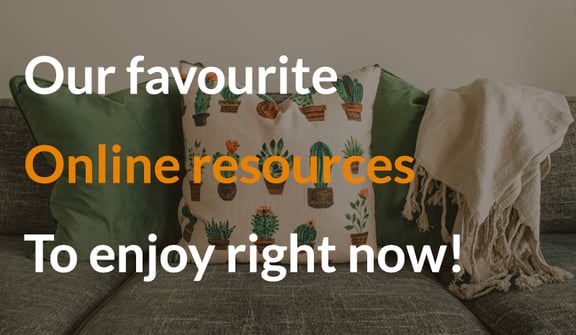 So we are now in a period of restricted movement with a stop on physical social freedom, which means more time at home, right? Fear not, it won't last forever, but to help wile away some of those hours (and when you physically can't adjust that picture frame any more) why not spend some time taking advantage of the hugely vibrant, informative and engaging archive material that is totally accessible and free online, thanks to our hard working and dedicated archivists, museums and many other archive holders. THIS is the new 'going out'!
So today we are bringing you our top 5 cultural heritage resources currently being shouted about, and perhaps you could share and let us know what new and exciting thing you discover.

Any #twitterstorians looking for #earlymodern online reading: a reminder that the many-headed monster has tons of accessible posts, mini-series, online symposia, that could act as starting points/provocations for virtual discussions: https://t.co/9CkbRJ0iOG

— Mark Hailwood (@mark_hailwood) March 19, 2020
The many-headed monster
The many-headed monster describes itself as: the history of 'the unruly sort of clowns' and other early modern peculiarities, which we feel offers great insight into human behaviour and, as their tweet above suggests, would make a fantastic 'go to' for deeper thought and discussion. Get those imaginations whirring!
Link to website: manyheadedmonster.wordpress.com
First day working from home! If you are not following @OldOpTheatre, what are you waiting for? You can help our museum (a charity) by liking, commenting, and sharing our posts! Please, help me keep our museum alive. Also, we have #leeches that need names 😉 #histmed #covid19uk pic.twitter.com/K0xEb1xiA5

— Monica Ann Walker (@MonicaAnnWalker) March 19, 2020
The Old Operating Theatre Museum
The Old Operating Theatre Museum is a very small organisation but don't underestimate the wonder that is their archive collection, offering "a unique insight into the history of medicine and surgery". Through their website they share details about their fascinating history and have a wonderful Top Facts resource page to get you squirming in your seats. I do believe there are some leeches looking to be named too!

Link to website: http://www.oldoperatingtheatre.com/
#HistNursing #HistMed#Nursing 100 Years of #Infection

One recurring message: wash your hands with hot water and soap

Check out this online exhibition from @RCNLibraries which looked back to the 1918 #flu #pandemichttps://t.co/RkN3Lgwk54

— Teresa Doherty🖐🧼 (@DohertyTA) March 19, 2020
Royal College of Nursing
Very apt advice indeed for today's crisis: "wash your hands with hot water and soap" the Royal College of Nursing tells us, sharing their incredible 100 years of infection in their free online exhibition.

Link to website: https://www.rcn.org.uk/library-exhibitions/pandemic-nursing
Want to learn more about royal women of the past? We've rounded up 11 fascinating episodes from our podcast archive… https://t.co/dsiBZitZIf

— History Extra (@HistoryExtra) March 21, 2020

History Extra: 11 podcast episodes on royal women
History Extra contains a wealth of thought provoking material and we were quite taken with their 11 podcasts about 'royal women from history', to include (but not limited to) warrior queens, 'forgotten' monarchs, royal women playing key roles in war and politics, and talks that seek to separate the facts from the fiction. You will all be experts by time you can go out again!


Link to website: https://www.historyextra.com/period/tudor/podcasts-royal-women-queens-history-listen/?
Amidst a slew of cancelled dates, many orchestras, opera companies and singer-songwriters are streaming free performances online. Read more: https://t.co/PNCrjZupAU #CoronaVirus #COVID19 #LiveMusic #ClassicalMusic #Opera #Orchestra pic.twitter.com/oLTPkIfXMw

— RNCM (@RNCMvoice) March 19, 2020

The Royal Northern College of Music
Who wouldn't like to attend a performance, listen to an orchestra, be carried away by opera, but sadly that's unlikely for the foreseeable future. Well The Royal Northern College of Music are streaming performances online and, guess what, they are free! Your body may be stuck on the sofa but your ears are about to be transported!

Link to website: https://www.rncm.ac.uk/blog/free-concert-live-streaming/