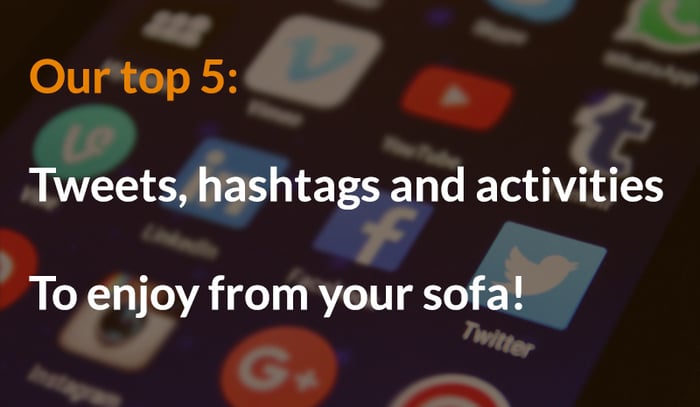 To follow on from our most recent blogs:
We've spent some time trawling Twitter to find what related tweets, hashtags and great ideas and activities are circulating for you to connect with and enjoy and, of course, to mark the great work that is going on behind the scenes (and we all like to see what's going on behind the scenes, let's be honest).
So grab your coffee and get yourself comfortable as we bring you our top 5 tweets, hashtags, ideas and activities to safely enjoy from your sofa (or bed if you didn't make it that far today). Each of these resources brings something a little bit different and shows how our archive community are striving against the odds to continue bringing the history and artifacts that we love, so that we can still feel connected to the world around us, both present and past. Acrostic is the new 'going out'! Fancy that!
Please share so that others can enjoy and learn, and let us know what new and exciting thing you discover today.
ARA Scotland's #Archive30
🗣 #Archive30 starts in just over a week! We know it may be challenging for those who don't have access to their collections so we're asking you to be creative! We're happy for everyone to just be taking part so anything remotely related to the daily theme...we're happy! 🤗 pic.twitter.com/fVuxyXzPnR

— ARA Scotland (@ARAScot) March 23, 2020
ARA Scotland have demonstrated that they are willing to rise to the occasion, keeping discussions and topics flexible for the purposes of their #Archive30, accepting the proverbial brick wall and meeting virtually to discuss other creative ways to scale it and continue doing what they do. A high ten to them! PS they also have many wonderful resources on their Twitter feed (@ARAScot) so be sure to check them out.
Isle of Man Public Record Office
While everything changes around us, our team will continue to care for the records in our safekeeping. We'll also do our best to carry on sharing our collections here to keep you interested and entertained, especially if you are self-isolating like this gentleman #LoveArchives pic.twitter.com/yJQxJiCGXZ

— Isle of Man Public Record Office (@IsleOfManPRO) March 25, 2020
The Isle of Man Public Record Office are busy sharing their material despite the lock downs so the many thousands of people in isolation can still have something to read, explore and enjoy. We have never seen a time quite like we are experiencing now, but neither have we ever seen a time more perfect for sharing and overcoming barriers. I really love that they are making their archives relevant too with this elderly gentleman (pictured) enjoying some quality down time.
Ashmolean Museum
In case you have also lost track of the days, it's Monday, and this is how excited we are to see your #IsolationCreations today! Let's see your responses to this dancing woman from 475 BC Cyprus pic.twitter.com/Q8KYlDmj9R

— Ashmolean Museum (@AshmoleanMuseum) March 23, 2020
Ashmoloean Museum are all about the #IsolationCreations, bringing us fascinating artifacts and challenging us to come up with our own interpretations. I mean, as a creative individual with a background in teaching, this is absolutely perfect for children and adults alike. It's totally accessible and great fun to see everybody else's masterpieces, while satisfying the notion that you can, indeed, learn something new every day. I learned that I am not an expert in clay throwing, but it's fine, I'll redecorate the back room next week.
Dorset Archives
Need something to exercise those grey cells? 🤔 Have a go at our #Dorset themed acrostic! We'll share the completed puzzle tomorrow 📝#ExploreYourArchive pic.twitter.com/iijhFsAnrZ

— Dorset History Centre (@DorsetArchives) March 26, 2020
So home schooling has become a big thing now and Dorset Archives have set us some homework of their own. You didn't realise you were going to be tested now, did you? This is a fabulous and innovative way to engage with the hashtag #ExploreYourArchive and it's great fun too. It's often when people engage with, handle and manipulate something that they start to really understand and remember it, so this gets a big thumbs up from us for ingenuity and resourcefulness! Now, can I have another clue for number 4, please?
PS no peaking at the answers!
Medieval Manuscripts
How many manuscripts do you know that are depicted in other artworks?

Here's one for starters: Humfrey Wanley holding a Greek gospel-book with the Guthlac Roll by his side.

Send us your suggestions. Let's build a virtual exhibition.https://t.co/6KvRtYNjDN#LetsGetDigital pic.twitter.com/ongz0lNVMR

— Medieval Manuscripts (@BLMedieval) March 26, 2020
Medieval Manuscripts have set us a challenge. They are looking to build a virtual exhibition through the hashtag #LetsGetDigital (understandably we like this hashtag a lot at TWA :-D). What's great is the desire to bring archive items together in order to collaborate on an exhibition for others to enjoy and discover. Community and working together have been fundamental in tackling this period of isolation, access to food and the protection of the most vulnerable, as well our NHS and the selfless people who serve to keep us all safe and well. This theme is identifying itself again and again throughout the archive community and makes us feel proud to be associated with it. Well done Medieval Manuscripts on modelling inclusivity and teamwork. A big pat on the back from us.