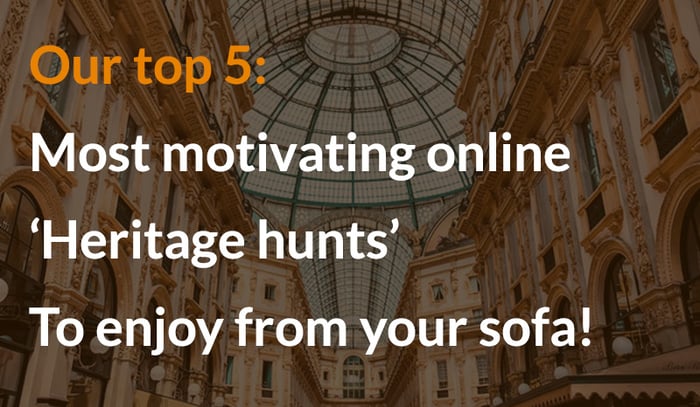 To follow on from our most recent blogs:
We've been searching the internet again and have stumbled across what we would consider to be the Joe Wicks of cultural heritage resources: resources most likely to motivate you to sit up (or get up) and get involved. Fear not, there were no squats or burpees identified in the making of this blog post!
So we've seen bear hunts and rainbow hunts and toilet roll hunts! Well, the following organisations each have a hunt of their own. So stretch out your typing fingers and apply some Deep Heat to your scrolling hand as you get ready to discover our next Top 5! Each of these resources brings something a little bit different and demonstrates just how creative the wonderful archive community is, bringing the very best of our heritage into your homes and demonstrating the many creative ways that archives can be delivered in order to engage audiences and urge them on a journey of discovery.
Please share so that others can enjoy and learn, and let us know what new and exciting things you uncover today.

Academy Museum of Motion Pictures
Museum doors are closed, but you can still visit your favorite #museumfromhome in these iconic movies. See the full list: https://t.co/YyWk7GXe1w pic.twitter.com/37cBJVk05y

— Academy Museum of Motion Pictures (@AcademyMuseum) March 31, 2020
What, museums making cameo appearances? How wonderful darling! They'll be expecting their own dressing rooms next!
Academy Museum of Motion Pictures has brought us a comprehensive list of films that feature museums under the hashtag #museumsfromhome. We challenge you to watch and spot them! This should keep you busy for many weekends to come and I'm in my element because some of my favourite films are listed here! So break open the crisps and sour cream dip and watch your favourite characters walk the halls and corridors of the most wonderful museums. And imagine how fab it's going to be when you can do that again too.
Visit website: https://aframe.oscars.org/features/movies-with-famous-museums
Barts Health Archives and Museums
📢 We're excited to reveal our new-look catalogue! Why not explore our #archives, museum objects, paintings and people from the comfort of your home? 👀 Here's a "before & after" shot so you can see the difference - let us know what you think! https://t.co/ZBcZpz8JEn pic.twitter.com/0kBTCi6wBI

— Barts Health Archives and Museums (@BHAandM) April 1, 2020
There is no better time to find out more about the NHS, and Barts Health Archives Museum has made it even easier to search the history and heritage of the NHS with their new look catalogue. So now you can research exactly what you're looking for from the comfort and safety of your own home. This particular resources couldn't be any more prominent or important. What an absolute treasure. We will be proudly clapping the past, present and the future of the NHS this coming Thursday, we'll hear you there.

Visit website: http://www.calmhosting01.com/BartsHealth/CalmView/default.aspx
Devon & Exeter Institution
*Stay Connected* In the spirit of our founders, this challenging time is inspiring us to be creative and innovative. While you are not able to visit us in person we will be providing online activities, via our website and social media https://t.co/WfU201TDyJ

— The Devon & Exeter Institution (@devon_ex_inst) March 21, 2020
The Devon & Exeter Institution have been pulling out all the stops under the hashtag #IsolationCreations and have been working hard to create lots of activities for adults and children alike, keeping people safely occupied in their own homes. From worksheets for people to download and have a go at to books on specific themes, there is so much to explore. One of our favourite activities is their call for help to identify the businesses and unknown backstories behind a number of fascinating trade cards in their possession.
Sadly I haven't been able to share any pearls of wisdom, but I have thoroughly enjoyed looking through their collection and I can confirm that they don't make trade cards quite like they used to! Mine just has my name on it. Who do I speak to, to get myself an illustration of a tiger?
Visit website: https://devonandexeterinstitution.org/mystery-images-our-region-revealed/
Getty Museum
We challenge you to recreate a work of art with objects (and people) in your home.

🥇 Choose your favorite artwork
🥈 Find three things lying around your house⠀
🥉 Recreate the artwork with those items

And share with us. pic.twitter.com/9BNq35HY2V

— Getty (@GettyMuseum) March 25, 2020
Dressing up and recreating artwork from your home! Why didn't we think of this? Getty Museum have drummed up an artistic storm with their challenge, made ever more demanding with a '3 item only' restriction. It's a treasure hunt and artistic adaptation all in one. What better way to get people engaged in your archive and up on their feet!
This gets a massive thumbs up from us. I'm still trying to get TWA onboard with a social distancing photoshop collaboration of 'Peasant Festival on a Town Street'. Until then, go find three items and recreate your own fave portrait!
Visit website: http://www.getty.edu/art/collection/

National Monuments
Bake A Monument Competition #StayAtHomeChallenge
Try creating a tasty piece of Irish archaeology! Bake a monument or make a chocolate prehistoric 'log' boat! #heritagewellbeing#isolationcreation #homeschooling @rtejr @DeptAHG For more see https://t.co/QYLCLOa39e pic.twitter.com/62sO4o06qO

— National Monuments (@NationalMons) April 1, 2020
National Monuments are quite rightly asking people to stay at home and stay safe. But to keep you busy engaging with history and architecture, they are asking you to celebrate Irish archaeology and heritage by baking a monument or a chocolate 'log boat'. What a fantastically delicious idea and you can always work it back off again with your once daily dose of exercise! Better make that twice round the block then! And the first challenge is finding yourselves some eggs. Good luck with that!
Well done to National Monuments for keeping us home schooled AND well fed. We really like this one!
Visit facebook page: https://www.facebook.com/NationalMons/