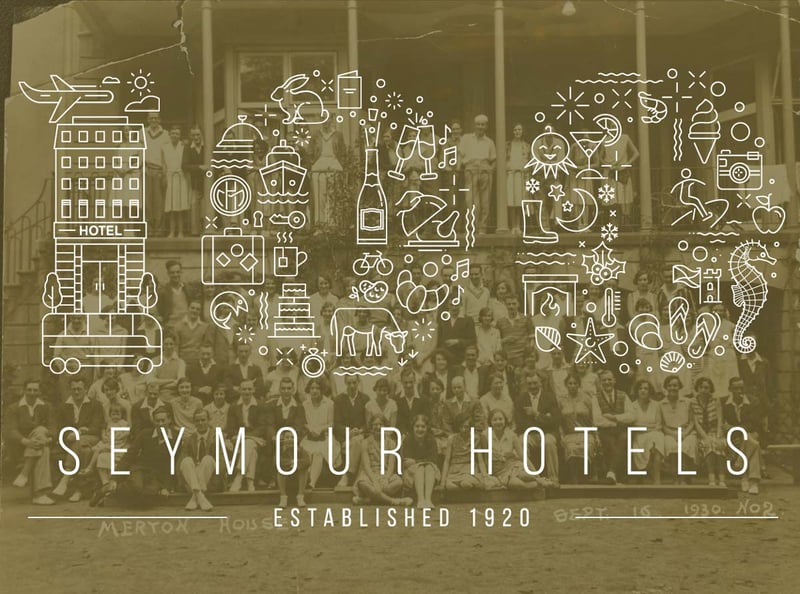 Jersey's Seymour Hotel was established by the Seymour family back in 1920 and has played a significant part in the Channel Islands' rich history, witnessing the exciting boom in tourism and travel, as well as the much darker days brought by war and occupation. The Seymour story is a vibrant and energetic one and the family's portfolio has grown over the past 100 years, to include the historically stunning Pomme d'Or Hotel, the Greenhills Country House Hotel, and the Merton Hotel, as well as their incredibly popular self-catering accommodation, all famed for the traditional Seymour family style, hospitality and award-winning facilities. But what better way to share this great family's achievements than through their beautifully designed and presented centenary video, tracking the story of conception to current day, with 100 wonderful years between.



A diverse archive
TownsWeb were very excited to be involved in the digitisation of some of the Seymour Hotel's vast family archive, ultimately making up well over 13,000 pages of digitised images, to include individual papers, photographs, albums, oversize papers, files, booklets, brochures, volumes and framed pictures. The Seymour legacy starts with the story of a honeymooning couple, George Frederick and Ada Seymour, who spotted the potential back in 1919 for Jersey to be a popular holiday destination. They returned soon after to make it happen, setting up and running their very first guest house. It was a real success, and so the journey begins.




This is a story about the diversity of business, commitment to quality and the partnership of family, a story that went on to see further Seymour hotels open their doors, the introduction of coach tours, package holidays and all inclusive breaks, to name but a few successful and exciting ventures.




But with great legacies come great archives: huge collections of memories, precious material and historical records, and a responsibility to protect all of this for family, culture and heritage. The next stage in the journey was, therefore, the process of digitisation. This would not only protect the Seymour archive but would allow for some of the material to be published, accessed and shared with new visitors. It would also mean some of the early and repeat visitors, who had spent many treasured times in Jersey, could look back at this period in their own history.






An archive on the move!
All of these items needed to be transported by road and sea to our TownsWeb Archiving studios here in Kettering, Northamptonshire, in order to be digitised by our specialist team of technicians, and then returned at the end of the process. We have a great deal of experience in the safe transit of precious, rare and fragile material, so we can confidently advise and discuss whether an archive collection is more suited to digitisation on site or off site.




Seymour Hotels were one of a number of successful recipients that were shortlisted and awarded £500 of match funding, after an application to our digitisation grant. For TownsWeb Archiving it has been a wonderful opportunity to see just what an initial injection of funding can assist with and, ultimately, result in. It's also been great to be able to share this particular match funding journey with you.



Here's to the future!
Going forward, Matthew Seymour tells us what digitisation has meant for his family's business:
"The purpose of digitising our family archive was to ensure that going forward we have a reference point for our past. The business has evolved through five generations and no doubt its future will not look like it does today. Now our archive is online we will continue to add key documents and articles. Centralisation of our archive ensures easy filing and allows us to utilise materials for building future story content celebrating our heritage."
Matthew also kindly provided us with some valuable feedback about the digitisation process and the Seymour family's experience working in partnership with TownsWeb Archiving:
"The digitising of our family archive has been a valuable and relatively stress free exercise thanks to the support of TownsWeb. Celebrating our Centenary year of business in 2020 one can imagine the volume of physical documentation we had in store. Five generations of memories and artefacts serving as a reminder of where we have come from and help to inform future business decisions. These documents are not only key from a business perspective but crucially maintain our links with our ancestors. As we look forward and plan for the future, thanks to TownsWeb, we can be reassured that our past is securely recorded, filed and remembered."

Matthew Seymour, Group Operations Co-ordinator, Seymour Hotels

What a pleasure it has been to work with Seymour Hotels, digitising a century of rich family history. Here's to the next 100 years!
If you would like to find out more about our digitisation grant or would like to discuss your own unique digitisation requirements, please do get in touch. We are always happy to help.