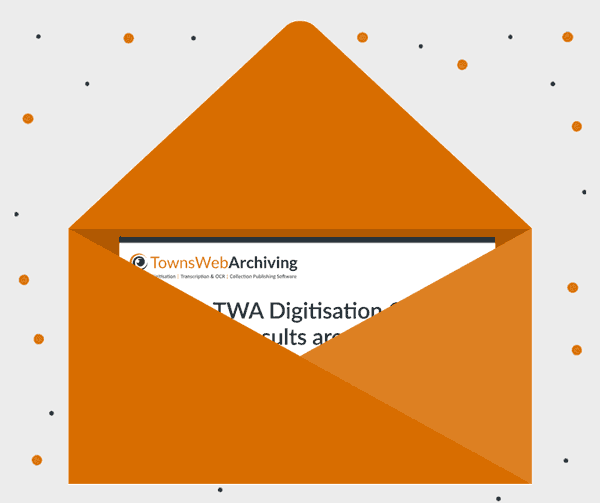 After an incredible turnout to our winners' announcement webinar, we are very pleased to be in a position to spread the good news far and wide!
A number of adjustments were made for this year's grant process, in light of the events that seemingly snuck up on us overnight, leaving most of the world reeling. However, despite the unpredictability of COVID-19, we were certain of one thing: we wanted to proceed with the TWA digitisation grant, making it as equitable and accessible as possible.


The adjustments that were made:
Grant opened early in June 2020
3 x grants available of £3,000 each
Deadline for applications extended to 20th November 2020
Winners' announcement extended to 9th December 2020
As with previous years, all shortlisted applicants to receive an optional £500 of match funding
Our hope is that this year's grant will provide a much needed financial injection within the cultural heritage sector, keeping a number of precious collections and archives safe, through the process of digitisation, while creating opportunities for extending their accessibility and reach.
This year saw a huge response and an unprecedented amount of downloads and submissions. The standard was incredibly high and the competition fierce. Let's just say, each judge had an enormous job on their hands: reading entries, scaling them down and deciding on the winning three. Which brings us neatly onto...
The Winners!
Last year we announced our 2019 Digitisation Grant winners live from the annual Archives and Records Association conference in Leeds, how times have changed!

Since this was not possible this year we decided to invite all of our 2020 Digitisation Grant applicants to a virtual webinar to announce the three successful applicants, and what an incredible turnout we had!
Watch the recording of the live webinar below:
And find our more about our successful applicants below:

Corinthian Casuals F.C.
Dating back as early as the 19th Century, the Corinthian-Casuals Football Club's unique collection of matchday programmes and newsletters document the football history of Corinthian FC and Casuals FC, important early amateur teams that eventually merged to form the Corinthian-Casuals Football Club, as it is known today. In Victorian times the Corinthians were often referred to as 'the game's first global superstars'.
Digitising this collection will serve to protect and celebrate the important contribution these clubs made to the development of football, making it popular around the world. This project will form the important first step towards getting this archive online for the benefit of historians, journalists, club committee members and the wider public.
You can check out their website here!
Here's what Committee Member, Dominic Bliss, had to say upon receiving the good news:
This is fantastic news. We're incredibly proud of our rich history at Corinthian-Casuals and this grant will give us the opportunity to begin the digitisation of our substantial collection of club publications that date back to the late Victorian era.
This club played a significant part in the popularisation of football around the world and we hope this digitisation project will allow easy access to publications that will transport people back in time. There is widespread interest in the history of Corinthian-Casuals, and we hope this will enable people to better understand the impact this club had on the global game.

Liverpool Cathedral
Designed by Sir Giles Gilbert Scott, and suggested to be his greatest work, Liverpool Cathedral is not only the largest cathedral in the UK, but it is also one of the largest in the world. The cathedral is the proud owner of over 1,000 of Sir Giles Gilbert Scott's work, consisting of A1 and A0 loose drawings and blueprints dating back to 1901.
Digitisation will preserve this uniquely historical material. Like many physical records, these drawings are vulnerable to permanent damage through decay or disaster and, as a consequence, this original collection of drawings has never been on display. The year 2019 saw visits from 10,874 school children who were unable to view this precious and fascinating material. However, digitisation will mean, for the very first time, this collection can be made available electronically for everyone to access and enjoy online, to include members of the public and academic researchers, whilst opening up wider opportunities for formal partnerships.
You can check out their website here!
And here's what Rachael Atinkinson-White, Director of Fundraising had to say upon receiving the good news:
We are absolutely thrilled to have been awarded one of the three Townsweb Grants for 2020. Gaining this grant means that we are able to digitise Sir Giles Gilbert Scott's original and priceless drawings showing his designs for Liverpool Cathedral. This will enable us to keep them safe for future generations. This will benefit the wider community who will be able to easily access these wonderful pieces of architectural history. The grant will also help Liverpool Cathedral for future capital works bids.
We are incredibly excited to start work with Townsweb and we look forward to seeing our important collection online for all to enjoy.

Merton Heritage & Local Studies Centre
Documenting life in Merton from 1945 to 2000, the Merton Heritage & Local Studies Centre act as a repository for a wonderful photographic collection, following the developments of Merton and its diverse population from post war through to the 20th Century. Consisting of approximately 5000 prints in both black and white, as well as colour, and ranging from small Box Brownie snaps to card mounted photos and wide class photos, as well as circa 2000 colour slides and negatives, this collection captures Merton life in all its glory.
From family and school life to industry and community events, as well as 375 images comprising an aerial borough survey, this unique and previously unseen archive will be liberated through the process of digitisation. The digitised images will then be used to expand the range of material currently available via the Merton Memories website and will eventually form a variety of resources from displays and reminiscence material to educational packs.
You can visit their website here and here!
And here's what Sarah Gould, Service Manager had to say upon receiving the good news:
I am so thrilled that Merton Heritage & Local Studies has been awarded a Townsweb digitisation grant. This will not only allow us to make hundreds of post 1945 photographs publicly accessible for the first time – it will also help us to engage our local community, using the images to support everything from school resources and heritage trails, to neighbourhood exhibitions and therapeutic reminiscence for people living with dementia.


Please join us in congratulating the above organisations in their successful submissions, and we will be sure to keep you updated as to the developments of their projects.
Shortlisted applicants will be contacted individually very soon, via email. So keep a careful eye on that inbox!
Here's to the end of yet another successful grant allocation and a really nice way to draw the challenging year of 2020 to a close.


With thanks
Thank you to our three judges for their commitment, expertise and continued dedication, and to all who took part in this year's grant. We know there will be a lot of disappointed applicants out there, but please be assured that each submission was considered very carefully and the quality and diversity of all of them gave us much to be wowed and intrigued by. If you submitted this year then the entire process was made all the more rewarding thanks to your unique contribution.


And as always, don't despair!
We hope to launch the TWA Digitisation Grant again next year, so be sure to subscribe to our email updates and keep your eyes peeled for that next window of opportunity.
And best wishes for Christmas and a hopeful return to normality in the New Year!
Until then!