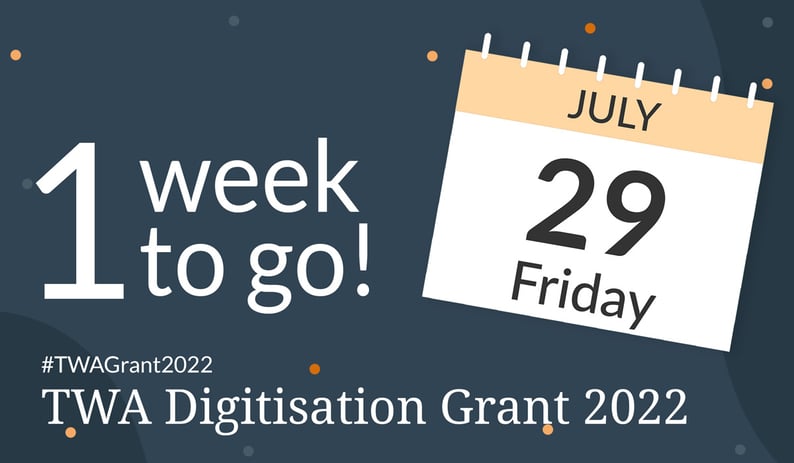 APPLY NOW: Find the grant application form & funding details here
There's just over one week left to submit your application!
Yes, you read correctly, there's just over 7 days to get your TWA Digitisation Grant application submitted. Make sure to downloaded the form and block some space in your busy schedule to complete it. Then, submit by the 29th July 2022 deadline to be in with a chance to win!
For more details and to apply, please watch the video below


Key Grant Details
£3,000 x 4 grants
£500 added to a 'Match Funding Pot' per application received
Up to £1,000 in match funding per eligible applicant
Winners announced

1st September 2022




Next steps?
Check out our Judges' Hints & Tips and Look Back videos to get some creative inspiration from our previous grant winners then tell us all about your collection and why you feel it deserves to be one of this year's lucky winners. It's as simple as that!
All applications must be submitted by the 29th July 2022 at 11.59pm (BST).


APPLY NOW: Find the grant application form & funding details here



The winners announcement...
The winners announcement will be taking place live via the ARA annual conference on 1st September 2022. We encourage all organisations that submit a grant application to attend the conference. We will also be streaming the winners announcement online for those that cannot make it. Further details about how to watch the livestream, will be announced shortly.
Best of luck!