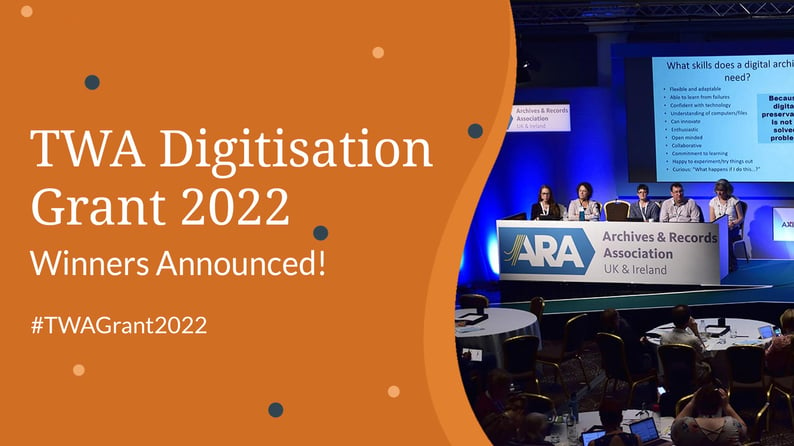 After an incredible turnout to the winners announcement on 1st September 2022, brought to you straight from the ARA Conference in Chester, we are very pleased to spread the news of this year's lucky grant winners!
We saw some key changes to this year's grant, in light of the impact of COVID-19, in the hopes that this year's grant would help to protect more of the heritage sector's precious collections, extending opportunities for accessibility and reach. The changes included:

An additional grant of £3,000 (4 x £3,000 in total)!

The winners announcement brought to us via the ARA Conference; face-to-face events being something we once took for granted!





A new 'Match Funding Pot' from which eligible applicants can claim up to £1,000 to put towards their next digitisation project!




This year saw a phenomenal response and we received an unprecedented level of downloads and submissions. The standards, as always, were incredibly high, and the competition fierce. Our judges certainly had their work cut out! But who are the winners? Watch our recorded winners announcement to find out:



Below is a short overview of each successful organisation and a brief introduction to their project:

Brass Bands England
First to hear about their success, and taking away one of our grants of £3,000, was Brass Bands England for the digitisation of their 'most at risk' sheet music papers. This will be part of a staged process which will ultimately see up to 180,000 pages digitised in order to preserve brass band heritage. Having conducted primary research into visitor behaviour, and having established that as many as 82% of respondents wished to engage with their content digitally, this material is set to be made accessible online, inspiring both present and future bands; an objective we agree demonstrates great social impact.
Paul Sugden, Managing Director at TownsWeb Archiving, was personally very impressed by the BBA's application and commended them, "for the research carried out and included within their application". He felt they demonstrated, "a very considered and consultative nature in their approach".
This first set of digitisation records will allow us to make many records available online for the first time. We hope that further funding will be available in the future to continue the project and invest in this incredibly valuable resource for the brass band community.
Here's what Relationship and Partnership Development Manager, Alex Parker had to say upon receiving the good news:
This first set of digitisation records will allow us to make many records available online for the first time. By making these available it will mean Brass Band culture and history will be available for researchers, the public, and our community in order to help inspire brass bands across the country to expand their repertoire. We hope that further funding will be available in the future to continue the project and invest in this incredibly valuable resource for the brass band community.
A huge congratulations to Brass Band England from all of us!

The Vintage Sport-Car Club
Next to celebrate was the Vintage Sport-Car Club for the digitisation of archival records dating back to the 1930's. Consisting of original manufacturers' user handbooks and technical leaflets, period engineering books, factory drawings, photographs illustrating the company's pre-war bespoke car bodies, and the Jeremy Collins Collection of car share certificates, this archive offers a shining example of how archival records can be used to inspire others - for this particular case, current and future engineers. The descriptions of their collection, shared within the application itself, demonstrated clear plans for how this material could and would be used for social impact and, as members of the Heritage Skills Academy, the VSCC demonstrate a real commitment to the development of skills and knowledge, recognising the value within their archive for supporting this vision.
John Chambers personally found this to be a, "well thought out application, particularly in relation to its capacity for community impact", which he considered deserving of the highest score available. He also commended the club's, "links to schools and education".
Here's what Assistant Librarian, Dr Mark Dibben had to say upon receiving the good news:
The VSCC is delighted to have been awarded this opportunity to render significant aspects of our collection more publicly available through digitization. In particular it will allow aspiring engineers, apprentices, mechanics and students more immediate access to the books and technical papers written in period about the vehicles they are working on, learning about and being inspired by.
A round of applause if you will!

Cinenova
Next to take away a grant of £3,000, was Cinenova for the digitisation of 95 boxes or archival material, to include film stills, slides, negatives, transparencies, and various paper records relating to feminist film and video. This content is in need of specialist, oversized equipment, and will involve data capture services in order to catalogue the collection appropriately and make it ready for online access. Cinenova's delicate material is in very real danger of loss through deterioration and this was another project that clearly demonstrated great opportunities for social impact, particularly within the film industry. Incredibly, this archive has been managed successfully, and quite admirably, by volunteers, and Paul Sugden was very impressed with the achievements of the organisation commenting that, "the sheer hard work, labour and professionalism demonstrated by [its] non-salaried workforce is evidence of their commitment and ongoing passion".
Here's what Charlotte Procter (member of the volunteer-run Working Group) had to say upon receiving the good news:
We are thrilled to have been awarded one of four TownsWeb Digitisation Grants for 2022. This grant will allow us to digitise rare documents and visual materials relating to the history of Cinenova. This will enable us to preserve them for current and future researchers interested in feminist filmmaking and moving image distribution. Significant interest already exists in these relatively undocumented histories; therefore, increased access to our collection will encourage further research, community engagement, and educational partnerships.

We are very excited to begin working with TownsWeb Archiving and look forward to making our valuable collection more accessible and digitally preserving it for future use.
Great work, Cinenova, and a big congratulations from us.

Wiener Holocaust Library
And that leaves us with our our fourth and final winner, who just had to be the Wiener Holocaust Library for the digitisation of their entire Weiner Holocaust collection. Consisting of photographs relating to the Jewish Committee for Relief Abroad and the Jewish Relief Unit, this material has been stored across a number of locations and is in need of protection given its great importance. The project aims to make 17 albums and 1,984 separate loose photographs accessible through digitisation. These photographs depict Anglo-Jewish humanitarianism during and after the Holocaust and the Second World War, and illustrate the impact on Holocaust survivors and displaced persons, and the aid extended to these groups. Optical Character Recognition will capture the valuable information inscribed on the reverse of these images to support accessibility.
This collection is of huge international significance with Claire Adler acknowledging the impact on, "not only this specific archive but how the Library uses the rest of their archive," pointing out that the collection, "has a contemporary resonance that the Library is intending to maximise with talks, events and workshops".
Here's what Leah Sidebotham (Digital Asset Manager) had to say upon receiving the good news:
We are so grateful to have been awarded a TWA Digitisation Grant and to have the opportunity to digitise and make available our unique collection of photographs relating to the work of the Jewish Relief Unit during and after the Holocaust. Many of the photographs have never been published before and they fundamentally challenges existing views of what postwar British humanitarianism looked like. Given their historic importance, we are looking forward to working with TownsWeb Archiving to make them as accessible to the public as possible.
A huge congratulations to the Weiner Holocaust Library!
We can't wait to get started on these projects and to tell you ALL about them!
Remember, if you weren't one of our lucky winners in 2022, there's always the option of match funding. It's an incredible offer this year with a whopping £1,000 available!
Claiming match funding? Let's talk about your requirements

We hope you're one of our lucky winners this year but, if not, now is a good time to be aware of our Match Funding Pot and how to claim. There is an incredible £1,000 in match funding available to all eligible applicants, but early application is advised to avoid disappointment.

Are you ready to discuss your specific requirements with a member of our team? Please feel free to select a suitable date and time from one of our consultant's diaries, which can be accessed here.
Best wishes from TownsWeb Archiving