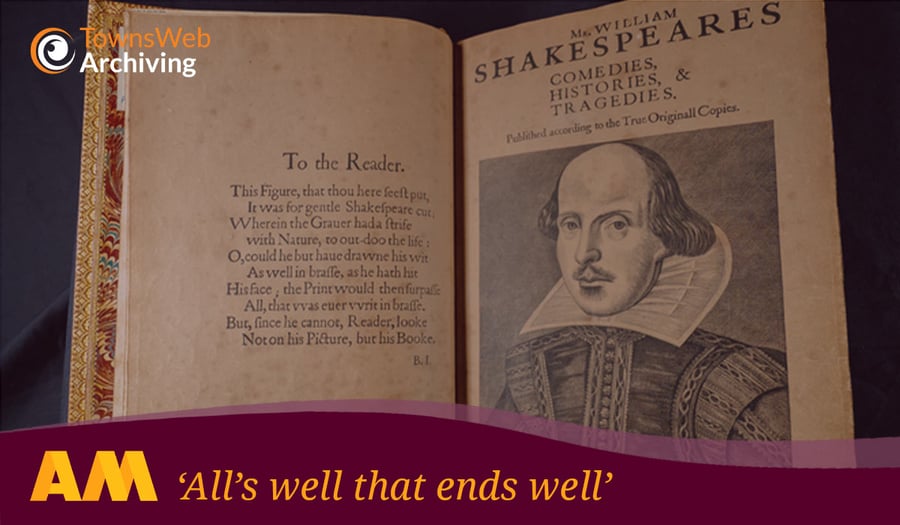 This is the story of a joint project involving AM, the Royal Shakespeare Company (RSC), the Shakespeare Birthplace Trust (SBT), and TownsWeb Archiving (TWA). A story about the digitisation of Shakespeare's work, and the creation of exceptional resources to support ongoing research in theatre and Shakespeare studies.
In 2019 this remarkable project got underway, destined to be swept into the COVID-19 pandemic. The whole intensive digitisation process came to an abrupt halt as the first of many lockdowns began to ripple through the heritage sector. Like many of the industry's complex plans and strategies, the project was left hanging in the balance. However, despite its early challenges, this story is not one that ends in tragedy (sorry Shakespeare!). In fact, it's quite the opposite.
Opening access to a world-renowned playwright
AM's expertise is in the publishing of top-level, vast single-archive and multi-archive source collections, with a focus on enhancing and supporting education. Their portfolio is extensive and their services have global reach. Working closely with the likes of the British Library and The National Archives, they publish extensive multi-disciplinary resources, and have recently launched an Open Access resource that allows users to compare different versions of William Shakespeare's First Folio. AM know how to make the very most of a collection's rich history, tapping into its deep potential for education and learning. Consequently, TWA was immensely pleased to be working alongside AM and, as specialists in the field of heritage digitisation, to be able to contribute to facilitating global academic research with the capturing of a copy of the earliest collection of Shakespeare's works.
bioThe Vision

This project partnership originally came about as a result of an RFP (Request for Proposal) process, which AM ran and which pertained to the onsite digitisation of three significant, long-term heritage projects. Having extensive experience in outsourcing specialist digitisation services to organisations with national and global reach, TWA were thrilled to be successful in securing all three contracts. The first project started back in 2019 while the third is still ongoing.
The three umbrella projects were as follows:
Early Modern England Project

-

Digitisation of this project began in 2019 with TWA digitisation technicians based onsite at the premises of SBT.





RSC Collection

and

First Folio

Project

-

Once again, this digitisation project was based onsite at SBT, handling material too delicate and valuable to be moved offsite. This included, amongst a diverse range of material, the capture of the RSC's copy of Shakespeare's First Folio, and a significant portion of the RSC's archive, centred on its collection of prompt book

s.





Third Project

- This is an ongoing theatre-based digitisation project with further details to follow.

RSC Collection and First Folio Project
In relation to the RSC project there were three strands:
Shakespeare's First Folio, published in First Folios Compared

Continuing digitisation of theatre archives
Royal Shakespeare Company Archives - From Playwrights to Performance
Digitising material to produce a distinct collection for the 'knowledge' component of RSC's archive, accessible to universities for a one-off fee, the aim of this project was to digitise an extensive and diverse range of materials relating to RSC productions, built around its collection of prompt book. These resources will be used to support insightful and fascinating research into the decisions made by directors and designers over RSC's long and successful performance history.
This RSC collection predominantly covers the period 1889 to 2013. However, there is also some content from a 2016 production that included the first significant use of CGI in theatre. With well over one thousand prompt books, often used by researchers to reverse-engineer historical productions, as well as photographs, designs, sheet music, programmes, production records, and swatches of fabric from the original costumes, the RSC collection is an eclectic treasure trove of all things Shakespeare. TWA's specialist digitisation technicians had the pleasure of capturing all of this content over a lengthy 3-4 year period, based on-site at the SBT.
This resource is now available for purchase by academic institutions, and any other organisation whose work focuses on gaining a clear and insightful understanding of the performance history of Shakespeare. This collection will enable analysis and exploration of the adaptations and interpretations of Shakespeare's work, evolving over time, and opening debates about language, style, and performance. The resource will be available to purchasing institutions in perpetuity, offering a continuing benefit to students and lecturers alike.
The digitisation of Shakespeare's First Folio
This aspect of the project concerned the digitisation of RSC's copy of Shakespeare's First Folio, now available as part of an Open Access resource along with multiple First Folio copies, to enable and support comparative studies.
A folio is an early form of published work, generally reserved for creations deemed of great importance. Typically hidden away in private collections up until the 20th Century, it is believed that as few as 750 of Shakespeare's Folios were printed, with approximately 235 surviving to this day. Thanks to philanthropy and large organisations, such as the Folger Shakespeare Library in Washington DC (who have contributed 23 copies to the First Folios Compared resource), these folios are now mostly back in the public domain where they are able to support Shakespeare-related research. Digitisation is a vital step to protecting and opening up simultaneous access to this material. The First Folio, to which this project relates, is owned by the RSC and is held by the Shakespeare Birthplace Trust (SBT), who act as guardians.
The ultimate privilege of digitising an original copy of the First Folio, in all its incredible beauty, was a wholly unique experience for TWA. The material exists as a work of art, on many levels, and it was without question an honour to be trusted to handle and capture this irreplaceable archival treasure. TWA were proud to be able to offer their digitisation services to enable this content to be created as an online Open Access resource, and, as a rare treat, you can watch the digitisation of the First Folio in our video. Creating a digital copy of this First Folio immediately reduced the potential for damage to the original masterpiece while, at the same time, opening up and enabling simultaneous access to its content by hundreds of interested people.
This year marks the 400th anniversary of the publication of this first edition of Shakespeare's works, with each version and copy being entirely unique. For example, marginalia appearing on the play 'Titus Andronicus' in the RSC's copy offers a fascinating snapshot into how people have historically interacted with the content. Acting as an authoritative script of each of Shakespeare's plays, the First Folio enables comparisons to be made between versions, opening up fascinating opportunities for research and debate. This Open Access resource provides a dual-platform approach to comparing texts, even at a very granular level. Further, both the RSC's archive collection and the First Folio resource offer split-screen viewer functionality, displaying two different versions of the same play side-by-side.
Online access to digital surrogates also reduces the risk of damage associated with handling original documents. AM provides free access to the originating institution (the owners and/or guardians of the material) so the SBT's reading room will also be offering free access to the digital resource in perpetuity.
I visited the Shakespeare Birthplace Trust with the team back in August 2019 for the initial scanning meeting and the project started the following month. Almost four years on the project has concluded with the onsite team capturing close to one-quarter million images, handling amazing materials from the collections, and facing the varying challenges presented by large format items, fragile First Folios, and a pandemic! It has been an enjoyable experience and the technicians who have worked on the project have fond memories.
As we start to pack up onsite, and bring this project to a close, it provides time to reflect on the success of this truly collaborative partnership. Working with AM has been a pleasure, and their dedication, project management, and communications have been superb. We are pleased to have had the opportunity to work together with such wonderful material and with such great partners.
Casper Smithson
Chief Operating Officer, TWA
Continuing digitisation
And there is more great news! This project has involved the monumental capture of significant archive collections, but it doesn't stop there. There are plans to continue the digitisation of RSC's material, enabling academics and researchers worldwide to further benefit from access to the RSC archives.
What's next for these digitised collections?
AM creates in-house content and supplementary materials to support original primary sources including essays, video guides, and biographies. Their outreach team develop course alignment services, to help universities get the best out of archive material, and they work closely with higher education institutions, inviting academics to contribute to a range of activities to include podcasts and webinars. The overall aim is to get people utilising archive material to its fullest potential, enhancing learning and deepening the educational experience. So be sure to keep an eye out for more content in support of First Folios Compared and the RSC archive collections throughout 2023.
Read more about these wonderful projects below: