ARCHIVES & RECORDS ASSOCIATION
The ARC Magazine Microsite: Telling the story of the TWA Digitisation Grant

Once upon a time researching back issues of your chosen magazine involved emailing a point of contact and waiting for a response. That was all well and good, it served an important purpose, but what about all that additional rich content that comes with firsthand research? What of those golden strands that tempt us to go further and deeper, those lesser known pathways that lead us in all manner of intriguing directions? The process of research helps to build a clearer picture around our search terms, offering development, depth and, importantly, story.
This level of engagement is lost when an archive's accessibility is restricted. Visitors want the freedom to conduct searches for themselves. They don't want to explore just one issue of their favourite magazine, they want to explore all of them. And they want to use the same search terms too, reducing the time it takes to uncover the answers they are seeking. Well, all of these wishes have been granted by the Archives and Records Association (ARA) with their brand new ARC Magazine Microsite. In a bold and impressive move, this new online repository has exploded into the public domain, creating huge benefits to both archive and heritage. There has never been a better reason to crack open the bubbly and celebrate!
Strapped for time? Skip to:
Where did it all begin?
On 6th July 2022, through the launch of their new magazine portal, the ARA made available all digital issues of their ARC Magazine, dating back to 2011. This meant that, for the first time in the history of the magazine, these records could be instantly accessed online, by absolutely anyone, thanks to our PastView online publishing platform. With access and discovery being our number one priority, we were honoured to demonstrate PastView's capabilities and show off some of our most popular features. As we expected, PastView worked in complete harmony with this incredible ARC collection of industry publications; it was the perfect union!
How ARC Magazine are using key PastView features
The ARA made a bold decision to open their flagship ARC Magazine to the public using some exciting PastView features. Here's a selection of those features and a preview of how they are being used:

The Book Explorer interface uses 3D Page Turning technology to enable readers to flick back and forth through the publication, making longer articles a breeze, especially where they span multiple pages. This action can also be achieved by clicking and dragging with a mouse or using a sliding action with touchscreens.

High Res Zoom functions allow for effortless zooming, exposing every intricate detail to a super fine standard and heightening user satisfaction. This feature enables digital items to successfully mimic the look and feel of their physical counterparts, demonstrating the capacity, ease and convenience of digital formats.

Powered by Attributes, Optical Character Recognition and Transcription, PastView's site search enables terms to be filtered and drilled down until they reveal the most relevant results, meaning visitors can search trouble-free and with complete confidence. Each magazine is fully searchable, within and across the issues thanks to the magazine's rich metadata and PastView's sophisticated search facilities.

PastView enables specific content to be secured behind a members' area and secure login. This is a perfect way of differentiating between members and non-members, as was necessary for the ARA. The three most recent issues will be available to members only while the remainder of the collection is available to everyone. These more recent issues will be unlocked three months from the date of publication.
Additional Benefits
In addition to the above features, users will also benefit from a 'double click' prompt on the page to open up a 'full screen' view. A slider sits at the top of the page for super fast 'flicking' from cover to cover and, together, all of these features combine to offer a sleek and optimised online reading experience.
We are always looking for ways to improve the benefits we provide to our members. ARC Magazine has always been a key benefit and the last 18 months has seen it transformed with its move to online publication. Hosting on the PastView platform takes this to a new level and provides even more benefits with the great search function and the ability to access all the back issues, going back to 2011, in one place.
John Chambers
Archives and Records Association - Chief Executive
The ARC Magazine Microsite:

Telling the story of the TWA Digitisation Grant

Intrigued by the new microsite, and with the privilege of being the first to trial it, we decided to track our very own ARC Magazine presence, focusing on the lifetime of something we are very proud of as an organisation - the TWA Digitisation Grant! Here we briefly share our search process, results, and the story revealed within.

Spread across 4,612 pages, and with 130 issues available (figures that are steadily growing with each new issue published), it was immediately evident that there was going to be A LOT to explore! However, comprehensive search filters helped us to effortlessly drill down to an impressive (and much more manageable) '17' results!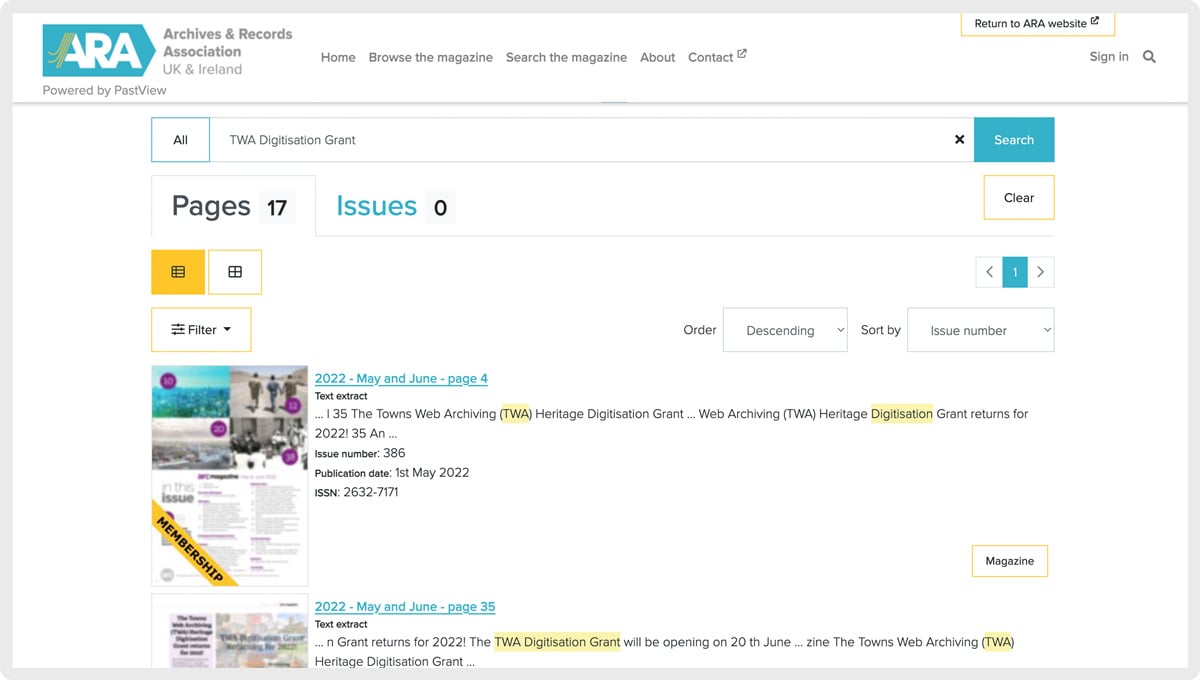 - 2016 -
Starting with the very first TWA Digitisation Grant announcement back in 2016, which came into existence out of a very real need for the heritage community to have greater access to funding, the TWA Digitisation Grant was born, announced to the industry through the ARC Magazine.
It was proposed that there would be three judges appointed, to make selection of the winning projects open and fair, and we were lucky to be joined for the very first time by John Chambers (Chief Executive of the ARA), Claire Adler (Heritage Fund Appointed Mentor and Independent Heritage Consultant) and Paul Sugden (Managing Director and Senior Digitisation Consultant at TWA) and also, for the year 2020, Jo Blyghton (Archive Consultant).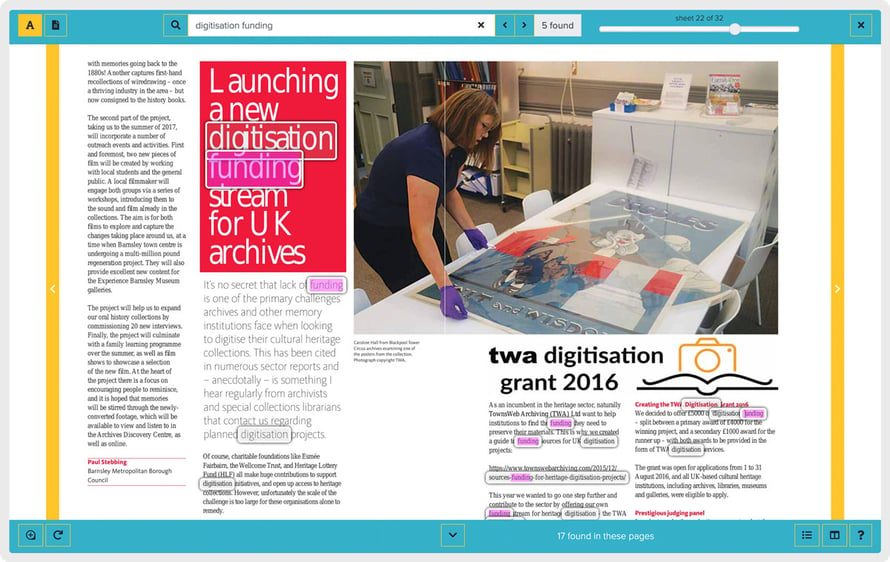 The opening grant of 2016 offered the combined sum of £5,000 to be divided between two organisations. The lucky winners were Argyll and Sutherland Highlanders Regimental Museum who received £4,000 to digitise their regimental collection, which they were seeking to make available online. The secondary winners, Blackpool Council Cultural Service, collected £1,000 for their Tower Circus Collection, which they intended to use to celebrate their coming 250th anniversary. You can read more about these projects and the winners here.
- 2017 -
The 2017 TWA Digitisation Grant saw two grants totalling £7,000. The Dorset History Centre collected the primary grant of £5,000 for their Graham Herbert Collection and the Birmingham Museums Trust received £2,000 for their Birmingham History Trade Documents. This year also saw the introduction of match funding for all short listed applicants, offering them £500 to put towards their next digitisation project. You can read more about these projects and the winners here.
- 2018 -
The 2018 TWA Digitisation Grant matched the offering set out the year before. The primary winner of the £5000 grant was Bexley Archive and Local Studies Centre for the digitisation of their collection of Kentish Times negatives. The secondary winner, receiving the £2000 grant award, was The Royal Mint Museum for the digitisation of their Waterloo Medal Roll. You can read more about these projects and the winners here.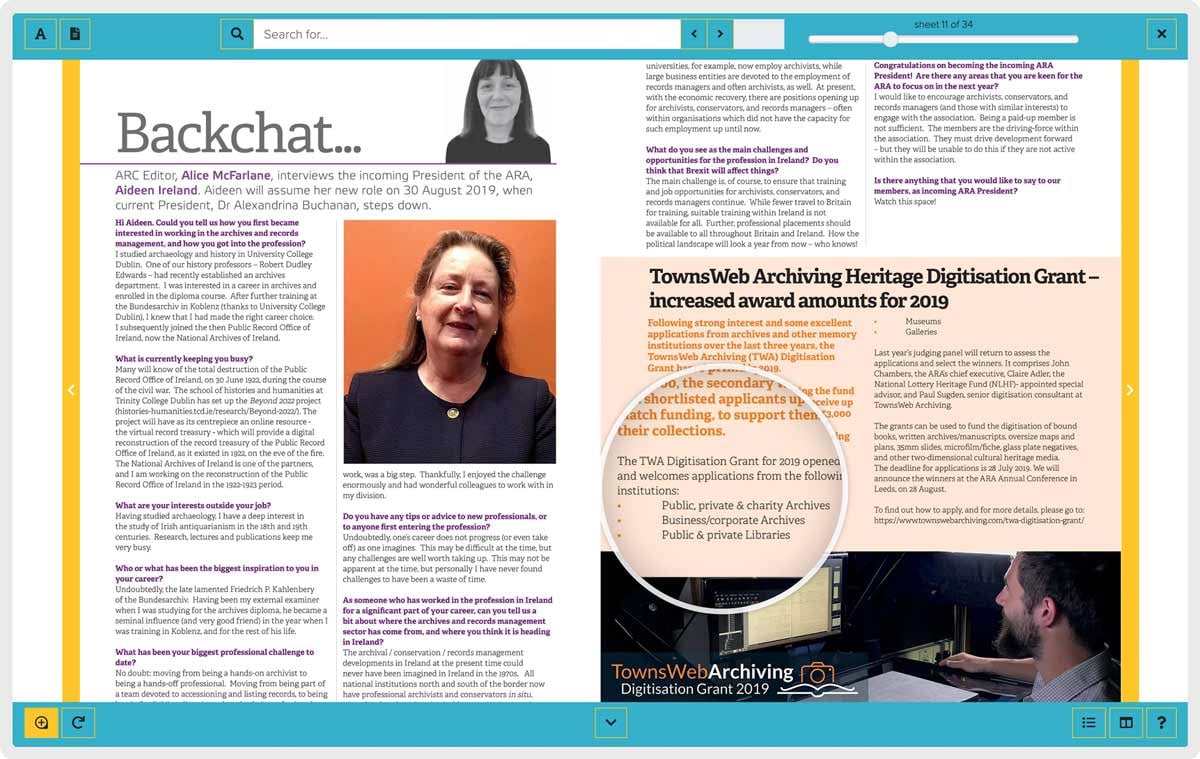 - 2019 -
The 2019 TWA Digitisation Grant increased its awards once again with a total amount on offer of £9,000. This figure was divided between two organisations with a primary grant of £6,000 and a secondary grant of £3,000. Our primary winner, picking up an incredible £6000, was the National Brewery Heritage Trust for the digitisation of their fascinating brewing industry related archives and artefacts. The secondary grant winner, with £3,000 of funding, was the Alpine Club Library for the digitisation of their official papers. You can read more about these two projects and the winners here.
- 2020 -
The 2020 Digitisation Grant saw the addition of a third award and the combined total of £9,000 was distributed equally between three organisations rather than the usual two. It was wonderful to see more organisations benefiting as a result. This year we celebrated Corinthian Casuals Football Club's unique collection of match day programmes and newsletters, the Liverpool Cathedral's collection of Sir Giles Gilbert Scott's work, consisting of A1 and A0 loose drawings and blueprints dating back to 1901, and Merton Heritage & Local Studies Centre's photographic archive documenting life in Merton from 1945 to 2000. You can read more about these collections here.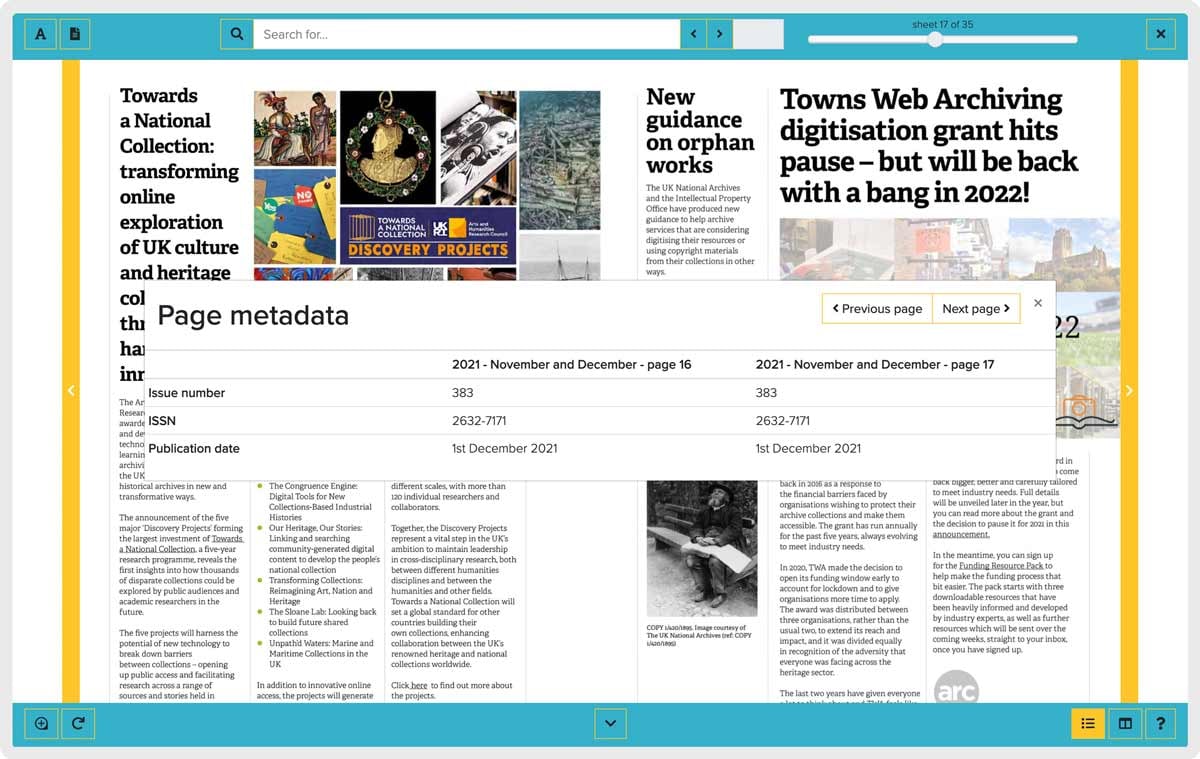 - 2021 -
The 2021 Digitisation Grant took a short break to take stock, post COVID-19, and this time was used to reflect on the damage that had been caused across the sector. Up to this point the grant had supported over 80 organisations financially and pledged more than £77,000 in grants and match funding. But during this period no organisation had been left unscathed. Lockdown had demanded that all doors close and the world slowly came to a halt. It's a sobering experience to go back and revisit these times through the ARC Magazine but, despite the greatest adversity to hit the modern world, the industry found a way to rise up and evolve more quickly than it had ever done before. The resilience demonstrated was admirable. For TWA this meant adjusting the grant for a whole new way of knowing, being and delivering.
- 2022 -
The TWA Digitisation Grant 2022 was a great cause for celebration and the decision was made to offer a whopping £16,000, to be divided equally between four grants, to extend the grant's reach and help more organisations. Our match funding provision was also overhauled and a whole new match funding pot was created. For each eligible application received £500 was added to the pot and applicants were invited to draw up to £1,000 for their projects. The winners were announced and the pot was opened live from the ARA Conference in Chester on 1st September 2022 where we put our hands together for the following organisations:
Brass Bands England f

or the digitisation of sheet music papers in order to preserve brass band heritage and make their archive more accessible online, inspiring present and future bands.
Cinenova for the digitisation of film stills, slides, negatives, transparencies, and various paper records relating to feminist film and video in order to make their archive accessible online and protect their material against deterioration and loss.


The Vintage Sports-Car Club for the digitisation of handbooks, leaflets, engineering books, drawings, photos and certificates in order to achieve online accessibility and inspire current and future engineers.


Wiener Holocaust Library for the digitisation of photographs relating to the Jewish Committee for Relief Abroad and Jewish Relief Unit to ensure the protection of the archive and achieve accessibility online and through events and workshops.

Being a very recent event, news around the 2022 Digitisation Grant will, for the first three months, only be available to search within the ARC Magazine by members. This content will then become accessible to everyone thereafter.
Our Chief Operating Officer here at TownsWeb Archiving, Casper Smithson, who worked closely on this project throughout, was incredibly pleased with the results:


Having worked closely with ARA for a number of years being able to offer our PastView platform to support their ongoing work for the community has been a joy to be involved with. We support their ongoing work and members, as well as having involvement from Chief Executive John Chambers who sits on our panel of judges for the TWA Digitisation Grant. We're thrilled to have partnered with ARA on the publishing of their ARC Magazine and look forward to the endless opportunities that this will bring for their members, researchers and the public, highlighting the many wonders of the archive community.
Casper Smithson
TownsWeb Archiving - Chief Operating Officer
Credit where credit's due!
Uncovering the history of the TWA grant, as recorded throughout the ARC Magazine, has been a wonderful opportunity. In fact, it didn't feel like work at all! With their collection now online, the ARA is able to keep people fully updated about what is going on in the present, the near future, and also sharing equally important stories from the past; little gems just waiting to be discovered. So what are you waiting for?
You are invited to search the brand new ARC Magazine Microsite and we would love to know what you think and what stories you manage to uncover, so be sure to share your journey on LinkedIn and Twitter (using tags: @townsweb and @ARAUK_IE). Get the conversation going!
If you would like to find out more about PastView and BookExplorer or, indeed, any of PastView's features, then click here to book a demo.