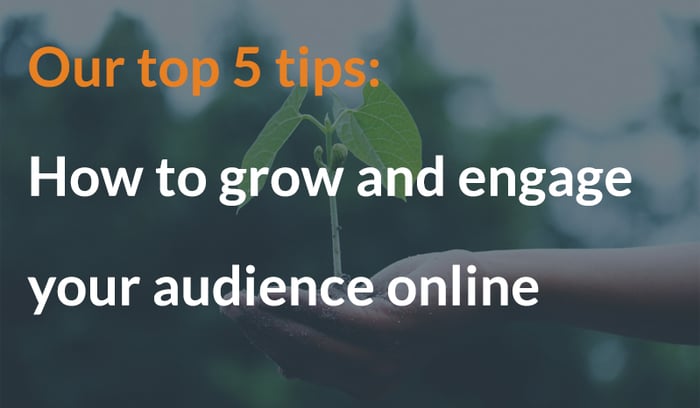 We appreciate that there is currently a lot of uncertainty in the cultural heritage sector, with archives, museums, and many more remaining closed. So, whilst much of the UK moves online for work, education and entertainment we want to take this opportunity to provide our top tips for growing and engaging your audiences.




Reach out and engage with your online community
We've seen so many great examples of museums, archives and heritage enthusiasts using this time to reach out to their community and we think you should too. With many people struggling to fill their time, keep their mind off scary news articles and in need of some well-needed conversation with like-minded people, this is the perfect time to educate and entertain your online community. Whether it's via your blog, social media channels or even a group video chat!
We've been so impressed with the creativity of the cultural heritage community, so we decided to share some of our favourites on our blog. Take a look back at them if you would like some inspiration for how you could spark a conversation within your community.
Our top 5 favourite:


Spend time improving your digital collections
There's no time like the present to invest in your digital collections by adding metadata, organising your collections and making them even more engaging to discover. Depending on the systems you are using you can spend your time adding to the metadata of items, updating details about who is shown within images and even add to transcriptions. Look to enhance your search capabilities by adding details and build on the finding aids for your users to engage with. This may be a huge project to undertake if you have a large digital collection, but it's time well spent and infinitely valuable for developing your rich digital archive.
We've seen some great examples of organisations using this time to work on transcription crowdsourcing projects, such as the Kansas City's WWI Museum tasking their employees with transcribing 10,000 digitised pages from letters, diaries and journals whilst the museum remains closed.




Review, learn and improve upon your online presence
Whilst many of us are working from home, we're inevitably seeing internet traffic soar, with a reported increase of 22.56% in internet usage in London alone! So this is the ideal time to reflect on your organisation's online presence and understand what more you could be doing to engage your audience and keep them visiting. Take this opportunity to review how your website is performing, website analytics tools such as Google Analytics can offer huge amounts of information, helping you to understand which pages are most popular and root out those pages which have become outdated and in need of some TLC.
Do you have your digital collections online? If so, this could be the perfect time to identify which items are proving popular with your audiences and may even help you to decide which items you'd like to digitise and get online next. Take a look back at our blog '3 Top Tips for Increasing the Reach of your Digital Archive' to learn more.


Use any spare time to prepare grant applications for your next project
Nothing good to watch on the TV? Fed up of the virtual pub quizzes? Well, this is the ideal time to get round to completing your grant application and get your next project set-up and ready for funding!
All jokes aside, we understand that the ongoing Coronavirus pandemic is a cause of serious financial concern for many, so we're doing our best to share far and wide any news of changes in funding to support the cultural heritage sector, such as the £160 million in emergency funding being provided via Arts Council England and the £50 million Heritage Emergency Fund being provided by The National Lottery Heritage Fund.
We're also doing our best to support the cultural heritage community, opening our annual TWA Digitisation early for applications and providing three grants of £3000 in funding. You can find out more and download your application form for our digitisation grant here. We've also collated many other sources of funding you may find useful, which you'll find here.


Spend time learning and developing your knowledge
Whilst we're all doing our part to protect the NHS by staying at home, many of us are finding ourselves with time to spare. So although it's tempting to spend countless hours watching Netflix and finishing off your Easter eggs, could you spend it sharpening your skills and learning something new to help develop your digital archive?
We've listed a couple of our favourite resources which will keep you motivated and make you an expert by the time you return to the office:
We're happy to help…
As our team adjusts to working from home and filling their time, we would welcome any conversations, questions or virtual tips you may have. If you would like to discuss any digitisation, data capture, backup or online access topics you may have, please feel free to get in touch and we can book a time for a call or video chat.