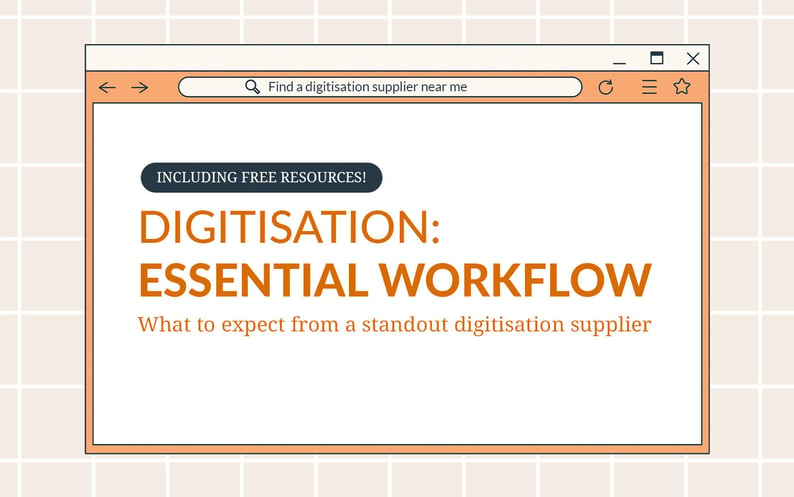 Your collection is a trove of precious materials. These items tell stories of specific times, people, and places, serving to contribute in innumerable ways to the UK's proud and diverse culture and heritage.
For these reasons it is important to look for a standout digitisation service for the digitisation of your standout physical archive. Getting this partnership right from the outset will reduce the internal pressure on your organisation and guarantee the safety of your material, offering the option for a tailored solution that meets your unique needs and, potentially, saving you costs. We have drawn up a workflow to help you trace the steps that your project will take, from start to finish, suggesting added extras that might be of benefit to you.


Digitisation Workflow:

Standout Supplier
A standout supplier will support you throughout your entire digitisation project from scoping your collection, and advising on format flexibility, to identifying opportunities for online discovery and enhanced access. They will ensure the best possible results for your collection, not just keeping to budget, but maximising your funds in every conceivable way.
The following workflow has been created using specialist insight and knowledge to help you establish your expectations and identify a standout digitisation supplier.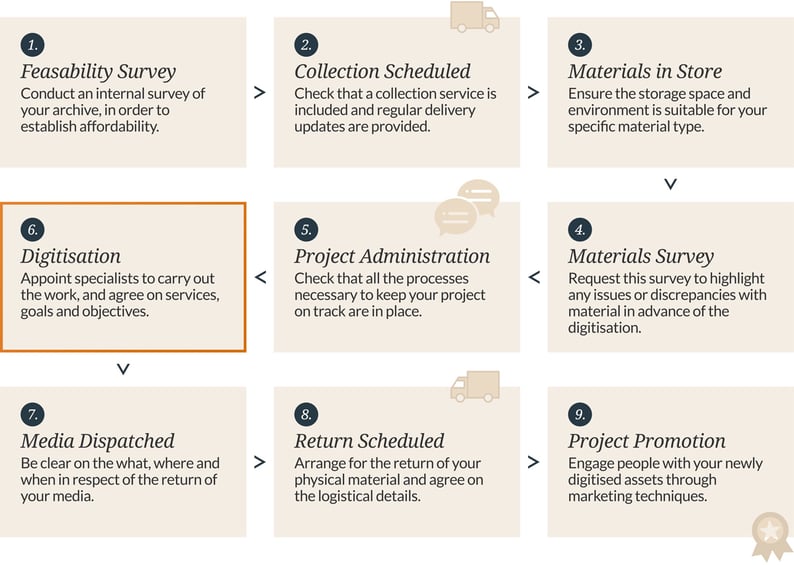 The above workflow provides a simple step-by-step approach to the digitisation of your archive and can be used as a road map for the journey that your physical items will take. But what do each of these stages involve, and what else might you like to consider factoring into that standout service that your collection deserves? Read on to find out more.
We've thrown in two FREE resources to help you document and track your journey, keeping your project moving in the right direction. Just complete the form below to get your two FREE resources:
Digitisation Essential Workflow Checklist

Pre-Digitisation Project Planning Tool
Introducing the

NINE

main steps to the digitisation workflow:
You can use the remainder of this resource to explore each of the digitisation steps in the workflow. Use the bullet points below each overview as a guide to what additional matters you might want to consider, and be sure to ask your provider what more they can offer that will help you to achieve your goals.


1. The feasibility survey
This survey is carried out internally, to establish exactly what your archive consists of, and will help you to identify condition and diversity of material, as well as how extensive your collection is. It will also help you to establish whether you can actually afford to digitise all of it in one go, or whether you will need to complete your project in stages.
Consider discussing with your supplier:
The feasibility/affordability of your project
Opportunities for consultation and project scoping
Budgets, goals and funding opportunities
The possibility of digitising in phases
How they can help you to achieve your long term vision



Helpful toolkit of resources:
2. Collection scheduled
Once you have established exactly what is going to be digitised, you need to arrange the collection of your material. You can deliver the items yourself or arrange for an external courier, making sure to track your order and monitor the loading process. Some suppliers will offer a collection and delivery service as part of their digitisation package, so it's good to check what is included.



Consider discussing with your supplier:
What's included in the project costs

Insurance and security provisions

Fragile handling and loading processes

Reassurances that items will be returned in their original order

Guarantees that items will be returned undamaged
3. Materials in store
Your digitisation provider will need to store your items for the duration of the project and you should be clear about the space that is being provided. This should be adequate for the quantity and type of material you possess, and care and attention should be paid to how they will be placed and organised.


Consider discussing with your supplier:
Whether it is possible to visit the premises to observe the studio and store
The fire safety and insurance measures in place
Security considerations, such as external windows and lockable doors
Minimising light damage and implementing off-floor storage
Climate control


4. Materials survey
Once your collection arrives at the appointed digitisation studio it is prudent, for everyone's sake, that a 'materials survey' is carried out. This will help to identify any issues or discrepancies between what has been received and what was originally quoted, as this could slow the project down and subsequently increase costs. At this stage deadlines and processes can be recalculated, rather than after the project has started.


Consider discussing with your supplier:
How 'outliers' are used to identify potential issues or time-sinks
How pages are counted for smaller versus larger collections
The process for comparing observations against the original quote
How fold-outs, staples, damage, additional work is recorded
How changes and developments are communicated back
The assessment of equipment required
Helpful toolkit of resources:
5. Project administration
As an early part of the digitisation process, before digitisation has even begun, it is important to have administration processes in place that will help to drive the project, and the communication around it, in the right direction. Successful digitisation is heavily reliant upon logistics, so you will want to feel confident about how this is managed.


Consider discussing with your supplier:
Whether example outputs are provided and feedback invited
Whether a technician 'issue' log is kept and updated
How regular communication is managed
If a look-up service is provided for records that need to be regularly searched
Whether they have information, webinars and resources available
Assignment of a project manager/single point of contact
6. Digitisation
Appointing a specialist digitisation provider, like TownsWeb Archiving, enables you to take a step back and focus on your other roles and responsibilities, safe in the knowledge that your material is being well looked after. However, you want to make sure that you are clear on what is and isn't included, and what process and procedures they will undertake.


Consider discussing with your supplier:
Your long term goals and how they can help you to meet these
Their reasons for using a specific methodology for capturing your items
Output resolution and file formats that will be provided
Cropping and colour correction that suits your needs
What additional services they offer and recommend
Their safe handling procedures and archive standards
The quality assurance measures in place
Other organisations you can talk to; you're not alone!


Helpful toolkit of resources:
7. Media dispatched
Once the project has been completed you will no doubt want to gain access to your digital collection as soon as possible. Your data is the first step towards migration, online publishing, and better access and management, as well as supporting any promotional activities you hope to carry out. However, getting your hands on the media is not enough, you want to satisfy some key points too.


Consider discussing with your supplier:
The second QA process that should be completed internally

The availability and terms of use for any back-up Cloud service

How many copies of the data you will be provided with

Best practice tips for storing your data
Helpful toolkit of resources:
8. Return scheduled
Your project is finally complete and you've received your media, but you still don't have your physical archive. Arrangements need to be made to get this back to the archive store safely, so be sure to check the following things with your provider.


Consider discussing with your supplier:
The best time for the return of your material, unloading will take time/space
That your material will be returned in exactly the same condition
The required organisation of your material will be respected
Whether you will require assistance with transporting to the store
9. Promoting your project
The completion of your digitisation project is an epic milestone for your physical archive and you will no doubt want to celebrate its digital recreation. It's time to think about how you are going to reach out to members of the community and other organisations to share your digital assets, and the story of how they came to be digitised.


Consider discussing with your supplier:
The promotion of your project through their media channels
Any collaborative pieces you can work on together
Advice and support in respect of outreach strategies
Marketing and SEO
Online access (either through PastView or another platform)


Helpful toolkit of resources: